Tijuana Light
| Consorcio Cervecero De Baja California ( La Taberna TJ )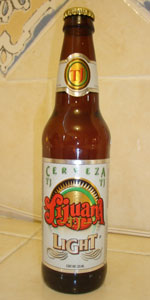 BEER INFO
Brewed by:
Consorcio Cervecero De Baja California ( La Taberna TJ )
Mexico
tjbeer.com
Style:
Light Lager
Alcohol by volume (ABV):
3.50%
Availability:
Year-round
Notes / Commercial Description:
No notes at this time.
Added by tesguino on 02-16-2006
Ratings: 8 | Reviews: 7
3.4
/5
rDev
+20.1%
look: 3 | smell: 3 | taste: 3.5 | feel: 4 | overall: 3.5
Hesitating I drank this one since light beer is a style I don't like so my review will rank low.
But as BAs we are supposed to support our micro brewers so I gave it a shot keeping in mind it's style and other beers within it that I tried before.
Pours a light straw yellow, with a one inch short living head and, to my surprise, some lacing all along the glass.
Smell is of malts only, well, on the light side.
Taste is crisp, malty and, as my youngest daughter said, non lasting.
Mouthfeel is mildly dry, with even a light bitter aftertaste.
Easy drinking and with some flavor. Actually has more flavor than most regular beers from macro American breweries.
¡Salud!
689 characters

3.28
/5
rDev
+15.9%
look: 3 | smell: 2.5 | taste: 4 | feel: 3 | overall: 3
Not bad for a light lager.
Pours a golden color, very nice for a light; Smell is thin; Very tasty, is good for the style; Mouthfeel is Ok and decent carbonation.
I am very suprised with this. Good brew for its style, I think is the best light that I have tried.
267 characters
3.19
/5
rDev
+12.7%
look: 2.5 | smell: 3.5 | taste: 2.5 | feel: 4 | overall: 4
12 oz. bottle,
A: Pours a crystal clear yellow with a minimal white head, some retention, no lace.
S: Light grains with a hint of corn and lemon. Tortilla like. Not bad for the style.
T: Some light malt flavour but that's it. Cracked grains, light carbonic acid.
M: Very light-bodied, crisp and clean, no off flavours.
O: For the style it's pretty darn good. But overall even compared to other pale lagers the flavours are lacking; I know it's a light lager, but still thought a craft light would have something more to it.
528 characters

3.03
/5
rDev
+7.1%
look: 3.5 | smell: 3 | taste: 3 | feel: 3 | overall: 3
Thanks to Jake for leaving this fine lager in my fridge.
A: The pour is a clear golden straw color with a short lived white head.
S: Smells like nothing, really. A bit of corn and lager yeast, but other than that...air. I wish there was something more awful to say about it.
T: Pretty much the same thing on the palate. Light, watery, and completely unoffensive because it doesn't taste like anything. Just a hint of corn and malt.
M: Light as light can be in body with a medium level of carbonation.
O: This was about as close as I can think of to drinking water.
569 characters
2.65
/5
rDev
-6.4%
look: 3 | smell: 3 | taste: 2.5 | feel: 2.5 | overall: 2.5
The lighter side of Tijuana. Its label is in its orginal format; in Spanish, with the importer sticker slapped on the opposide side of the main label. Perhaps it's inevitable that this will be commpared to Guera, especially since I had that last night. On to the beer:
Pale glowing yellow in color with a touch of haze, a small stream of bubbles rising, and decent formation of creamy head that's half an inch thick and sticks a few dribbles here and there. . The smell is almost just like Guera, its beefier stablemate, but less intense. Little amounts of grass and floral hit the nose. Quite clean.
This is more floral forward than anything. The carbonation seems to build additional bitterness to the package. Grasssy and DMS notes are very light. One thing is for sure, it's lighter than Guera. Very light in the mouth with a seltzery, clean finish.
Guera plus water, I knew it. A little better than the general light lager and from TJ, otherwise there isn't much to say.
980 characters

2.18
/5
rDev
-23%
look: 3 | smell: 2.5 | taste: 2 | feel: 2 | overall: 2
Clear yellow colored beer with a medium sized white head.
Smell is strongly of grain. Fair amount of yeast scent. Hop is mildly spicy here.
Starts out kind of watery with a grain aftertaste. Mildly sweet but really not a lot of taste here. Tastes like water strained through shredded wheat cereal.
Mouthfeel is water.
Drinkability is iffy. Sure it tastes mostly like water but I would rather have water.
407 characters
2.18
/5
rDev
-23%
look: 3 | smell: 2.5 | taste: 2 | feel: 2 | overall: 2
a beer that made from Consorcio Cervecero de Baja, light, similar to the german light beers, good for the female gender, and the non regular brewers, i try this direct from tijuana, in a trip of five days, i try in a pilsner glass for look its light yellow color, its taste is like its sister güera, but without its calories, i think, crusehd hops, malt, taste is good for the mexican food, 70% recommended.
408 characters
Tijuana Light from Consorcio Cervecero De Baja California ( La Taberna TJ )
2.83
out of
5
based on
8
ratings.