Kunstmann Gran Torobayo
| Compania Cervecera Kunstmann, S.A.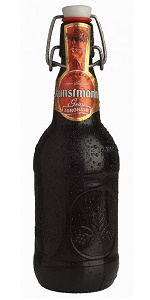 BEER INFO
Brewed by:
Compania Cervecera Kunstmann, S.A.
Chile
cerveza-kunstmann.cl
Style:
English Pale Ale
Alcohol by volume (ABV):
7.50%
Availability:
Year-round
Notes / Commercial Description:
No notes at this time.
Added by nukem5 on 10-15-2010
Reviews: 8 | Ratings: 27
3.71
/5
rDev
-1.1%
look: 4.5 | smell: 3.5 | taste: 3.75 | feel: 3.5 | overall: 3.75
Great presentation, not only for its elegant flip top bottle, amber ruby color with lots of thick off-white head with eternal retention.
Grainy malty aroma with hints of red fruits and cinnamon.
Taste follows nose, very malty and with a touch of condiments. Hints of cherries and earthy hops. Dry, malty and bitter aftertaste.
Full body with good carbonation. 7.5% ABV is well hidden.
Malty, malty beer, for malty lovers. German execution. This is more interesting than its younger sister Torobayo of 5% ABV.
508 characters

3.13
/5
rDev
-16.5%
look: 3.5 | smell: 3 | taste: 3 | feel: 4 | overall: 3
Reddish copper in color, clear body with a fairly creamy and strong head - popped up out of the bottle pretty well. Foam sticks to the glass and one's upper lip if one is not careful. Not a bad look, although the strong cap muffles the fairly clean lager nose. Bready malt profile, only a slight dash of hops. Not overly sweet, but sugar is there. Fruity maybe? Too clean to really dig in.
Flavor brings a little more hop balance, but nothing overboard. Thick in body, not thinned by hopping at all, and quite sticky. Spicy hops rather than floral or fruity. Quite drinkable as the body is smooth and full, but too clean and almost Germanic in its obsession with purity. More down and dirty for my pale ale.
709 characters
3.88
/5
rDev
+3.5%
look: 4.5 | smell: 4 | taste: 3.5 | feel: 4.5 | overall: 4
bottle date... drink by 23 01 12
chile? really... wow. not my ideal flavor but very very well made.
hard to say if this was a english strong ale or a maibock outside of the body. a bit too much thickness and dough for lager yeast. wonderful palate. my english drinking buddy loved it which makes me lean on the side of english strong. bock malt and nose qualities but smooth dense feel. hint of floral bitterness and spiciness. english hop note when degraded. clear amber. pour's like a fuller's vintage. tad more head. straight malt sugar notes with undertones that allow for a lot seeing as this body is so great. sweetness and bitterness or comparable. dry end. balance and not that much mineral hints or excessive sweetness to be a maibock.
747 characters
3.85
/5
rDev
+2.7%
look: 3.25 | smell: 3.75 | taste: 3.75 | feel: 4.5 | overall: 4
Found this stash about two years after I bought it. Bein 7.5% it should have aged nicely. Let's give it a whirl. Popping the Grolsch style flip top I get a wafts of licorice maltiness. Pours into a chalice with a deep root beer brown color with a two finger tan foamy head. On the taste the licorice flavor is prevalent with some toasted malt kicking in with mild bitterness in the background. Finish is still sweet with more bitterness leading to a mildly bitter aftertaste that lingers with sweetness. A tasty beverage that would go with any type of food. Excellent mouthfeel.
578 characters

3.65
/5
rDev
-2.7%
look: 3.5 | smell: 3.5 | taste: 4 | feel: 3 | overall: 3.5
Nice looking bottle flip top style like Grolsh great for rebottleing.
A: Dark rich amber color with a slight cap of foam .
S: Malty and sweet very little hop to the nose.
T: Very malty with a slighty hoppy burst in the back end.
M: Warm and smooth to the taste.Nice lacing donw the sides of the glass.
D: Would love to have another of this brew. sadly there was only one in my care package from BA buddy Okey, Thanks Okey looking forward to the next three.
461 characters

3.29
/5
rDev
-12.3%
look: 3.5 | smell: 3.75 | taste: 3 | feel: 3.25 | overall: 3.25
Bought in a bottlestore in Santiago, Chile.500mL bottle, with German style swing top
L - darm amber, almost burgundy. biege cream head, about 1cm thick
S - strong caramel malt, hint of honey, Brown sugar, slightly burnt
T - heavily malt dominated. yeasty, very sweet upfront with a molasses like flavour, slightly sour finish
F - low carbonation, full bodied, chewy texture, warming ABV
O - very sweet upfront, but a nice change to the bland lagers ive had here. Good if paired with a meal.
498 characters
4.21
/5
rDev
+12.3%
look: 5 | smell: 4 | taste: 4 | feel: 4.5 | overall: 4.5
Had this one on tap at la Cervezeria (in Valdivia, Chile) in a 1/2-L stein glass.
A: Dark copper--very red crystal clear body. Gloriously thick creamy off-white head with strong lacing on side and excellent retention--maintains head throughout entire enjoyment.
N: Malt--sweet bready, cracked wheat and honey with a hint of plum or nectarine--some sort of stone fruit.
T/M: Spicy malt--same as nose but with aspicy character on the tongue--almost like rye, but not as long lasting. Honey, buttery bread, and plums dominate the flavors. The body is very smooth with a creamy finish.... very drinkable--almost too easy.
English pales are not necessarily my favorite style, but this is one of the most complex offerings from any Chilean brewery... and it was consistently available throughout the country in bottles. It definitely went well with a burger, or even some congrio frito. Although this brewery (as with most in Chile) tends to lean more toward the German style of brewing, this beer is an excellent rendition of an English PA.
1,039 characters
3.78
/5
rDev
+0.8%
look: 3 | smell: 3.75 | taste: 4 | feel: 3.5 | overall: 3.75
Like it for its earthy sensation, plenty of grain feel, light flushing, hazy afternoon expression. Have had it in mini-CO2 pop kegs, barrel kegs, bottle and draft, all present well and similar score. Popular and preferred with local community, thus a winner for outdoor barbecue, family and friend events, etc.
310 characters
Kunstmann Gran Torobayo from Compania Cervecera Kunstmann, S.A.
3.75
out of
5
based on
27
ratings.