Gintarinis
| UAB Švyturys - Utenos alus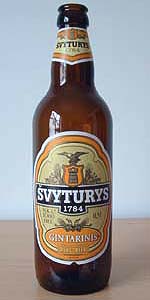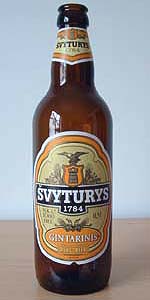 BEER INFO
Brewed by:
UAB Švyturys - Utenos alus
Lithuania
svyturys.lt
Style:
German Pilsener
Alcohol by volume (ABV):
4.70%
Availability:
Year-round
Notes / Commercial Description:
No notes at this time.
Added by mdagnew on 07-21-2006
HISTOGRAM
Ratings: 9 | Reviews: 5
Reviews by Dentist666:

2.15
/5
rDev
-19.5%
look: 2.5 | smell: 2.5 | taste: 2 | feel: 2 | overall: 2
Wort extract 11%. 1 pint can.
Pours clear straw-yellow beer with bubbly white head, leaving fluffy ring of froth on a surface. Smell of malts and unmalted materials (rice), slightly acidic. Blank taste of macroshit, poor adjunct lager. Fizzy, light body, corny aftertaste.
272 characters
More User Reviews:

2.17
/5
rDev
-18.7%
look: 3.25 | smell: 1.75 | taste: 2.25 | feel: 2 | overall: 2.25

2.48
/5
rDev
-7.1%
look: 3 | smell: 2.5 | taste: 2.5 | feel: 2 | overall: 2.5
3.13
/5
rDev
+17.2%
look: 3.5 | smell: 3 | taste: 3 | feel: 3 | overall: 3.5
Fairly standard if slightly bland euro big brewery lager. No better or worse than Heineken, if you need a comparison. Definitely not retired, as this website was reporting. Apparently I have to write a review to stop it showing up as retired. So that was it; my review.
Apparently that review was not long enough so I'll say it again. Average.
Shit the bed, still not long enough. Fizzy. Yellow. Tastes like most mass produced lagers of this strength. If I stop typing now it means I've hit the required word count...
520 characters
3.36
/5
rDev
+25.8%
look: 3.5 | smell: 2.5 | taste: 3.5 | feel: 3.5 | overall: 4
500ml bottle bought from GapWines, Belfast...
Poured a light golden straw colour... Slightly off white head poured pretty thick and foamy then faded quite quickly to thin layer... Slight patchy lacing and sparse carbonation...
Aroma - Very light biscuity malts, some lemon and grapefruit fruitiness, sweetcorn hints, sugary sweetness, grassy / hay.... pretty standard macro aromas...
Taste – Sweet biscuity maltiness, definite light sweetcorn notes, decent hop bitterness cuts through the sweet malts, some fruitiness (lemons, oranges), salty, grassy, some faint floral notes, slight pepperiness.... better than aromas indicated...
Feel - Quite sharp initially but mellows out into nice smoothness... Light bodied... pretty drinkable...
Overall - An OK beer... Nothing groundbreaking but probably worth a try...
827 characters

1.91
/5
rDev
-28.5%
look: 2.5 | smell: 2 | taste: 1.75 | feel: 1.75 | overall: 2
500ml brown glass bottle purchased at an Eki supermarket in Vilnius, Lithuania.
4.60% ABV. Pilsner per Carlsberg's website.
Lacks any Noble hop grassiness whatsoever, and has more of a euro pale lager cheap malt taste than a proper crisp pilsner malt body. The usual cheap lager buttery mouthfeel lends it an off-putting stickiness and coupled with the cheap pale malt (and possibly corn adjunct base), gives it a syrupy slimey presence on the palate.
I drank this after an Utenos Classic (which is a pale lager) and couldn't tell the difference. Very poorly executed for an ostensible pilsner.
D- (1.91) / AVOID
616 characters
2.55
/5
rDev
-4.5%
look: 2.5 | smell: 2.5 | taste: 2.5 | feel: 3 | overall: 2.5
Clear and very light amber colour that starts with an average sized, bubbly white head that settles to a thin lacing after a few moments.
Basic corn and lager malts mix with some more basic adjuncts and a touch of grain. This one is quite basic and plain with not a whole lot going on.
Cheap corn and adjuncts with some grain and a background skunk flavour and a little spice as well. It's a basic, cheap lager although it is drinkable.
Light on the palate with a slightly grainy feel although it does have a crisp finish.
A pretty poor beer overall and not worth the time or effort it took to drink. This one was cheap, basic and plain in that mass produced, industrial scale lager type of way.
699 characters
2.76
/5
rDev
+3.4%
look: 2.25 | smell: 2.5 | taste: 3 | feel: 2.75 | overall: 2.75
Gintarinis from UAB Švyturys - Utenos alus
Beer rating:
2.67
out of
5
with
9
ratings