Adler Bock
| UAB Švyturys - Utenos alus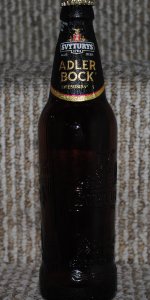 BEER INFO
Brewed by:
UAB Švyturys - Utenos alus
Lithuania
svyturys.lt
Style:
Bock
Alcohol by volume (ABV):
7.00%
Availability:
Year-round
Notes / Commercial Description:
No notes at this time.
Added by bylerteck on 07-11-2011
Reviews: 6 | Ratings: 11

2.38
/5
rDev
-13.1%
look: 4 | smell: 3.5 | taste: 2 | feel: 2 | overall: 1.5
Another gem from my local guy, tone77, who keeps me plied in the most amazing bottles.
I felt like the translator in "The Twilight Zone" episode "To Serve Man" - the verbiage "šviesusis alus" on the foil neck label translates to "Light Beer". Ha! Not at 7.0 % ABV, so they must be referring to color, which is an indicator of nothing but color.
My pour garnered a finger-and-a-half of tawny, foamy, bubbly head with limited retention. Color was phenomenal - a deep golden-yellow with NE-quality clarity that would have made both Croesus and King Midas stand up and applaud. I can easily see the uninitiated just swilling this down like it were an everyday AAL. tone77 was spot-on with his allusion to a "malt bomb" nose! Wow! I might need to be checked for adult-onset diabetes after this one. Mouthfeel was a little thin for a high gravity bock, but I was getting a solid burn on the tongue as I rolled it around to get the full effect. Jesus, this was a hot beer! I was able to discern a malty sweetness, but my tongue was buckling under the heat. Finish was sweet and liquid hot, so that I was reminded of the path that one's esophagus runs on its way to one's stomach. Oof. Holy ... This was an unholy beer and I cannot recommend it as a result.
1,252 characters
2.74
/5
rDev 0%
look: 3 | smell: 2.75 | taste: 2.75 | feel: 2.5 | overall: 2.75
Decent but unremarkable heller bock. Faint malty aroma, amber body with short creamy head. Taste is also malt, mouthfeel is heavy and slick. All around OK.
155 characters
3.82
/5
rDev
+39.4%
look: 4 | smell: 4.5 | taste: 3.5 | feel: 4 | overall: 3.5
Poured from a brown 16.9 oz. bottle. Has a dark golden color with a 1 inch head. Smell is quite the malt bomb, caramel sweetness is present. Taste is good but mild compared to the smell. Malts are up front, alcohol and hops kicking in at the finish. Feels full bodied in the mouth and overall makes for a quality brew.
318 characters
2.21
/5
rDev
-19.3%
look: 3.5 | smell: 2.5 | taste: 2 | feel: 2 | overall: 2
It's Christmas Eve 2011 (21.00) and I thought I'd have something different: big mistake. Everything prepared for the big day, time for a well earned drink, choose the wrong one.
The brown 500ml embossed bottle had a best before date of 02 Mar 2012 and was poured (3 times) into a Veltins Pilsner stemmed tulip. The bottle was impressive and promised so much, 'well packaged' I suppose.
The beer looked fine, deep golden colour with a good crown as a head on each pour, sadly they all became a wispy covering and collar far to quickly.
The smell is alcohol and sugared cereals (wheat, corn, etc) with a yeasty undertone.
The taste is a nasty mix of sweetness and alcohol, a headache in a bottle. I am getting that headache even as I write this review.
I love Bock's but this does nothing for me at all. It is an alcohol laden lager with no redeeeming features at all. It is the sort of beer that drunks pour down their throats on park benches.
947 characters
2.23
/5
rDev
-18.6%
look: 3 | smell: 2.5 | taste: 2 | feel: 2.5 | overall: 2
Bottle from Rimi in Vilnius. From notes.
A - Poured golden with medium carbonation. Bright. Two finger eggshell head. Not bad retention. No lacing.
S - Corny and sweet. Not complex or interesting.
T - Not good. Offensively sweet malt and a hop touch. Not as corny as the aroma but much sweeter than the aroma leads on.
M - Medium carbonation and body. Seemed too heavy and syrupy.
O/D - I couldn't finish what I had. Just another overly sweet, strong Euro lager. Just not good.
493 characters
2.53
/5
rDev
-7.7%
look: 3 | smell: 2.5 | taste: 2.5 | feel: 2.5 | overall: 2.5
Thanks to coworker, Chris, for the sample which he picked up at an import store on the West side of Cleveland.
This is not my 1st Svyturys brew. I also have tried their pilsner, which I felt was "un-inspiring" ... Shades of "triple hopped Miller", imho.
Anyway, onto the review. Since this is a 16.9 oz. bottle, I poured it into a 20 oz. German mug ... hey, it is supposed to be a Bock. The pour produces a very light golden colored brew, with a finger's worth of white head. Head has decent retention, but no lacing develops. I'm used to my bocks being a bit darker, due to the malts used. This strikes me as a bit light in color for a bock.
The nose is on the light side. It's definitely weighted towards the malt side, but not as you might expect from a bock. Probably about equal in malt to a decent Munich. Hops are a non-factor, which is not unusual in a bock.
Taste is not quite up to par for a bock. While it is malty and on the sweet side, it's not "bock malty". Mouthfeel is very light for the style ... just above that of an American pilsner.
Overall, while this was an interesting brew for me to review, I can't recommend it as a good example of the style. The good news is that isn't as bad as some of the previous reviewers made it out to be. It isn't fusel, and it isn't cloying. If you want to experience the lighter side of bock, this could be a brew for you.
Na Zdravje!
1,395 characters
Adler Bock from UAB Švyturys - Utenos alus
2.74
out of
5
based on
11
ratings.