Farmhouse Black Rye IPA
| Long Trail Brewing Co.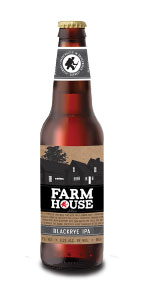 BEER INFO
Brewed by:
Long Trail Brewing Co.
Vermont
,
United States
longtrail.com
Style:
American Black Ale
Alcohol by volume (ABV):
6.30%
Availability:
Rotating
Notes / Commercial Description:
No notes at this time.
Added by GarthDanielson on 10-12-2013
This beer is retired; no longer brewed.
Reviews: 14 | Ratings: 90

3.88
/5
rDev
+2.6%
look: 4 | smell: 3.5 | taste: 4 | feel: 4 | overall: 4
I had this one out of a bottle simply because I was offered it as a guest.
I can't accurately comment on the color because I had it out of a bottle but let's just assume it was black as the name dictates. On the nose I got a bit more dark malts than I did hops, but some citrus presence was definitely detectable. On the palate I get dark malts once again , but it's not coffeeish like a stout or overly acrid. I would suspect Carafa malt of some sort. I don't get much of the typical rye spicy notes; the rye element is subtle. Maybe a bit of grapefruit. Amazingly creamy mouthfeel which I guessing was due to the rye and heavy hopping. Pretty good beer overall and an unexpected offering from Long Trail; these guys really put their beers into overhaul since I last had one.
780 characters
4.06
/5
rDev
+7.4%
look: 3.75 | smell: 4 | taste: 4 | feel: 4.25 | overall: 4.25
12oz bottle bought as part of the current Long Trail Farmhouse Ales mixed 12-pack from Yankee Spirits, Sturbridge, MA. Bottled on 10/9/14.
Poured into an imperial pint glass, formed a 1/4" tan head over the slightly cloudy reddish brown brew. Head fades gradually, with sporadic lacing. Aroma is roasted grains and spices.
Taste starts sweet, spices kick in next, and then coasts through to the close with balancing bitterness. Mouthfeel is smooth, and drinkability is good. Enjoyable take on the style.
507 characters

3.29
/5
rDev
-13%
look: 3.5 | smell: 3.25 | taste: 3.25 | feel: 3.5 | overall: 3.25
12 oz. bottle poured into a tulip glass.
A- Deep brown and turbid. Light brown head is dense. Nearly creamy. Retains decently.
S- Roast, subtle dark chocolate. Some earthy hop, a little resin.
T- Very similar to aroma. I think the rye comes out in the flavor. A bit of a spice character. Hops not as much. Just a faint earthy bitterness.
M- Medium body with a roasty bittersweet finish. The hops attribute just slightly to that.
O- Hop character just isn't as high as it should be. This borders a rye porter. The malt is in the spotlight here, and it shouldn't be.
570 characters
4
/5
rDev
+5.8%
Pours clear, deep chocolate brown with a moderate head that lingers for a little bit. The flavor of milk chocolate is a bckdrop to the strong bitterness of the hops which is so characteristic of an IPA. A dry aftertaste. This is a very good beer, but I don't think I could drink more than two before wanting something a bit lighter.
332 characters

3.9
/5
rDev
+3.2%
8/7...pours dark black with low 1/4 inch of tan bubbly foam. Hearty chocolate pine nose. Deep. Taste is a rich malty blend, heavy fizz, rye notes. Almost oaty. Residual bitter, soft chocolate background.
203 characters
3.52
/5
rDev
-6.9%
look: 4.5 | smell: 3.75 | taste: 3.5 | feel: 2.5 | overall: 3.5
Pours black with a nice dark brown head that remained at 1/4". Aroma is all roasty brown grains with some rye spice and just a hint of hops. Taste's just like it smells, lots of enjoyable roasted grains with some rye spice but lacks any real hop character. I'd describe this more as a rye brown ale than a BIPA. Enjoyable beer due to the grain selection but not what I thought I was going to get in the hop department. Worth trying if you appreciate a dark beer that has no dark grain astringency.
497 characters

4
/5
rDev
+5.8%
look: 4 | smell: 4 | taste: 4 | feel: 4 | overall: 4
Pours a brown black color with a lighter beige head. Ruby highlights when held to a light.
Lots of porter like aroma greet you upon opening. A big roasted malt aroma and chocolates greet you first. The hop nose is very lean here and almost absent. Rye spices mingle well with the roasted malts making for a good smelling beer.
The taste has a lot of roasted malts. It seems to be the dominate taste. Hops and spicy rye malts are very subtle in the taste.
Over the palate the beer has an ashen feel and is quite bitter and dry.
Overall this is a good beer but more porter like then IPA. I say that because I tasted and smelled little in way of hops and more maltiness that comes with porters. Rye spices were lean, and looking back I think it was spot on.
Either way this was still a very good beer that 'd gladly drink more of.
832 characters

4
/5
rDev
+5.8%
look: 4 | smell: 4 | taste: 4 | feel: 4 | overall: 4
A birthday gift from duffextracold
Root beer black brown with a stalwart pocked head. Plenty sticky. At first whiff I get brownie batter and mint sprig aroma in the bottle. Once the head settles down dried orange zest and a very distinctive kitchen spice character that I can't place wafts up. Oregano? Black pepper? Taste black bread and black pepper with a mild citrus in back. This would be a good food beer.
I usually don't like black IPAs because dark malt and citrus hops don't jive for me. I love that Long Trail came up with a unique version of the style by using the pepper qualities of some hops.
614 characters
3.84
/5
rDev
+1.6%
look: 4.75 | smell: 3.75 | taste: 3.75 | feel: 4 | overall: 3.75
From the 12 fl. oz. bottle. Sampled on March 30, 2014.
The pour is so nice and black with a modest beige head that never goes away completely but leaves plenty of lacing as is dissolves to a ring.
The nose is rye, grain, molasses, caramel sweetness, and earthy hops. That grain does have a distinctiveness compared to the other typical aromas.
Medium body mainly but generally ion the smooth side.
The taste does bring out that rye grain character more than anything else but it is interspersed with sweet molasses or perhaps dark malts. The bitterness is a bit more than mild and it lingers dryly at the end. They did a n ice job with it.
643 characters

3.77
/5
rDev
-0.3%
look: 4 | smell: 3.75 | taste: 3.75 | feel: 3.75 | overall: 3.75
12 ounce bottle from the Farm House Box
Pours pretty much black w/ a large and frothy medium mocha head. head lasts nicely and leaves nice ringed low sheeting and scattered lacing.
Full throttle nose of herbal hops and dark malts n some rye
Palate follows the nose, respectably fueled by dark malts, hint of rye and moderate, again, herbal hops.
Ehhhh, sort of middle of the road, as most Long Trail beers seem to me...
423 characters
3.55
/5
rDev
-6.1%
look: 4.5 | smell: 3.75 | taste: 3 | feel: 4.75 | overall: 3.5
Tight light tan lacing that tops this nearly pitch black hued brew. Sweet toasted grainy nose with rye spiciness and hop resin. Smooth with a snap of crispness, roasted grain is most noticeable at first sip then the toasty and spicy rye character. Enough hops to be considered an IPA? Was hoping for more.
305 characters

4.06
/5
rDev
+7.4%
look: 4 | smell: 4.25 | taste: 4 | feel: 4 | overall: 4
Mixed 12-pack found up in Waterbury, VT. Dated 12-08-13 which is within reviewing range for me.
A- Poured to a snifter from the 12oz bottle with a black body. Light tan head builds up to about two fingers with good retention eventually dying down to a frothy, foamy thick ring. Lace rings and drizzle start at the top of the glass and continues nicely to really coat the snifter.
S- Inviting roasted malts and hops going back and forth with one another. Roast malts remind me of standard Stouts with black grains, cocoa and just a bit of burnt coffee grounds. Hops beyond that with citric orange peel, earthy and floral hints.
T- Things seem to tighten up here a bit and there is less of an obvious dichotomy between the roast and hops, blending occurs. However, the malt base is still inviting as in the nose with notes of burnt grains, cocoa powder, dark coffee grounds and a bit of smoke. Hops mingle the grains with grapefruit, orange zest, floral and slight stone fruit notes.
MF- Light to moderately thick body. Texture is creamy and really foams up on the palate with any agitation. Carbonation at a high, taste bud tingling level but plays nicely with the hops and the bitterness that follows on the palate, both roast and hoppy.
I'm pretty happy with the purchase of this mixed 12 for $12. I have tried all of the beers once and this one for a second time. Flavorful with good malt and hop profiles. Seems like Long Trail is picking things up lately and keeping low prices.
1,487 characters
3.67
/5
rDev
-2.9%
look: 4 | smell: 3.25 | taste: 3.75 | feel: 3.5 | overall: 4
This reveiw is based on a pint quaffed at Great Lost Bear in Portland, Maine.
The appearance is of a dark black body, a veritable glass of ink, if you will, with a moderate head of vanilla froth. There are subtle whiffs of cocoa powder; the palate receives a dappling of malty hoppiness (oxymoronic?) with a semi-sweet bite on the end. While the body can be described as rather light, there is present a mild resinous density. This is pleasant, but not great. If you seek this style, go for the delicatable Wookey Jack, which I have reveiwed.
543 characters
3.75
/5
rDev
-0.8%
look: 3.75 | smell: 3.75 | taste: 3.75 | feel: 3.75 | overall: 3.75
Poured from a bottle into a shaker pint, the beer is a dark, brown-to-black coloring with brown highlights around the edges and a thin, filmy, light tan surface coat of head. Aromas of roasted notes, mocha, bitter coffee grounds, and earthy notes. Flavors are roast forward, with more of a coffee backbone leading the charge with bitterness and hints of smoke. Deep, dark chocolate notes, both bitter and rich, build as you drink, and there is a large bitter component into the aftertaste, which is also mostly bitter, but also has a healthy dose of roasted notes. Grainy notes jump in here and there towards the end of the palate, with the rich bitterness typical from rye beers. Light, thin body that does well with all the roasted and bitter notes. The finish is bitter and dry, with a roasted linger. Less IPA than it is CDA and/or Rye, but good nonetheless.
862 characters
Farmhouse Black Rye IPA from Long Trail Brewing Co.
3.78
out of
5
based on
90
ratings.