Dogwood Bock
| Dogwood Brewing Company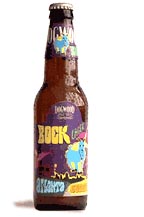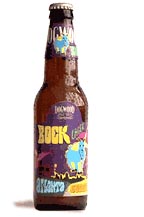 BEER INFO
Brewed by:
Dogwood Brewing Company
Georgia
,
United States
dogwoodbrewing.com
Style:
Bock
Alcohol by volume (ABV):
not listed
Availability:
Spring
Notes / Commercial Description:
No notes at this time.
Added by aracauna on 04-19-2002
This beer is retired; no longer brewed.
HISTOGRAM
Ratings: 14 | Reviews: 14
Reviews by homersimpson:
3.3
/5
rDev
-4.9%
look: 4 | smell: 4 | taste: 3 | feel: 3 | overall: 3
Clear reddish amber with a thick tan head.
Sweet, almost breadlike malt nose.
Medium, almost slick body
Tangy malt up front opens for a lingering bread / nut sweetness in the finish.
No hop presence anywhere to be seen at all - this one's all about malt.
258 characters
More User Reviews:
3.33
/5
rDev
-4%
look: 4 | smell: 3.5 | taste: 3.5 | feel: 3.5 | overall: 2.5
Pours a slightly hazy orange hue with a small white head. Sweet aroma of brown sugar, toffee, and malt. Sweetness continues on the palate, with a deep fruitness, like concord or muscadine grapes lingering in the background amidst the malt. Syrupy mouthfeel that keeps the flavor on the palate, but kind of makes this once-per-session number. Interesting, for sure, but not particularly to my liking.
399 characters
3.38
/5
rDev
-2.6%
look: 3.5 | smell: 3 | taste: 3.5 | feel: 3.5 | overall: 3.5
Orange-amber to moderate brown with a decent head.
Strong malt scent with definite caramel notes, very nice.
Nice sweet taste with a medium mouthfeel. Slight roasted caramel notes.
Nice roasted aftertaste, not particularly strong though.
Definitely a bock worth trying but not extra special.
304 characters
3.58
/5
rDev
+3.2%
look: 4 | smell: 3.5 | taste: 3.5 | feel: 4 | overall: 3.5
Poured a nice clear copper with small white head. Aroma of sweet rich malts. Velvety, mouth-coating sweetness followed by a strong bitterness (too much for style?). Not as smooth as I'd prefer my lagers, but it's a hard style to brew for an ale brewer.
255 characters
3.45
/5
rDev
-0.6%
look: 3.5 | smell: 3.5 | taste: 3.5 | feel: 3 | overall: 3.5
On the pour, clear orange-amber, to a somewhat brown color on the pour, with a colossal beige head and pertinent sheets of lace. Malt dominates the nose with light hits of caramel, pure and fresh. Start is malt and somewhat sweet with a scrawny top. The finish is modestly acidic, lightly tart, with a portly hop presence, the aftertaste dry and long last, decent bock and as with most of Dogwood and Sweetwater's Beers, well worth a sample.
442 characters
3.37
/5
rDev
-2.9%
look: 3 | smell: 3.5 | taste: 3.5 | feel: 3.5 | overall: 3
A cloudy amber offering with a very short crown....minor glass ring and island lace.
Carbonation is thin bubbled and inadequate.
Body is medium.
Citrus like nose.
The taste starts to a malty grain, has a minor switch to the hops and returns to the malts to end.
Caramel, grapefruit, almonds.
No linger in taste but syrupy mouthfeel is obvious.
Not impressive but acceptable.
381 characters
3.35
/5
rDev
-3.5%
look: 3 | smell: 3 | taste: 3.5 | feel: 3.5 | overall: 3.5
I'd basically agree with Pbrian on this one. A little bitter for style, but it's definitely got the malts going on with it. Mine might have had a bit of infection because it smelled and tasted a bit sour. I'll have to try it again next Srping when they brew it again and rerate it. Hopefully, I won't have severe allergies that time.
Jacob
340 characters
3.72
/5
rDev
+7.2%
look: 3 | smell: 3.5 | taste: 4 | feel: 3 | overall: 4
First off, the bottle design was pretty cool. Kinda like the freaky belgian designs, but more hippiesque. The head started out kinda thick, but died out quicker than me running a marathon(that's pretty quick). The smell was very malty, but had elements of oranges and some mild hop variations. The taste was similar, but was a little more in the orangey area, rather than the malt. The malt was still there though. Overall an average brew with a few highlights in it. I would like to try this one on tap.
504 characters
3.45
/5
rDev
-0.6%
look: 3.5 | smell: 3.5 | taste: 3.5 | feel: 3 | overall: 3.5
Some rat-fink snuck two of these into a sixer of IPA I bought from my local food store. Guess I'll make the best of it, and I'm always down for something new, just a little startled to pull this out when I was expecting something else.
I poured out of a 12oz bottle into a pint glass. A caramel shade of slightly translucent brown. With some coaxing I got a perfect two and a half finger high off white head. No carbonation visible to speak of.
The nose is caramelly and sweet with hints of toffee…flat malts with a twinkle of tartness from hops and the yeast. Ever so slight background of dark fruits appears in the nose as well.
Taste is very light up front with maybe a zip of a dark fruity flavor. This in turn is enveloped by a round smooth, sweet brown sugar…very soft. Light hop presence in the finish. Not bad at all.
Nice and light, very sessionable. Not a bad beer by any means. It would be good for hanging out, probably wouldn't be a bad introduction to those new to craft beer either.
1,014 characters

3.48
/5
rDev
+0.3%
look: 4 | smell: 3.5 | taste: 3.5 | feel: 3 | overall: 3.5
The beer poured clear medium amber with a white head that was extremely compact, but lasted to lace the glass.
The aroma was grainy with a dark fruitiness. The aromas carry some distance from the glass and lend to an overally malty impression. Slight hop aroma in the background.
The flavor was caramel with some vienna malt flavors, but the maltiness was short lived and muted. The hop bitterness was present enough to keep the sweetness in check, but was rough, perhaps not using noble hops for bittering.
The finish was dry and bitter. The body was watery, medium light at best.
12 ounce bottle. Illegible ink where the date should be. It was like that on ever bottle I looked at. I think the lable looks like a hippie throwback and if I was the average consumer I would not purchase a beer lable that looks like a third grader drew it.
More of a vienna or a light O'fest than a bock, drinkable, but nothing to write home about.
947 characters

3.01
/5
rDev
-13.3%
look: 4 | smell: 3 | taste: 3 | feel: 2.5 | overall: 3
Acquired via trade. I have kind of mixed feelings about this one. Before I get into that, the label on this beer is really trippy. Brownish-orange color with Dogwood's characteristically huge head that tries your patience as you pour it. Lightly hopped aroma. Malty flavor that was a little sour on the end, but not necessarily bitter in a good way. Carbonation was a little on the heavy side and detracted from the flavor due to the ruckus in my mouth. Not the best Dogwood I have had, but not a terrible beer either.
518 characters

3.45
/5
rDev
-0.6%
look: 3.5 | smell: 3.5 | taste: 3.5 | feel: 3 | overall: 3.5
Pours a rich golden brown with a 1/8 inch tan head. dissipates quickly but leaves some persistent lace. Smell is malty and lightly fruity.
Taste is malty and light sweet caramel. Fruity too. Lightly bitter in the aftertaste. Medium bodied with the caramel aftertaste. Stickiness lingers after it's gone. Can't put my finger on it but there is something in the finish that I don't like the taste of. Not bad. A pretty fair bock beer.
435 characters
3.87
/5
rDev
+11.5%
look: 3.5 | smell: 4 | taste: 4 | feel: 3 | overall: 4
Reddish copper color with a thin, off white head that dissipated quickly. Nice lace initially but subsides soon with a low level of carbonation. Smell of grassy German Hallertau hops, caramel malt, and sweet spice. Tastes sweet and nutty with brown sugar, caramel, roasted grain, and hints of coffee. Mild spices emerge mid pallette but are very subdued compared to other bocks. Dry afterstaste with slight sourness apparent, but this does not detract from the drinkability. A bit thin, but a very refreshing take on the style.
527 characters

3.85
/5
rDev
+11%
look: 3.5 | smell: 3.5 | taste: 4 | feel: 4 | overall: 4
I like wacky label art as much as the rest guy, but this one seems to suggest that goats and beer bottles were delivered to Earth by U.F.O.'s...not sure why they're implying this, just seems a little bit weird...
Cloudy, dark amber color, with a fizzy, buzzing, active, slim cream-colored head.
In the nose, a toffee-ish sweetness, soft, sweet, fruity.
In the taste, more of the same, well-modulated, nice and juicy...pretty nice bock bier, I says. Ah, nice flavor rising up with every sip. Medium bodied, nice, sweet finish. Got to hand it to Dogwood, UFOs or no, this is a beauty of a bock.
595 characters
Dogwood Bock from Dogwood Brewing Company
Beer rating:
3.47
out of
5
with
14
ratings