Marcello's Wine Market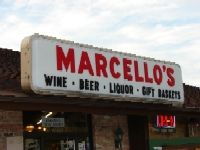 PLACE INFO
Type:
Store, Homebrew Store
2800 Johnston St
Lafayette
,
Louisiana
, 70503-3244
United States
(337) 264-9520 |
map
marcelloswine.com
Notes:
No notes at this time.
Added by Rob6852
Reviews: 9 | Ratings: 16

4.04
/5
rDev
-2.7%
vibe: 3.75 | quality: 4 | service: 3.75 | selection: 4.5
Marcellp's is the old staple in Lafayette as it has been here the longest. Where they excel is their selection of European brews. From Belgians to German, they have a better selection than anybody in the area.
211 characters

4.32
/5
rDev
+4.1%
vibe: 4.25 | quality: 4.25 | service: 4 | selection: 4.75
great beer and alot of wines and whiskeys, the staff is a little stand offish with new people by once they know you its all good, keep the beer fresh and has a very nice selection
179 characters
4.18
/5
rDev
+0.7%
vibe: 3.75 | quality: 4 | service: 4.75 | selection: 4
The beer selection is the best in town unfortunately even the owner will admit that we get limited distribution in our area. Still, great staff always willing to take the time to chat and answer questions and they are pushing the distributors for a larger selection. These are the kind of folks you want in your town who will work for the benefit of the craft beer community.
I almost forgot, any beer pack (6/4) can be purchased as singles for a modest mark-up. It is a fantastic offering knowing that I can try a variety without necessarily committing to a whole pack. This means I will experience many beers I might not have otherwise considered.
654 characters
4.72
/5
rDev
+13.7%
vibe: 4.5 | quality: 4.75 | service: 5 | selection: 4.5
The best place in the area for liquor, wine, beer, home brewing and wine making supplies and the staff is very helpful and knowledgable. If you are in the area this is a must stop for any of the above mentioned things. There are times that they will do 3 wines for $10 which is hard to beat.
291 characters
4.05
/5
rDev
-2.4%
This was a great find for me. Though most of whay they have is wine, there are many great beers to be had here, mostly singles. I don't usually do this, but I spent about $100 at the store. Most, if not all, of the beers I can not get in Houston. Just some of my beer run includes Rogue Imperial Stout, Unibroue 15, some Harviestown beers, Meantime, St. Peter's, and Gonzo Porters. I could not believe some of the stuff they had. Along with friendly and helpful service, this is a top notch beer store.
Edit:
I usually stop here while I am driving back to Houston from work in the Gulf of Mexico. The selection seems to have dwindled a bit. No more Ola Dubh's or any Haviestown beers at all. No more Meantime, and the Unibroue selection has been down as of late. It is still a good place to get craft beers, the shelves just seem a bit empty compared to when I first started shopping here a couple of years ago. They did get Thomas Hardy Ale and Fuller's Vintage in not to long ago though.
991 characters
4.1
/5
rDev
-1.2%
I've been to this place a few times, and each time I was fairly impressed. They have a great selection of beer, especially for a liquor store in Louisiana. Each time I've been there, I ended up spending between $60-$100 on various singles that more than stocked my beer fridge.
The service there is awesome as well. The guys are eager to help and give great recommendations on beer. You can tell they do their 'research'. They almost always have some beers that are on special which gives you a chance to find a 'diamond in the rough'.
Overall, this store is a great place to find some great beer. If you are ever in Lafayette and need to bring some beer home with ya or just want some beer for the night while you are in town, this place is definitely worth a visit.
When you do arrive at Marcello's, be sure to ask for their North Coast Brewery beers. These beers are rated fairly high and are also at a fairly low price (get the Cru 'dor).
946 characters
4.2
/5
rDev
+1.2%
As GreatGallaspy said, the ONLY place in Lafayette for craft beer (aside from those 6ers of Sierra Nevada you can get at Albertson's and Super 1). Not only is it a great place for beer, but also for wine and liquor. The employees seem eager to help, and are knowledgable of what's in stock. I don't have to worry about getting a blank stare if I ask if such-and-such beer will be in stock soon. If you're looking for a good selection of US micros, well, tough luck, Charlie. The only micros represented (as far as I recollect) were Flying Dog, Shiner, Abita, and Mendocino (oh, joy). I can get all these sub-par beers back in Texas, thank you. What they DO have is an excellent selection of Euro ales, mostly Belgians followed by a good selection from the UK. Unfortunately, not many Germans. What I really love about this place is that, when I'm in town, I can stock up all the styles that aren't distributed to Texas (flanders reds, oud bruins, etc.) and make the Kessel Run back to Denton with all that sweet booty. I will say that all of their imports seem a bit over the line. I have no way of gauging whether I got screwed on singles of Duchesse de Bourgogne for $3.25 per single, but I saw they were selling Caracole singles for $3.75 a pop. I haven't seen Caracole that expensive in North Texas.
Another nifty aspect of Marcello's is their discontinued shelf. It's a good way to get some random, excellent deals on beer or liquor. For instance, 6 months ago I got singles of Hitachino Nest Weizen and Red Rice for $1 a piece and 375 ml bottle of Finlandia vodka for $3. Great deals.
Overall, run, don't walk to Marcello's in Lafayette. You have no other choice.
1,675 characters
4.2
/5
rDev
+1.2%
One of the frustrating things about Lafayette is EVERYWHERE sells alcohol, but few places have decent beer. Because booze is available EVERYWHERE, few people see the need to shop at an actual liquor store. This is probably the only dedicated specialty market in town and if you are serious about beer, you'll be buying it here. It seems more imports than microbrews are available. You can get a single of almost anything and more than half the stock seems to be in bomber or literand a half format. There are also homebrew supplies available. The staff has always been quite friendly and they're starting to recognize me, which either means they're good or I drink too much.
There aren't isles and isles of beer to get lost in, but I've been legal here a few years and I still haven't come close to trying everything. I know BA says theres no such thing as "beer on sale", but Marcello's seems like they're out to prove the Bros. wrong. I have gotten brews from top breweries at 1/2 price or less here and have never been burned.
1,033 characters
3.05
/5
rDev
-26.5%
OK. I visted here a few weeks ago, so I am working off of memory and also a few of the things I picked up :)
And also, this is my first beer review so bare with me.
The quality was pretty good, but it wasn't the best I have ever seen. All and all they had a good selection of Belgians. More than my neck of the woods normally sees. I was little disappointed to see there Amerrican microbrews were pretty lacking. But overall, they had nice, but not great selection of brew.
That afternoon, which I was told the following day, they had a homebrew class which I was very sorry to miss. I did notice while I was walking around in there that they had a nifty section for homebrewing.
The only thing that really bothered me about the place was the lack of service I received here. I had several employees pass me while I was gazing at the beer, but not once did anyone stop to ask me if I "was finding everything alright", "was doing alright", "have any questions." Just general customer service stuff.
Anyway. Hope this helps
1,036 characters
Marcello's Wine Market in Lafayette, LA
4.15
out of
5
based on
16
ratings.