Great Lakes Miami Weiss
| Great Lakes Brewery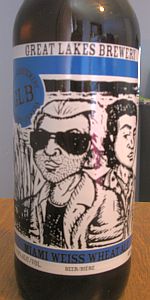 BEER INFO
Brewed by:
Great Lakes Brewery
Ontario
,
Canada
greatlakesbeer.com
Style:
American Pale Wheat Ale
Alcohol by volume (ABV):
4.50%
Availability:
Rotating
Notes / Commercial Description:
No notes at this time.
Added by bobsy on 04-19-2010
Reviews: 44 | Ratings: 78

3.77
/5
rDev
-4.3%
look: 4 | smell: 4.5 | taste: 3.5 | feel: 3.5 | overall: 3.5
Bottle in Unibroue glass
Appearance: 4
Golden yellow brown, with 1 inch white head, moderate lacing, mild to medium retention of the head.
Smell: 4.5
Tropical fruits from the hops – mango, tangerine, pineapple, with a little grapefruit. Just great smell.
Taste: 3.5
A little one dimensional. A small amount of sweetness from malt, but really pure bitterness from hops without any fruity notes. Finishes with a cutting bitterness. Body feels pretty light, probably because of low alcohol content. Definitely a hop head beer. Flavor softens overall together as beer warms, but tends to be very bitter.
Mouthfeel: 3.5
Mild to moderate thinness, and quite astringent from the hops.
Overall: 3.5
Really interesting beer. It has an amazing aroma, but doesn't match with taste. Its definitely not like a typical Weiss beer, instead its is more like a west coast ipa. It is hard to figure which style and expectations to have. Would enjoy if it had a stronger malt presence in the taste. Also interesting is the low alcohol content which hinders the taste profiles, but makes it easy to enjoy without effects of alcohol. Overall, would enjoy more with tweak to malt content, but for a one off beer, still quite enjoyable.
Recommend trying.
★
1,241 characters

4
/5
rDev
+1.5%
look: 4 | smell: 4 | taste: 4 | feel: 4 | overall: 4
650ml Bottle
Appearance – Slightly hazy amber colour with a large size frothy and fizzy beige coloured head. There is a low amount of carbonation showing and there is a good amount of lacing. The head lasted for around 5 minutes before it was gone.
Smell - Malts, hops, caramel, grapefruit/oranges
Taste & Mouth - The beer has an average amount of carbonation and I can taste malts, caramel, and a fair amount of hops. As well, there is a huge blast of citrus. Lemons, grapefruits, and oranges.. all great just not what i was expecting when I bought a wheat beer. (I didn't read the blurb on the back of the bottle) It finishes with a hoppy citrus aftertaste.
Overall – If you like west coast IPA's, then you will like this 'wheat' beer for sure. As someone esle stated, it kind of like a lightened up Crazy Canuck.. maybe with a tough more citrus. It actually reminded me of the Lagunita's Lil Sumpin Sumpin pale wheat ale. Anyways, it's a tasty beer that I will buy a few more bottles of for sure.
★
1,007 characters

4.02
/5
rDev
+2%
look: 4.5 | smell: 5 | taste: 3.5 | feel: 3.5 | overall: 4
Pours a caramel gold topped by a bright, white, thick and moussey head with just a bit of a haze. Laces nicely.
Really nice clean citrus aroma with caramel and hint of tropical fruit. Smells more like an APA than a wheat beer.
Sweet rounded malts in the middle are washed away by a grassy bitterness. Lemon herbalness throughout. A bit of honey sweetness underneath with some tropical fruit on the far-flung edges. Finishes long with the bitterness just about outstaying its welcome in the aftertaste. An argument could be made that this could use less hop bitterness and more hop flavor, but it's still pretty good as is.
Mouthfeel is medium, crisp carbonation. Seems a tad under-attenuated.
It tastes to me like they lighted up Crazy Canuck Pale Ale with some wheat. That's not necessarily a bad thing. Canuck's a fine beer. And so is this. But there's much better value in the Canuck for me.
★
898 characters
4.12
/5
rDev
+4.6%
look: 4 | smell: 4.5 | taste: 4 | feel: 4 | overall: 4
A - poured a huge two finger fluffy white head with plenty of lacing - nice cloudy golden orange colour - this seems to be the only "weiss" characteristic with this one
S - huge hops scent dominates here - a wee bit of wheat - citrus fruit
T - pine, grapefruit, spicy, pineapple, herbal/mdeicinal towards the end
M - light body with plenty of carbonation - spicy and bitter
O - this was a real surprise - glad I read the warning on the label "this is not a weiss..." - closer in taste to a hoppy IPA -will definitely grab more of this while it is available
★
561 characters
4.3
/5
rDev
+9.1%
look: 4 | smell: 4 | taste: 4.5 | feel: 4 | overall: 4.5
A stunning amount of "west coast" hop flavour in this 4.5% ABV pint.
Enjoyed this first from a cask at the brewery last year and on draught several times since, including this afternoon at BeerBistro, after purchasing the first bottles I've ever seen at the brewery.
A clear golden, rusty amber with white foam and decent carbonation. Aroma is pure "c" hop, as is the flavour. Some caramelized malts in the taste as well, with its pleasantly crisp and bitter finish.
Although this is a wheat beer, I am delightfully surprised by how little wheat evidence I can taste. Realize this style is both traditional and popular, but just not to my personal taste. Great Lakes has created the perfect summer beer for anyone who shares my indifference to wheat and love of hoppy ales!
★
779 characters

3.83
/5
rDev
-2.8%
look: 4.5 | smell: 4 | taste: 3.5 | feel: 4 | overall: 4
Bottle from the brewery, originally inspired by the Project X creation from a ways back. 650ml into a tulip.
Pours a mildly hazy orange-yellow, with a nice fat white head atop. Huge sticky lace and fantastic retention. Nose is huge orange and citrus notes, Amarillo distinctly. Some light pine, and peripheral honey and wheat notes are slightly detectable. Touch of peach and tropical fruitiness. Taste is more recognizable as a pale wheat ale, as big wheat notes hit the palate with a continued hop presence as per the nose - more orange and a touch of peach. Dry, grainy and wheaty. Body is quite light and there's some moderate carbonation here, some bitterness in the finish and a definite drying sensation. Some chewiness. Nice stuff, and quite drinkable at the ABV. An interesting cross between what feels like a pale wheat ale and a lighter IPA. Glad I've got a few more in the fridge.
★
893 characters
4.3
/5
rDev
+9.1%
look: 4 | smell: 4 | taste: 4.5 | feel: 4 | overall: 4.5
On tap at Beerbistro
Poured a cloudy yellow/orange colour with two fingers of creamy white head.
Crisp bitter cirtus hops on the nose with grapefruit and orange notes.
The taste follows the nose with crisp bitter citrus hops that have hints of grapefruit and tangerine. Very little in terms of wheat ale characteristics in this one, just tastes like a straight up pale ale. There is a bitterness that lingers in the finish with this one, which becomes a little bit too noticeable as I continue to drink this.
Light body, light mouth feel.
An excellent beer. Reminds me of FFF Gumballhead and almost the same quality.
★
624 characters

3.92
/5
rDev
-0.5%
look: 3.5 | smell: 4 | taste: 4 | feel: 3.5 | overall: 4
Had a 8oz glass at the session craft beer festival.
Looks like an average Hefe Weisen nothing spectacular in terms of looks, unfiltered so its nice and cloudy. The smell is out of this world thick with yeast and exploding with hops smells more like an IPA that a Hefe weisen, blew me away in that category. The taste is where this comes to shine. Has all the citrus and spice notes typical of a wheat beer but with a generous hop kick. Very easy to drink excellent beer for the season even though it was raining at this particular morning (the sun did come out when they started pulling the cask of My Bitter Wife though) I hope they keep brewing this.
Get a pint if you see this on tap. This is truly a wheat beer for the IPA lover.
★
735 characters

4.02
/5
rDev
+2%
look: 4 | smell: 4.5 | taste: 3.5 | feel: 4 | overall: 4.5
I've had this a few times now... about time I reviewed it.
A: Hazy, golden bronze, white head, good retention lace.
S: Huge amarillo hop aroma with some nice tropical fruity esters.
T: Plenty of leafy hop goodness, but I think it could use a touch more 'flavour' hops to round it out. It just doesn't have the same depth as a Gumball head. Good bitterness.
M: Smooth, moderate body has a light acidity and a dry finish.
D: Hell of a drinker.
This is a great American wheat, and a very sessionable strength.
★
513 characters
3.68
/5
rDev
-6.6%
look: 4.5 | smell: 4 | taste: 3.5 | feel: 3.5 | overall: 3.5
Bottle picked up recently from the brewery. This stuff pours beautifully, with no shortage of rocky meringue-like head. I'd say this beer ties with Dennison's Weisse for best head in Ontario. I guess that's fairly typical for bottle conditioned beers. The body is opaque and a dull-straw colour. Great retention and tons of lacing.
The nose almost lives up to the appearance with loads of banana, lemon rind, pineapple, guava, celery, light caramel and spice. This actually smells fairly similar to Schneider's Hopfen Weisse, recently released by the LCBO.
The flavour is a bit of a let down, to be honest; but only given the expectation set up here. There's a pretty solid grassy bitterness, but it's not completely balanced out by anything else; sort of left on its own. There's not really much weisse character coming through, it almost comes off as a hoppy pale ale lacking in malt. Under the hops is some light grain and a pepperiness (celery-like) but no significant malt. The finish leaves some lingering, drying herbal bitterness. This one could definitely use some tinkering. I like the hops but there needs to be more of everything else. All that said, it's not too too bad.
The feel sort of average: light-medium body and moderate carbonation.
I can't remember having tried many beers where the appearance and nose were so far off from the quality of the taste. Strange. They have you expecting an amazing beer only to find a mediocre one. Still, it's pretty drinkable. I'd be interested to try a reworked version of this beer. Otherwise, I don't think I'll be picking it up again.
★
1,600 characters
4.12
/5
rDev
+4.6%
look: 4 | smell: 4.5 | taste: 4 | feel: 4 | overall: 4
Had on cask at C'est What. Pours a golden-yellow with a nice white head that sticks around. Had a nice citrus hop aroma that I wasn't expecting, to go with the wheat. Tastes of grapefruite hops, banana and some other fruits were mixed in there. Very delicious.
This actually reminded me a little bit of Gumballhead. Not as good, but still the slight reminder means this is a really good beer.
★
393 characters
3.77
/5
rDev
-4.3%
look: 3.5 | smell: 4 | taste: 3.5 | feel: 4 | overall: 4
On tap at C'est What Spring Festival.Unfiltered grapefruit look, with white lacing. Good grapefruit aromas. Wheaty hoppy beer. Decent mouthfeel and taste, drinkability. Like the Imperial HefeWeiss, just a step down. However the continued upward trend for the brewery.
better in most recent bottling, with creamier mouthfeel and more apparent bitterness.
Even better on cask at the LCBO public release. Orange aroma, smooth not not thick. Much carbonation for a cask.
★
467 characters

3.87
/5
rDev
-1.8%
look: 4 | smell: 4.5 | taste: 3.5 | feel: 3.5 | overall: 4
Bottle: I'm told this is bottle conditioned but I assume this is cask brew finished in the bottle rather than the a cask.
Pours a cloudy golden ale in the flute with a solid puffy cap...great lacing. Nice soft natural carbonation. Aroma is unique for a Weizen this has a pungent bouquet of fruity esters mingled with PNW hops; exotic fruits-banana-citrus...light biscuit aroma. Soft mouth feel... biscuity, citrus resinous hopping, dry citrusy finish. Bright flavors but not the fruit basket the aroma promised...lacking spice phenols.
I got a couple of these and I suspect as a bottle conditioned weiss it may take a couple more weeks to have all the flavors develop. I'll sample it again then.
★
699 characters
3.77
/5
rDev
-4.3%
look: 4 | smell: 4.5 | taste: 3.5 | feel: 3.5 | overall: 3.5
First bottle conditioned beer in Ontario (to the best of my knowledge), so this is quite the coup for Great Lakes. It was originally brewed for a Project X cask night that I missed, but fortunately they bottled some only last week. From what I've heard it was intended as the brewery's take on Gumballhead, so I'm expecting a hopped-up beast that transcends the style guidelines.
Hazy amber body with a creamy white head that puts down some good streaks of lace. Awesome nose - resinous and fruity with strong pine, mango, pineapple and tangerine notes. Really a great one to breathe into. Flavour is decent, but can't live up to the heights of the aroma. A slightly generic bitterness takes on a leafy nature, and the fruit drops out almost completely, though light pineapple flits in and out. Strong malt and wheat backbone provides support and substance. Medium body and carb.
Pretty decent, and a nice drinker, though it misses out on the top tier by struggling to deliver on the promise of the aroma. I like the direction these guys are heading though, and not many Ontario brewers are willing to up the bitterness as high as it is here.
★
1,148 characters
Great Lakes Miami Weiss from Great Lakes Brewery
3.94
out of
5
based on
78
ratings.