Great Lakes Sweet Pete's Peach Wheat
| Great Lakes Brewery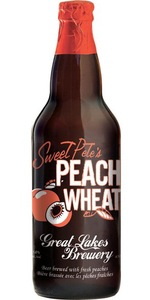 BEER INFO
Brewed by:
Great Lakes Brewery
Ontario
,
Canada
greatlakesbeer.com
Style:
Fruit / Vegetable Beer
Alcohol by volume (ABV):
5.00%
Availability:
Fall
Notes / Commercial Description:
No notes at this time.
Added by Sammy on 10-15-2010
Ratings: 13 | Reviews: 9
Reviews by liamt07:

3.72
/5
rDev
+6.3%
look: 3 | smell: 3.5 | taste: 3.5 | feel: 4 | overall: 4.5
Split this bottle with my girlfriend, 650ml into a couple pint glasses. Seasonal release from the LCBO and hopefully makes it into stores a little earlier in the year next year, we both enjoyed this one.
Pours a slightly hazy, golden yellow with a couple fingers of thin and bubbly head which fades to the slightest collar, something I've noticied in a majority of Great Lakes' LCBO releases. Hmm. No retention and any lace is trace really. Nose is nice, some banana, peach, nectarine and wheat. Taste follows this with some nice banana and a lesser peach presence, but still there and fairly tasty to be honest. High carbonation and easy to put back, small surprise and would love to see this available in the summer next year! Good for some casual hot afternoon drinking and whatnot, nothing too complex but still satisfying.
828 characters
More User Reviews:

3.98
/5
rDev
+13.7%
look: 4 | smell: 3.5 | taste: 4.5 | feel: 3 | overall: 4
Pours yellow and little bit hazier than the "slightly cloudly" the bottle claims. It was slightly cloudy when I first started my pour; after dislodging a little bit of sediment from the bottom of the bottle at the end of my pour this was actually starting to look a bit turbid. An inches worth of head receded to a thin but retentive cap. The aroma is mild and peachy with a little bit of weizen-like banana esters. The beer tastes sweet but not overbearingly so, with a slight tang to balance it. Banana is more pronounced (even to the point of dominance) on the palate with the peaches playing a more secondary role. I'll hazard a guess that the "unique strain of wheat beer yeast" is a weissbier strain, except there aren't really any clove/phenol characteristics to speak of. This fairly light bodied ale shows a lot more character once its more than ample carbonation has subsided a little. This doesn't need to be complex to be good; it's simple but what flavour it posesses has depth. I like fruit beer, and this is a pretty good one as far as I'm concerned.
1,065 characters
3.08
/5
rDev
-12%
look: 3.5 | smell: 3 | taste: 3 | feel: 3.5 | overall: 3
Caskdays at Great Lakes Brewery. Pours fruity colour with some head and lace. Sour wheat aroma. Medium mouthfeel. Aggressive carbonation. Not very drinkable, better if in the summer. Not their best creation, will soon be in LCBO, crushed Niagara peaches. I like peaches, but this didn't strike me.
297 characters
3.59
/5
rDev
+2.6%
look: 3 | smell: 4 | taste: 3.5 | feel: 3.5 | overall: 3.5
Poured a one finger head into a pint glass, with little retention or lacing - the colour of peach cider, murky
Smell was the best part of this one, plenty of yeasty peaches, banana, wheat, pepper, hops
Taste follows the nose and was not the usual let down from this brewer (i.e. nice smell followed by little in the taste) - relatively well balanced wheat and peach flavours with some banana, yeast and hops coming through - sweet but not too much so
M - medium body with little carbonation, sweet and dry, not overly bitter
O - a decent offering from this inconsistent brewer - only grabbed it because I was day dreaming of beer and peaches the other day and stumbled across this one (serendipity?) an hour later and had no choice but to grab it. I must say that this was certianly a pleasant, straightforward drinkable brew that I will grab again.
853 characters
3.5
/5
rDev 0%
look: 3.5 | smell: 3.5 | taste: 3.5 | feel: 3.5 | overall: 3.5
Pint at The Only advertised just as Great Lakes Peach Wheat. Pours a murky as hell pint, a finger of head on top that recedes to a collar. Looks slightly sludge like - this is far beyond 'cloudy'.
Nose has a light wheat tang and a hint of sweetness, a touch of cloves, hard to pick out any peach. Both flavor and smell come off a little muddled. Light refreshing tartness to it, cloves and wheat, some nice typical hefe characteristics, light phenols, some fresh peach in the flavor comes through, restrained and balanced. Body is a little weak, a little low on the carbonation. Simple and perhaps not as focused and clean as I would like but drinkable and no regrets ordering it.
681 characters
3.47
/5
rDev
-0.9%
look: 3 | smell: 3.5 | taste: 3.5 | feel: 3.5 | overall: 3.5
On tap at the brewery during caskdays. Pours a cloudy orange colour with very thin head without lacing. Smells has a ton of peach with the wheat. Flavour is sweet peach. I haven't actually had a peach beer before and I enjoy this. This would be perfect in the summer on a hot day, instead of middle of October.
310 characters

3.62
/5
rDev
+3.4%
look: 3 | smell: 3.5 | taste: 3.5 | feel: 4 | overall: 4
Sweet Pete's Peach Wheat is a golden beer with good clarity, so long as you avoid dumping the sediment into your glass. Otherwise, it looks like a peach-coloured lava lamp, especially as the little bubbles shoot up the side of the glass. Those pin-pricks of carbonation flutter above surface but never succeed in building any head.
Unlike many fruit beers, this one is not brewed with fruit flavour, but rather actual fruit. Hence it does not contain nearly as much sweetness or fruit in the flavour. In fact, it has very little, if any. Instead, the peaches seem to have done more for texture, providing a feeding frenzy for yeast which resulted in a zestful acetic tartness.
In a small way, the beer's tartness actually resembles the lactobacillus culture of a Berliner Weiss. It's mineral dry and delicately sour. Certainly the predominance of creamy wheat malt, the fever-pitch carbonation, the yeasty phenols and the banana-fruit/bubblegum-y character certainly suggest a recipe of German decent.
The hefeweiss impression is furthered in the aroma, where banana flavour thrives and a pinch of clove-like spice seems to have survived. Once again, any notions of fresh, summertime peaches seems at first far-fetched, although is not entirely crazy. You can find the fruit, but only if you try to look for it. It's more beer-y than most fruit-infused offerings.
Adding fruit to an underwhelming, hot-weather quencher is an American thing to do. But there's enough German character to this beer that it might aught to be called Sweet Pete's Peach Weiss. Whatever was intended, I can't imagine Great Lakes is either thrilled or altogether disappointed with how it turned out; it's an agreeable, but average beer.
1,720 characters
3.72
/5
rDev
+6.3%
look: 3.5 | smell: 4 | taste: 3.5 | feel: 3.5 | overall: 4
a-pours a nice hazy straw colour pretty typical of a wheat beer.
s-Nice fruit smells immediately noticible followed by the usual wheat spiciness.
t-The wheat flavours are more up front with the peach taste following it afterwards.
m-Pretty typical of a wheat beer.
d-Really drinkable. Very nice flavours and would be great on a hot afternoon.
347 characters

3.42
/5
rDev
-2.3%
look: 3 | smell: 3.5 | taste: 3.5 | feel: 4 | overall: 3
Pours a hazy golden orange colour, one finger of white head that dissapeared almost instantly, no retention, no lace, if the colour wasn't quite nice it would get a 1 for looks. Smellis yeasty with lots of banana and clove charachters, peach skin, quite floral, bready malts, candy like bubblegum scentsd are there as well. Taste is dry and malty, lightly tart and acidic, banana is there but not as much as the nose would indicate, peach and peach pit in finish and aftertaste, also got a bit of a smokey flavour in the aftertaste as well. Med-hig prickly carbonation, medium body, medium weight, nice enough feel. This was OK, there is no doubt that this is made with real peach because when I eat a peach my tounge stings and swells slightly and this happened while drinking this, in all honesty though I would consider this a miss from these guys.
851 characters

Great Lakes Sweet Pete's Peach Wheat from Great Lakes Brewery
3.5
out of
5
based on
13
ratings.