Great Lakes 25th Anniversary Robust Porter - Bourbon Barrel Aged
| Great Lakes Brewery
BA SCORE
84
good
12
Reviews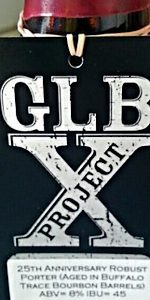 BEER INFO
Brewed by:
Great Lakes Brewery
Ontario
,
Canada
greatlakesbeer.com
Style:
American Porter
Alcohol by volume (ABV):
8.00%
Availability:
Limited (brewed once)
Notes / Commercial Description:
No notes at this time.
Added by Sammy on 05-24-2012
This beer is retired; no longer brewed.
Reviews: 12 | Ratings: 17

3.02
/5
rDev
-18.6%
look: 3.5 | smell: 2.75 | taste: 3 | feel: 3.5 | overall: 3
650ml bottle poured into tulip 9/6/13 cheers liamt07 for sending me the bottle
A dark cola liquid with a deep edge, finger of mocha foam sticks around for a few sips and leaves just a few random patches of lace
S sour fruit hits me first, smells funky, there's an infection setting in I'm thinking, I get some vanilla, smoke, bourbon and chocolate but it takes a back seat to funky sour apple and some burnt cream
T less sour funky notes and the roasts trying to shin through but it can't quite get there, the booze is well hidden and its drinkable but flawed, oak and raisin helps its cause but not enough
M a little thin and it needs some bubbles, no booze but lingering sour notes on the finish don't work all that well for it
O I think the barrel may have added some unwanted characteristics, a little sour and its getting in the way of the roast and barrel, drinkable but disappointing
I noticed the overall score was a little low and perhaps there's some bad bottles out there bringing it down, I'm going to read the reviews I suppose and see if my bottle was an isolated incident, drink ASAP if you have any lying around
1,137 characters
3.33
/5
rDev
-10.2%
look: 4 | smell: 3.5 | taste: 3 | feel: 3.5 | overall: 3.5
Bottle from brewery. 8% ABV per Project X label. Poured in to Great Lakes snifter.
A - Poured dark brown and settled black. Half a finger of espresso coloured head that reduced to a thin layer.
S - Roasted malts up front, which was a surprise (expected more barrel). The bourbon is there but not dominant and adds a big woody/oak aroma and some light vanilla. Hints of smoke of coffee in the background.
T - The bourbon doesn't take the back seat the way the nose indicated and is present up front with a big alcohol presence. Some oak is present as well but the vanilla from the nose doesn't translate. Big roast is present along with a touch of smoke. The barrel integration is very weak here and the barrel characteristics dominate the beer with a big, boozy finish that is typical of all GL barrel aged beers that I have had.
M - Medium body but a touch light at times. Light carbonation.
O - The regular version was excellent and I had high expectations for the barrel aged version but this one didn't come together well.
1,036 characters
3.42
/5
rDev
-7.8%
look: 4 | smell: 3.25 | taste: 3.5 | feel: 3 | overall: 3.5
Thanks liamt07!!
Appearance. Pours black with a finger of thick tan head.
Smell. Dark fruits, slight sourness, dark chocolate and dark malts. Just a little bourbon but I probably wouldn't have hit that without knowing.
Taste. Dark fruits, cocoa, very woody bourbon and vanilla, dark well roasted malts.
Mouthfeel. Medium body, medium low carbonation. Seems quite thin.
Overall. An okay beer. Nothing too terrible, maybe just not my thing.
444 characters
3.58
/5
rDev
-3.5%
look: 4 | smell: 3.5 | taste: 3.5 | feel: 4 | overall: 3.5
Not sure if this is the same beer or not. Had at Stout Irish Pub under the name "XXX Bourbon Barrel Porter".
Beer is black with a small tan head. Dissipates fairly quickly. Good lacing.
Smell is bourbon, bourbon and more bourbon. Oak as well.
Taste is also bourbon focused, but oak and vanilla come out more. A fair bit of anise. More barrel than beer.
Full bodied, light carbonation. A bit low on the carbonation for the body, but pretty good.
Overall, not bad but the barrel presence is too strong. Not as well integrated as I would like.
546 characters
3.68
/5
rDev
-0.8%
look: 4 | smell: 3.5 | taste: 3.5 | feel: 4 | overall: 4
Bottle from TheSevenDuffs into snifter.
Project X tag and red wax.
A- Inky, murky, oily black pour with a half finger light tan head. Lacing is minimal as expected for a BA beer.
S- Very slight bourbon up front. Least bourbon forward BA beer I've come across. It's there but barely. Dark chocolate, dark coffee, brown sugar, vanilla, a little oak and some black strap molasses.
T- Dark roasted coffee, semi sweet chocolate, some smooth bourbon notes, burnt toast, vanilla and some oak. Again the bourbon is there but it's hiding in the back.
M- Medium body, low end of normal carbonation, slightly silky.
O- I love the robust porter, and I'm glad I have more left. I love bourbon aged beers. I think this one is good not great. I think a little longer in the barrels would have helped immensely. As it sits the barrel smoothed everything and melded it together without imparting a whole lot of bourbon in it.
913 characters

3.7
/5
rDev
-0.3%
look: 4 | smell: 4 | taste: 3.5 | feel: 4 | overall: 3.5
Pours the standard jet black with creamy caramal foam. Definately tastes barrel aged, but the burbon stands out a little too much. Making this tastey a little too boozey, to go with the chocolate and roasted notes. Its an ok porter overall, but I prefer the regular version as the burbon takes over just a little too much in this porter. I really appreciate the brewery's efforts though.
387 characters

3.78
/5
rDev
+1.9%
look: 4.5 | smell: 4 | taste: 3.5 | feel: 3.5 | overall: 4
On-tap at Milos' in London, ON. Served in a very large snifter.
A - A thin tan foam settles to a thin collar, wisps, and fingers of lace. Body is quite black, and doesn't reveal much color in the low light conditions.
S - Lots of bourbon here, along with vanilla, biscuit malts, oak, and more bourbon. A mild amount of roast, but more in the way of cocoa powder and caramel. The barrel-aging has largely overwhelmed the base beer, but that's a good thing seeing as I didn't enjoy the base much at all.
T - The taste isn't quite as good as the aroma, as the oak and bourbon has been become a tad harsh and astringent. Some sour mash flavors in the finish, and notes of chocolate and roast in the periphery.
M - A tad thin, with a sticky and chewy texture, and a bit of dry oak in the finish. Carbonation is on the lower side of medium.
D - Compared to the base, this was a significant improvement. The body is a tad thin for the style and flavors, and the portion size was a tad excessive but I did eventually finish it. A step in the right direction for Ontario breweries in the area of barrel-aging.
1,105 characters
3.95
/5
rDev
+6.5%
look: 4 | smell: 4 | taste: 4 | feel: 3.5 | overall: 4
Enjoyed on tap at Everitt Brick Works event. Black bodied with little head. Rich and sweet good bourbon (Buffalo Trace barreled). A little astringent in the finish, vanilla, rum sugar, coconut. A good porter and integrated with the barreling. GL has picked it up in this department.
Had it a few weeks later at BarHopBar. Smooth poter, good elements to it. A bit on sweet side.
377 characters
3.96
/5
rDev
+6.7%
look: 3.75 | smell: 4 | taste: 4 | feel: 3.75 | overall: 4
Bottle: Poured a pitch-black color porter with a medium dark brown foamy head with good retention and some lacing. Aroma of strong bourbon notes with light vanilla and some light corn notes also noticeable. Taste is a great mxi between some light roasted malt with medium bitterness with some black chocolate and string dominant notes of bourbon and vanilla. Body is slightly below average with good carbonation and light warming alcohol notes. Quite a bit extreme with the barrel-aging so this is no an everyday drink but nice treat nonetheless.
546 characters
4.03
/5
rDev
+8.6%
look: 4.5 | smell: 4 | taste: 4 | feel: 4 | overall: 4
sample at the glb tap takeover at barvolo in toronto, aug 22 2015
a: close to pitch black with tan-ish head
s: light bourbon on the nose. brown sugar/toffee/caramel, and some dark chocolate
t: follows the nose. nice sweet vanilla in the front, followed by malty caramel notes. flavours of cocoa come afterward, but are very light
m: medium mouthfeel with low carbonation
o: a good bba porter
397 characters

4.1
/5
rDev
+10.5%
look: 4 | smell: 4 | taste: 4 | feel: 4 | overall: 4.5
On tap at Session 2012, into a tulip.
Dark brown with a tan head. Good legs, some lacing and mild retention. Nose has sweet bourbon initially, slight oak and chocolate. Perhaps a bit of fudge. Some of the base porter comes through as well, but bourbon is dominant. Tastes of bourbon, oak, bitter dark chocolate and roasty. Oaky and bourbon-y finish. Medium body and carbonation. A nice treatment of the base beer, but I'm not convinced that I dig it more than the original porter itself which was quite solid. Still a nice BBA porter, a bit of age on this would be interesting.
579 characters

4.1
/5
rDev
+10.5%
look: 4 | smell: 4 | taste: 4 | feel: 4 | overall: 4.5
Nearly pitch black, ring of tan head with a bit of lace as well. Smell is rich with bourbon, oak and vanilla, lots of roasted malts and chocolate, a bit of hops are detected as well as some coffee grinds, nice integration of bourbon here. Taste is of vanilla and chocolate, bourbon come out about halfway through, big roast and chocolate flavours, light smoke throughout, must have had lots of vanilla because I wrote it down 3 times in my notes, bourbon in the aftertaste. Medium body, creamy with light carbonation. Solid stuff here, the base beer is really good so this wasn't a huge improvement on it but this is something I would welcome anytime.
651 characters
Great Lakes 25th Anniversary Robust Porter - Bourbon Barrel Aged from Great Lakes Brewery
3.71
out of
5
based on
17
ratings.