Great Lakes 25th Anniversary Imperial Black IPA
| Great Lakes Brewery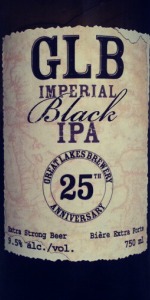 BEER INFO
Brewed by:
Great Lakes Brewery
Ontario
,
Canada
greatlakesbeer.com
Style:
American Black Ale
Alcohol by volume (ABV):
9.50%
Availability:
Limited (brewed once)
Notes / Commercial Description:
No notes at this time.
Added by TheSevenDuffs on 11-03-2012
This beer is retired; no longer brewed.
Reviews: 16 | Ratings: 24

4.45
/5
rDev
+6.5%
look: 4.5 | smell: 4.5 | taste: 4.5 | feel: 4 | overall: 4.5
(4.5) A: Black as night with a creamy and bubbly grey-brown foam head. Very good retention and lacing that's equal.
(4.5) S: A ton of fruity and herbal hop-like aromas coming through in the form of grapefruit, pineapple, and banana. Faint dark fruits of raisins and dates along with nut elements. Also can detect a root beer aroma and spices including cinnamon. Complex and well put together with an enticing end result.
(4.5) T: Herbal weeds, grapefruit, pineapple, banana, dried dark fruits, and roasted malt evident with faint velvety chocolate notes. As expected this is quite bitter with a very dry and incredibly earthy herbal taste that works superbly with the big pineapple taste amongst other fruits. Alcohol is very well hidden considering this is just under 10%. This is delicious.
(4.0) M: Medium bodied with a low-moderate carbonation. Not too heavy or oily with just enough resiny and chewy texture.
(4.5) D: This is my favourite GLB anniversary offering to date, and that's tough considering the other quality offerings. I would also say this is one of my favourite Ontario beers to date. Please make this year round.
★
1,141 characters

3.98
/5
rDev
-4.8%
look: 4.5 | smell: 4 | taste: 4 | feel: 3.5 | overall: 4
750ml Bottle from the Ottawa LCBO for 10$
Appearance - Dark brown colour with an average size fizzy/frothy beige coloured head. It's hard to make out the amount of carbonation and there is some fantastic lacing. The head lasted for 5-6 minutes.
Smell - Malts, hops, grapefruit
Taste & Mouth - There is a below average amount of carbonation and it feels a little watery. I can taste hops and malts mixed with grapefruit. There is also some coffee/chocolate notes. It ends with a malty dry hopped bitter aftertaste.
Overall - Reminds me a bit of a beefed up version of their 666 Devils Pale ale. A great amount of hop bitterness if that's your thing, but it's missing a little bit of the lip smacking nectar/juiciness I can find in a Firestone Wookey Jack or a Stone SSSR. Still a very very good beer.
★
803 characters
4.38
/5
rDev
+4.8%
look: 4.5 | smell: 4 | taste: 4.5 | feel: 4.5 | overall: 4.5
wickedly good, poored from a 750ml bottle obtained from the maple leaf gardens lcbo.
had the pleasure of the GLB/biergotter collaboration of the same style earlier and this was an improvement with more hops and depth...
black, thick and covered in a dense and lasting crema of head.
nice aroma of papaya, pineapple, and roast with a nice touch of anise.
taste is much the same, hops at the forefront, with a great underlying roast and obvious yet almost subtle anise character. the flavours worked well without clashing.
a nice rich and thick mouthfeel, big hop presence thanks to effective dryhopping, with an almost palate stripping presence. as it should be...
this was top notch, and really delivered everything i want/hope for from a beer like this. i would recommend it to any fan of the style, or whiny canadians who cant seem to find top notch craft beers brewed right here at home ;)
★
897 characters
3.73
/5
rDev
-10.8%
look: 4.5 | smell: 4 | taste: 3.5 | feel: 3 | overall: 4
On tap at WVRST tap takeover. Cascade aroma, not the puzzler's balance. Back with a bubble head, big roast, carbonation, and these characteristics dominate the hopping. Holding back some carbonation, such as by cask, may help. Still good drinkability and spot on the style, worthy of an anniversary labelling.
★
309 characters
3.92
/5
rDev
-6.2%
look: 3.5 | smell: 4 | taste: 4 | feel: 3.5 | overall: 4
I don't see a date on the bottle, but this has to be quite fresh.
Beer is black with a very small tan head that dissipates quickly. Decent lacing.
Nose contains citrus fruit (grapefruit and tangerine stick out for me) and roasted malt. Well mixed together.
Taste is a nice balance between roasted malt and bitter chocolate on the one hand, and juicy citrus fruit on the other. The citrus jumps out at me first, but the roasted flavours are not far behind. Quite bitter. Good.
Medium bodied, highly carbonated, I find the bubbles irritating. Oily.
Overall, quite a good Black IPA.
★
584 characters
4.05
/5
rDev
-3.1%
look: 4 | smell: 4 | taste: 4 | feel: 4.5 | overall: 4
Bottle stamped 2272, so presumably bottled on September 28th??? Seems too long ago, so I am not entirely sure if I have the freshness dating right.
Poured in to GLB 25th Anniversary tulip.
A - Poured black. One finger of mocha coloured head with good retention and good lacing.
S - Massive fresh hop aroma up front full of pine and citrus with some tropical fruit. Specifically, some grapefruit, peach and mango aromas are present. Roast is present but takes the back seat to the hop aromas.
T - Bitter punch up front that immediately gives way to a big roast profile. Grapefruit, tangerine, pine and peach flavours are present. Lighter chocolate and licorice flavours in the background.
M - Medium body, smooth and silky. light carbonation. Full of tongue-coating hop oils.
O - Another well made 25th Anniversary beer from GLB!
★
851 characters
Great Lakes 25th Anniversary Imperial Black IPA from Great Lakes Brewery
4.18
out of
5
based on
24
ratings.