Great Lakes Dirtbag McQuaig's Malt Liquor For Fine Gentlemen
| Great Lakes Brewery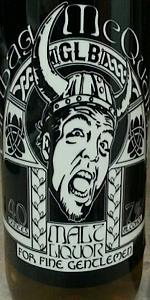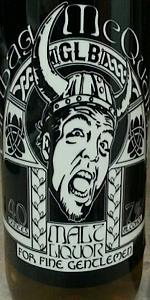 BEER INFO
Brewed by:
Great Lakes Brewery
Ontario
,
Canada
greatlakesbeer.com
Style:
American Malt Liquor
Alcohol by volume (ABV):
7.00%
Availability:
Limited (brewed once)
Notes / Commercial Description:
No notes at this time.
Added by peensteen on 12-28-2012
This beer is retired; no longer brewed.
HISTOGRAM
Ratings: 10 | Reviews: 3
Reviews by spycow:

More User Reviews:



3.65
/5
rDev
+14.8%
look: 3.25 | smell: 3.25 | taste: 3.75 | feel: 3.75 | overall: 4
Dirtbag McQuaig's has an appearance that I'm not at all familiar with seeing in a beer. True, I'm not used to buying 40 ounce bottles in brown paper bags, but, seriously, I'm not trying to be funny here. It is an entirely smoggy straw-coloured liquid with an almost lime-juice tinted complexion. It kind of has that unearthly green luminosity that cartoons give to nuclear contaminants. I wonder, Does it glow in the dark too?
I wasn't sure whether to chastise or reward the 'otherworldly' appearance, but I'm even more ambivalent about the aroma. Is it good or bad that this smells virtually like nothing at all? If anything, whatever faint graininess is perceived is pleasant and has an heir of authenticity (i.e., is free of off-putting adjuncts). Sure, there's a bit of alcohol but I reckon more than half of the commercial lagers I've tried have smelled five times worse than this.
With regards to aroma we can say there is nothing bad. With regards to taste, we can say that there's only good. Much to my (pleasant) surprise, Dirtbag McQuaig, despite what its name might lead you to believe, is actually - so far I can tell - a serious attempt at making an agreeable malt liquor (as opposed to a sarcastic attempt at imitating commercial malt liquors). Or at least it turned out that way.
Malt liquor like this makes the down-and-out significantly better-off. There's no taste of corn syrup or other starch sugars. In fact, there's no taste even of corn or rice (except maybe the slight flavour of corn chips, albeit the organic, multi-coloured brand from the gourmet store). It has a sweet taste, no doubt, but it's nothing saccharine. It also passes a test that no malt liquor should ever be put to - it is every bit as drinkable warm as chilled.
I started this review thinking that the government might want to prevent this malt liquor from ever falling into Iranian or North Korean (or the general public's) hands, but upon actually trying the beer my opinion was instantly swayed. I would have been fine with a silly, jokey offering but Dirtbag McQuaig's Malt Liquor For Fine Gentlemen is nowhere near the satirical offering I assumed it'd be. It's actually a 40 not worth pouring out for your fallen hommies.
2,228 characters

3.65
/5
rDev
+14.8%
look: 4 | smell: 3.25 | taste: 3.75 | feel: 3.75 | overall: 3.75
40oz bottle supplied by Liam. Thanks dude! Served in a DryHop taster glass for my birthday party.
A - A finger of white foam that lingers, settling to a thin cap, thick collar, and splotchy lacing. Lightly hazed straw gold body. Surprisingly good head retention for the style, although the lower ABV may help with that. Be careful in pouring this one, as there is lots of sediment visible in the clear(!) bottle.
S - Biscuity malt, yeasty bread, some creamed corn sweetness, and perhaps a faint hint of lemon that may be some residual hopping. Don't really get much alcohol in the aroma; just classic American adjunct lager more or less.
T - The taste is a bit more understated and clean than the aroma, with a good dose of bread and some nebulous fruitiness and lagery twang to it. I don't really get much corn character, much less any alcohol.
M - Medium body, smooth texture, lower carbonation, perhaps a bit toasty in the finish. As it approaches room temperature (which is inevitable, seeing as its a 40oz) there's a bit of warmth, but not beyond what's expected for a 7% brew.
D - It's a good malt liquor. Put it in a 24oz can and I'd probably buy it again if it were properly priced. I don't think any of my friends poured it out, which is impressive relative to some of the crap I've inflicted on them over the years.
1,331 characters

3.53
/5
rDev
+11%
look: 4 | smell: 3.5 | taste: 3.5 | feel: 3.5 | overall: 3.5
40oz. bottle. Poured 12oz in a tulip for the tick, the rest drank from the bottle.
Lightly hazed blonde colour, one finger of white head with some lace. Smell is dominated by grainy malts, fruity points, some apple juice, farily hop forward earthiness and some alcohol, some sweet scents come off as well, somewhere between a 3 and 3.5 but went with the higher score here. Taste is also quite grainy and malty, apple and other fruit, mild sweetness, medium bitterness, alcohol on back end feels a little higher than the 7% the label suggests. Medium-light carbonation medium body. Overall this was pretty enjoyable but I'm sure stronger than 7% ABV listed, I could see myself drinking another (or part of) one of these again though.
735 characters

Great Lakes Dirtbag McQuaig's Malt Liquor For Fine Gentlemen from Great Lakes Brewery
Beer rating:
3.18
out of
5
with
10
ratings