Great Lakes Belgian Dark Strong Ale
| Great Lakes Brewery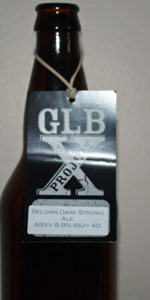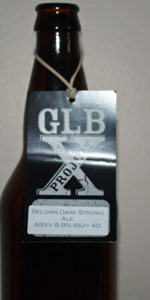 BEER INFO
Brewed by:
Great Lakes Brewery
Ontario
,
Canada
greatlakesbeer.com
Style:
Belgian Strong Dark Ale
Alcohol by volume (ABV):
8.80%
Availability:
Limited (brewed once)
Notes / Commercial Description:
No notes at this time.
Added by Sammy on 02-11-2013
This beer is retired; no longer brewed.
Ratings: 8 | Reviews: 5
Reviews by peensteen:

3.46
/5
rDev
+6.1%
look: 3 | smell: 3.75 | taste: 3.25 | feel: 3.75 | overall: 3.5
Pours a dark brown, ruby in the light, light ring of white head, no lace at all. Smell is malty with a good deal of dark breads, dark fruits coated in brown sugar, raisin, more malts and only a faint bit of yeast. Taste has lots of dark malt and bread, moderate sweetness, brown sugars, dark fruit, raisin and plum, almost no yeasty belgian flavours to speak of, finishes sweet. Medium carbonation, medium-full body, nice chewey feel. This was decent and actually pretty flavourful and almost seemed like a dopplebock at times, but not quite what I am looking for in a dark belgian beer though.
594 characters
More User Reviews:
3.58
/5
rDev
+9.8%
look: 3.75 | smell: 3.75 | taste: 3.5 | feel: 3.5 | overall: 3.5
On tap at The Rhino Winter Fest. One off Begian. Black with little head. A tad thin for the style, so-so drinkability. There was rated a decent amount of bitterness for this experiment, at 40 IBU. Not hoppy enough to be interesting, nor roasted or other complexity of malting. So its lack of popularity was a good indicator.
324 characters
2.79
/5
rDev
-14.4%
look: 4 | smell: 3 | taste: 2.5 | feel: 2.75 | overall: 2.75
Project X bottle purchased at the brewery a couple of months ago.
Poured in to GL tulip.
A - Very dark amber/brown colour; almost opaque, with a thin layer of dirty white head.
S - Clove and Belgian yeast aromas with a somewhat metallic component that is slightly off-putting. Some dark fruit, roast and chocolate notes are also present.
T - Dark fruit, roast and chocolate notes initially, followed by Belgian yeast, clove and spice. The metallic presence from the nose is also evident in the palate and is extremely distracting and off-putting.
M - Light to medium body with very little carbonation. Watery at times.
O - This was one of the few disappointments that I have had from Great Lakes in recent memory, but like many Project X beers, I expect this one to improve in future batches.
799 characters
2.9
/5
rDev
-11%
look: 3 | smell: 3 | taste: 2.75 | feel: 3 | overall: 3
600 ml bottle from their store. From their Project X series.
A strong dark dark brown colour with a thin tan head the quickly receded. Some lacing throughout the drink.
There is a definite sugar smell with good Beligian yeast. Little malt and no hops.
It tastes just like it smells. In fact, it taste very sweet which completely covers the 8.8% alcohol. After the sweetness subsides there is a yeasty taste with a touch of bitterness.
A smooth feel with a slight sharpness.
Overall a very one dimensional Belgian ale. Many will be put off by the strong sweetness but I was able to enjoy it anyways. A good experiment at a strong Belgian ale and I hope they return to try it again.
685 characters


3.1
/5
rDev
-4.9%
look: 3.75 | smell: 3 | taste: 3 | feel: 3 | overall: 3.25
The polished black body and its ivory white outline looks like a melted piano in a glass. It's like something from a Salvador Dali print. Is this Great Lakes' foray into surrealist art? If so, it's a good start, although, it must be said, the pitch-black opacity is a tad dark even for a Belgian Dark ale (these things usually have some colour) and the string for a head is far, far undersized.
The nose, likewise, seems to have missed the mark for the style. Notorious for being spicy and strong, these perfumy beers typically display theatrical esters and alcohol vapors. All I can sense, however, is maybe a trace of overripe blackberry, cola, some Vegemite and a fairly bready maltiness. It's honestly no more aromatic than the glass bottle it was packaged in.
This is a style that should offer rich, gooey, almost treacly fruit - dark plums and prunes awash with licorice and chocolate - but I don't get much of that here. Perhaps a bit of Ovaltine, cola and black licorice, perhaps some dried fruits, but it's awfully unsatisfying. If the expression "shooting pool with a rope" has any meaning to you, you can catch my drift.
The fact that this ever-creative brewery didn't even bother to name the beer says something. It must be hard when it has so little character. It's not unpleasant though and, come to think of it, would probably make a decent offering for lager drinkers looking to dabble in darker beers; it probably wouldn't taste too unfamiliar for those used to brands like Rickard's Red.
Credit "terroir" or "industry clusters" or ambiance or some alien race that secretly rules the government - credit it to whatever you want! - but the fact is that some food and drink just doesn't taste right unless it's from a certain, specific geographic area or made by that region's people. More often than not, that is true of 'Belgian' ales. It certainly is the case here.
1,891 characters

Great Lakes Belgian Dark Strong Ale from Great Lakes Brewery
Beer rating:
0
out of
100
with
8
ratings