Great Lakes Harry Porter And The Fair Grounds Coffee Bean
| Great Lakes Brewery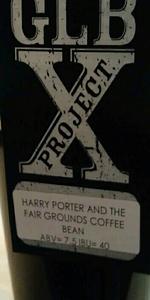 BEER INFO
Brewed by:
Great Lakes Brewery
Ontario
,
Canada
greatlakesbeer.com
Style:
American Porter
Alcohol by volume (ABV):
5.80%
Availability:
Limited (brewed once)
Notes / Commercial Description:
No notes at this time.
Added by TheSevenDuffs on 03-12-2013
This beer is retired; no longer brewed.
Ratings: 13 | Reviews: 6
Reviews by KeKeKumba:

More User Reviews:
3.74
/5
rDev
-7.4%
look: 3.5 | smell: 3.75 | taste: 3.75 | feel: 3.75 | overall: 3.75
Bar Hop dark beers event. Dark, very pleasant and smooth drinker for a coffee beer. Above average mouthfeel. Coffee present, fresh, and not overwhelming. I liked it for what it was, fresh coffee taste and all. A nice entry into the Harry Porter series.
252 characters


4
/5
rDev
-1%
look: 4 | smell: 4 | taste: 4 | feel: 4 | overall: 4
Bottle: Poured a dark color stout with a large dark brown foamy head with good retention and some lacing. Aroma of dry floral coffee undertone is quiet pleasant with light roasted malt notes. Taste is also dominated by floral coffee notes with roasted malt and light black chocolate notes. Body is about average with good carbonation. I really enjoyed this one which packs quite a lot of flavours and is well balanced without the dryness for the coffee overshadowing the rest of the ingredients.
495 characters
4.09
/5
rDev
+1.2%
look: 4 | smell: 4.25 | taste: 4 | feel: 4.25 | overall: 4
Project X Bottle poured in to snifter.
A - Black with half a finger of light brown head.
S - Bitter coffee aroma dominates the nose with some roast notes present as well.
T - Bitter dark roasted coffee gives way to a robust roast profile and finishes with sweet molasses.
M - Medium body, creamy. Light carbonation.
328 characters


4
/5
rDev
-1%
look: 4 | smell: 4 | taste: 4 | feel: 4 | overall: 4
Thanks to a buddy for picking up a bottle of this for me. Prefered the original verison a little more, but this was still good. Good chocolate and coffee flavour with a nice rich roasty mouthfeel. Its not thin considering the lower alchohol % which was a nice suprise. A decent porter overall, but coffee in beer isn't always my thing. Its good considering though
363 characters

4.23
/5
rDev
+4.7%
look: 4 | smell: 4.75 | taste: 4 | feel: 4.5 | overall: 4
It should be no surprise that a porter with "coffee bean" in its name should look like coffee (even less of one once one smells and tastes the beer). The two share similar charred blackish complexions as it is, though this also happens to share the same dark froth and tanned cappuccino foam for lacing. It provides a perfect canvas for any latte artist.
If you've stepped foot in a coffee shop that grinds its own beans, you know the smell of this beer. Better yet, if you've personally ground your own beans, enough to fill a bathtub, and then bathed for days in the spent grinds, you really, truly know this smell. It's like a tiramisu served with an espresso sauce. Potent and roasty, this is something to slowly dissect and savour.
Thanks to a side-kick of earthy hops, there is an odour of wet soil and composting grinds. Those same hops provide hints of green foliage, wood and citrus, though these are admittedly very difficult to make out beyond the ashy Indian spice aromas of the coffee beans. The flavour, however, offers malty-sweet notes that include caramel, hazelnut and dark chocolate.
I despise coffee - yet I love just about anything made or flavored with it. What turns me off drinking coffee is its astringency; considering the overwhelming coffee presence, it is remarkable how little of that drying, stale, "coffee breath" feeling this exhibits. It is sweetened and smoothed over by nutty, chocolatey malts; this has enough balancing cereal malt presence to temper the astringency of the beans without mitigating their flavour.
The mouthfeel has enough oiliness to qualify for a British Petroleum cleanup; it makes the Deepwater Horizon 'explosion' seem like a cherry bomb. These oils are bitter but also provide a sharp, tangy acidity upon each sip, something like biting into an orange. Of course, such qualities make tasting anything after this point nearly impossible (albeit, arguably, unnecessary).
Harry Porter And The Fair Grounds Coffee Bean is an exercise in coffee cupping - that is, the practice of observing the tastes and aromas of brewed coffee. It is actually more coffee-like than what's served at most commercial coffee shops, yet it has enough balancing cereal malt and grassy hop elements to ensure a satisfying, well-rounded beer drinking experience too. Dee-lish!
2,318 characters

4.12
/5
rDev
+2%
look: 4.25 | smell: 4 | taste: 4.25 | feel: 4 | overall: 4
Bottle from the brewery
Deep brown colour, about one finger of creamy mocha head, nice lace. Smell is dominated by coffee followed by bakers chocolate and roasted malt, a bit of a hoppy presence as well but loads of coffee in the nose. Taste is a mix of coffee and chocolate, big roast flavour here, fairly big bitterness mid palate, hops follwed by more coffee flavour, very light sweetness. Lightly carbonated, medium-light body. Really nice stuff here, one of my favorite Ontaio porters, would like to see this one around a little more often.
546 characters

Great Lakes Harry Porter And The Fair Grounds Coffee Bean from Great Lakes Brewery
4.04
out of
5
based on
13
ratings.