Browning's Brewery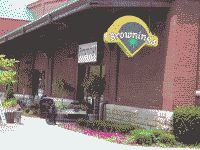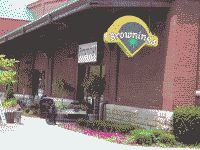 PLACE INFO
Type:
Brewery, Bar, Eatery
401 E Main St
Louisville
,
Kentucky
, 40202-1110
United States
(502) 515-0174
// CLOSED //
Notes:
This establishment closed on July 15th, 2011.
Added by BeerAdvocate
HISTOGRAM
Ratings: 13 | Reviews: 13
Reviews by thesyko56:
4
/5
rDev
+2.3%
vibe: 4 | quality: 4 | service: 4 | selection: 4 | food: 4
I visited Browning's for the first time last summer and again about a month ago both times during Lebowskifest. Apparently they shut down for a while and are now reopened with new ownership but they said it was the same brewer as before. Both occasions were very fun and enjoyable. The atmosphere is great. The place is attached to a minor league baseball stadium so most people are just popping in before the game. Service was good as well the waitresses were friendly and the manager shopped by just to talk beer with us which is something I always appreciate. Their selection was pretty decent with around 8 brewed beers on tap with two guest taps Dogfish Head 60 min and Sierra Nevada ESB. The food was surprisingly good. The mussels were fantastic. But the beer was excellent as well. Their maibock was very good as well as their pilsner but the standouts were the She Devil IPA and the Louis XVI ESB both are superb.
922 characters
More User Reviews:
3.5
/5
rDev
-10.5%
vibe: 3.5 | quality: 3.5 | service: 3.5 | selection: 3.5
A- 3.5 The place was only about half-full at 9pm on a Friday night. Granted, the Bats weren't in town, but it was pretty quiet. I generally like that, though... Just not much going on there, really.
Q-3.5 Wasn't all that impressed with the brews, really... the brown ale was a bit watery and just not complex. The food my friends had looked OK but I didn't have anything to eat. The other brews of theirs that I tasted were OK but nothing to write home about. I did like the black IPA (Sherpa) that was on tap.
Ser- 3.5 Our server was fine but not overly attentive. Friendly though.
Sel- 3.5 They had 4-5 beers on tap, I believe. The biggest disappointment came right off the bat as they didn't have the She-Devil IIPA; I had come here with that one specifically in mind after checking out their site! They had T-shirts for sale with the She-Devil logo on it all over the place but none of the brew. Strange. Then our server told us that they wouldn't be brewing it anymore. Apparently it was in too high of a demand... WTF? ... The food menu looked decent, though, and there were several brew styles available, so all in all, an OK selection. I was just disappointed in the She-Devil and then underwhelmed with what I did have.
V- $$$ The prices are a bit high for the product. According to their website, growler fills are $40-45! What is up with that?! The pints were highly priced also. Food looked more reasonable.
1,423 characters
4.53
/5
rDev
+15.9%
vibe: 4 | quality: 4.5 | service: 5 | selection: 4.5 | food: 4
Went here while recently on vacation - glad my Brother knew about it. Nice brewpub atmosphere with a heavy dose of Baseball brick-a-brac. The pub is attached to the Louisville Slugger Field in a baseball town - go figure. A 40-ft wall of windows behind the bar shows off the brewery. A selection of 8-9 beers +2 guest taps. Favorites were the ESB, IPA, Imperial Pale, Coffee Stout, heck all were solid. Food was very good, slightly upscale pub food and reasonably priced. Service is what really stood out here - extremely attentive host and savvy server helped keep our 3-year-old daughter entertained after a long, tiring day about town - a very welcoming, family-friendly spot with good food and solid beer - will absolutely return if we're in the area again.
761 characters

3.83
/5
rDev
-2%
vibe: 4 | quality: 4 | service: 3.5 | selection: 4 | food: 3.5
This micorbewery is in Slugger Field, home to the triple AAA affilate of the Cincinnati Reds. It has changed brewers since it first opened, plus a menu change as well. The beers are wide variety, from a helles lager to bourbon barrel stout. The food, uses Kentucky products, like beef and bison, in their dishes. The food is a little high, but not outlandish. The beers are priced on line with every other brewpub in town. The one thing that caught my eye was the price of their growlers. To fill and purchase one it was $30 with a session beer, $40 with a high gravity beer. I was like, HOLY CRAP! So, I asked. The growler is a two liter flip top bottle, with the breweries logo engraved on the bottle. But, you are paying for the bottle, the fill up is free. Refills are $12 and $16 with that growler, other growlers are $8. This is a great place to go have lunch, or get dinner before the game. The menu ecclactic enough that there is something there for everyone. So, if you are here in Louisville for a visit or a resident, go to Browning's it will be very good expierence.
1,078 characters

3.68
/5
rDev
-5.9%
vibe: 3.5 | quality: 3.5 | service: 4 | selection: 3.5 | food: 4
The address was a little misleading, since one would expect 401 to be at the west end of the block, but the entryway was at the far east end of the ball field. There was a short, fenced-in patio area which I had to transit to reach the front door.
Just inside of the door, to the immediate left, was the m.d.s., and to the immediate right, just past some stacked grain bags on a palette, was a private meeting room. Aft of the m.d.s, on the left side, were the washrooms. On the right, past the private room, were a pair of high, long tables wit accompanying high, long benches that seemed as though they would befit medieval royalty. The inverted "L"-shaped, concrete-topped bar was along the left wall with the kitchen to the extreme left. The restaurant area was behind a wooden partition and consisted of a mix of tables and booths.
The brewhouse and the five (5) FVs were in an interesting setup, since they sat in the second and third floors, above the back bar, and fully visible behind glass. Everything was copper jacketed and the layout reminded me of Triumph BC (Princeton).
I began with the sampler of eight (8): Saint Hildegard Helles; Fleur de Lis IPA; Guillotine ESB; Blacksmith Porter; and Bourbon Barrel Stout (those were the flagships); plus a Barleywine; German Pilsner; and and English Mild (which they were sadly out of). This was a rare occasion when my pick was not the IPA, but the Pilsner, instead.
I had the grilled chicken breast for dinner and my server was attentive without being cloying.
1,525 characters
3.68
/5
rDev
-5.9%
vibe: 4 | quality: 3.5 | service: 3.5 | selection: 4 | food: 3.5
Ohio River Bats and Beers
I've had dinner at Browning's on each of my last three visits to Louisville, and although I've never been blown away by either their beers or their food, they are both good enough to keep me coming back for more.
Located at Slugger Field (a minor league ballpark that's home to the Louisville RiverBats), Browning's would be my reason for getting to the game an hour or two early. There's outdoor seating on the large sidewalk out front, although I've never found a reason to sit there. The inside is large and well-laid-out to handle a crowd. There's a 3 story brick wall on one side, black steel girder framing and a wooden slat roof above that gives the place an impressive presence.
Massive 15 BBL copper fermentation tanks and stainless steel kettle and mash tun sit behind floor to ceiling glass windows above the large ground floor bar. The dining area is separated from the bar by padded wooden booths that outline a large open dining area with plenty of tables. The dining areas large flat screen TVs (almost always tuned to ESPN) definitely give the place a sports bar/venue feel.
As for the beer, their regular beers include a Helles, IPA, ESB, Porter and an impressively big Bourbon Barrel Imperial Stout (maybe my favorite of what I tried). They also have rotating seasonals that are always interesting, at the least, and usually pretty decent.
The menu offers a good selection of pub fare appetizers such as spring rolls, potato skins, goat cheese, calamari, hummus, fried green tomatoes and grilled mini-cheeseburgers (slider plate). Their soups include shrimp and crab bisque and they also serve chili, lots of salads, pizza, burgers, sandwiches and wraps. Their entrees include fish, steak, pasta and chicken dishes along with area unique offerings such as the Louisville Hot Brown.
Browning's is a big, inviting place with both decent and interesting beers, a reasonable brewpub menu, and generally friendly service. It's a good after work place to grab some food and a few cold ones.
2,058 characters

3.75
/5
rDev
-4.1%
vibe: 3.5 | quality: 3.5 | service: 4 | selection: 4 | food: 3.5
Got here via a short cab ride after spending the day at Churchill Downs. This place is a nice brick building that sits next to the baseball stadium - so for those going to see a game this is probably a great stop. Outdoor seating was unoccupied since it was so hot and humid outside.
Once inside, we sat at the smallish bar. The bar has a nice view into the brewing area. Plenty of tables were filled with patrons enjoying an early dinner. Several TVs were on showing the usual sporting events.
There were a nice variety of beers available including an IPA, Helles, ESB, Porter, Bourbon Stout and a Double IPA. The Bourbon Stout was highly disappointing as it was way too young and overloaded with bourbon and vanilla tones. The other beers I had ranged from decent to good quality.
Appetizers we sampled was decent but not overwhelming. Service was friendly and prompt. The bartender knew the styles. Worth a stop if in the downtown area.
950 characters

4.18
/5
rDev
+6.9%
vibe: 4.5 | quality: 4.5 | service: 3 | selection: 4.5 | food: 5
A versatile place. A place where you could have dinner with your parents, watch a game while drinking a few, or bring a date.
Browning's is inside a renovated brick warehouse that is attached to Louisville Slugger Field. AAA Cincinnati Reds affiliate, The Bats play here. One main room and a smaller private party room as well as outdoor dining/drinking. Smoke-Free environment is great! There are 5-6 booths (large enough to accommodate 6 people), a large banquette with about 6-7 tables, and about 10 large tables in the center of the room. Lots of wood and exposed duct work give the interior an industrial yet warm feeling.
A long bar runs down the left as you enter. Above the bar is a wall of glass where you can see the brewing tanks. Mash tuns are visible on the 3rd floor, copper fermentation tanks on the 2nd floor as well as the bourbon barrels used for aging the stout. A full bar is available as well as the 300 + bottle wine list shared with the sister restaurant next door (the upscale Park Place).
Six or seven TVs surround the perimeter of the room. The Bats games are shown when they are playing in addition to other programing.
There are usually 5 regular beers and a seasonal offered. A helles lager, IPA, ESB, Porter, Imperial Bourbon Stout, and an Octoberfest were available on my last visit (9/19/06). A nice array. My favorites are the ESB and the Bourbon Barrel Stout.
Brewmaster Brian Reymiller (formerly of Hops! Brewery, Smoky Mountain Brewing Company, and Victory Brewing Company) seems very friendly and knowledgeable. He came to our table when our server could not answer a question about the variety of hops used in the single variety ESB (Summit).
Beers are served well chilled (too cold for most BAs I would guess) Growler refills are available for $8.00.
Food is very nice. I'm surprised by some of the reviewers' low marks. Executive Chef Anoosh Shariat is one of the most renowned chefs in the city. Pub food with a decidedly upscale twist. Food selection is wide. Salads, pot roast, mussels, burgers, pizza, fish, etc.
The fried goat cheese is great. My friend says the calamari is the best in town. The famous Kentucky Hot-Brown is said to be a standout as well. Vegetarians can always find something here too. Six veggie appetizers, 1 veggie sandwich, 1 veggie pizza, but no veggie entree.
The bathrooms are extremely clean. Rotating plastic protective covering on the toilets as well as sanitizing gel in each stall. Also a baby changing station in the women's bathroom.
Service has been adequate but nothing more. Not exactly speedy and not very informed about the beers. But, overall a very pleasant brewpub and restaurant.
2,701 characters
4.03
/5
rDev
+3.1%
vibe: 3.5 | quality: 4 | service: 4.5 | selection: 4 | food: 3.5
My wife and I have been down here several times since moving to Louisville. It is located inside the Louisville Bats baseball stadium downtown, so that makes it unique in my book. Its neat they can broadcast the baseball games inside so you can enjoy the tasty brew.
The bar area is accommodating and the staff friendly and informed. You can see the large fermenters looming above the bar and the dining room is very open. The also have an outdoor patio area that is open in season.
The beer selection is reasonable. They offer 5-6 lagers and ales as well as a few seasonals. The IPA is consistently the best among the other brewpubs in town. I really enjoy the bourbon barrel stout that has been available this summer. It is aged in bourbon barrels from a nearby distillery and imparts a very distinct taste. The pilsner is also very drinkable. Overall I feel the brewer is making an effort to produce a quality product.
The food has been less than stellar. Not that we have had a bad meal, but it seems to lack something that would make it stand out. The fried-green tomatoes have been good.
I would recommend this brewpub if you are in the area. You can catch a Bats game and grab a good brew at the same spot. They offer growler fills at a reasonable price as well.
1,282 characters
4.25
/5
rDev
+8.7%
vibe: 4 | quality: 4 | service: 4.5 | selection: 4.5 | food: 4
From what I could gather, Browning's seems to have one main room, medium size, with a fairly large outdoor seating area + 1 more smaller room inside. The main room is pretty cool. Its about 3 stories high, and you can see all the brew kettles through the glass on floors 2 & 3.
They had 4 regular brews and 3 seasonals when I visited, so the selection was pretty good. They had a whitbier, which I was suprised to see since I've never had a whit at a brewpub. It turned out to be very tasty as well. Other seasonals they had were a trippel, and a bourbon stout, so I commend Browning's for their sense of adventure and experimentation.
The service was very friendly, and I found the food to be quite good & well above average. There's everything from pizza to seafood to steaks. And the desserts were pretty creative as well.
Prices werent cheap, but not too outrageous for a city. Beers seemed to be about $4.50 each, and the stronger beers, like the trippel & stout, came in 8oz glasses.
In all, a great visit and I was very satisfied. Recommended.
1,062 characters
3.83
/5
rDev
-2%
vibe: 4 | quality: 4 | service: 4.5 | selection: 3 | food: 3.5
Originally, I didn't even plan on stoping at Browning's while I visited Louisville. However, I stoped by with my girlfriend and her family for lunch since we were already downtown. Just so you know if you are looking for the place, it's located within the Louisville Bat's ballpark complex. When I called for directions they failed to mention that they were located within a very easily found landmark. That said, I was resonably impressed with Browning's. The atmosphere has a slightly upscale trendy kind of feel, almost like your favorite steakhouse with craftbeer.
I enjoyed the pizza, we split a jerk chicken pizza (which tasted good, but wasn't really jerked chicken) and a smoked salmon and spinach pizza. Of the two, I liked the salmon the best.
The beers were not fantastic, but very good. A very welcome change down in Budwieser land. I really liked the porter and the bourbon barrel stout. The barrels come from Woodford Reserve, one of my favorite distillaries, which I'm sure added to the apeal and flavor.
The prices were very reasonable given the location (at the ballpark) Expect to spend about $15 - $20 per person for lunch and a couple of pints. All in all a very nice place, be shure to stop by if you're in Louisville.
1,250 characters
3.88
/5
rDev
-0.8%
vibe: 4.5 | quality: 4 | service: 4 | selection: 3.5 | food: 3.5
This was a nice find in Louisville. It is located in the same complex as the Louisville Bats minor league baseball team. I read the menu before walking inside, and I was not overly impressed with their selection. Maybe I'm a bit simplistic, but there was not a whole lot of good pub-grub that I would want to eat while drinking a beer and watching a ball game. Inside it was nice. There were many hightop tables down the middle, with a bar on the right and booths to the left. I had their sampler, which had 9 beers served in 4 oz glasses. Our server had to really take time to figure out which beer was which as he served them to me, but that was the fault of the bartender who didn't arrange things on the tray well. The beers were all above average, with the nut brown and red ale worth a second look. We had an appetizer. Our tortilla chips were loaded with salt and they just seemed odd, maybe stale, we're not sure. Overall, I would go back here for the beer and the surroundings, but would eat before I went.
1,015 characters

3.95
/5
rDev
+1%
vibe: 4 | quality: 4.5 | service: 3 | selection: 4 | food: 4.5
Update to my update [see below] (2/7/06). After having a "brewmaster" who apparently had never brewed before, the Browning finally hired a new brewer. If I heard correctly, he came from Victory, which would explain the regular supply of lagers now. Wherever he came from, he is damn good. The Helles is great, the dunkel is disappointing in that it is only pretty good, and I havent had a bad beer there since he got there. Im upping my quality and selection scores back up. Oh the difference a brewmaster makes.
--
Update to my review (4/11/05). The old one is below, I want to leave it in to show the change. There are some problems at the Browning right now. There was a change in ownership and/or management last fall which has actually led to an inprovement on the food side of things. I am raising my food score from a 3.5 to a 4.5. Atmosphere and service are the same as they have always been. It is the beer where the trouble is.
I think the brewmaster has changed, which I havent verified yet, but its the only thing that makes sense. The "regular" selection of beers tastes the same (At least the excellent Nut Brown does, I havent tried the others again - they were okay at best anyway) but the seasonals have declined horribly. Last year, there was a series of very good seasonals. Right now, of the 3 seasonals, 2 are literally undrinkable. The other was mediocre to below average. I cannot recommend the Browning for beer currently, it is so bad. There are a lot of macro drinkers at the Browning due to its location and I hope they dont try one of the seasonals ("a Maibock, that should be accessible") as a first foray into the world of good beer, because they will never try again.
I hope I get a change to edit this in the future to something more positive, but for now Im lowing the quality from 4.5->2.5 and selection from 4.0->2.0.
---
The Browning is a brew pub located in the same building as the entrace to Louisville Slugger Field, home of the AAA baseball team. It is named for Pete "The Gladiator" Browning, 19th century major leaguer and alcoholic. The first Louisville Slugger baseball bat was made for him.
The atmosphere is great, especially during the baseball season. It is a wonderful place to get a meal or just a beer before or after (or during) a baseball game. The beer is brewed on-site. There are 5 regular beers plus a selection of seasonals on tap. They also have bottles of your typical BMC beers. Pints are normally $3.50, although they sell for $2 on Sundays, and I paid $2.75 each last night (I think it must have been happy hour). The beers I have tried range from okay (the Red) to delicious (the Nut Brown, the current seasonal Ca Common), with most being on the high end.
The food is nothing special, but is good. I like the Philly, and the Club gets good reviews from others (it is very large). For local flavor, they have a decent Hot Brown. Table service is occassionally poor, but bar service is always good.
The Browning is only a few years old and has gotten better every year.
3,063 characters
Browning's Brewery in Louisville, KY
Brewery rating:
0
out of
5
with
0
ratings