Velas Helles
| Smoky Mountain Brewery & Restaurant
BA SCORE
77
okay
35
Reviews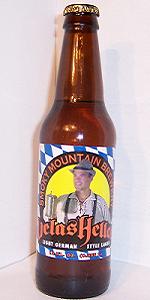 BEER INFO
Brewed by:
Smoky Mountain Brewery & Restaurant
Tennessee
,
United States
coppercellar.com
Style:
Munich Helles Lager
Alcohol by volume (ABV):
5.20%
Availability:
Year-round
Notes / Commercial Description:
No notes at this time.
Added by BeerAdvocate on 02-06-2003
Reviews: 35 | Ratings: 91
3.8
/5
rDev
+17.6%
look: 3 | smell: 3 | taste: 4 | feel: 3 | overall: 5
This is a beer that I feel the brewmaster intends to mimic a Corona for the macro crowd. It is much better than a Corona, but I do see tourists drink this with a lime, which is not required. It has a standard straw yellow look with low carbonation and thin head. A very mild aroma that hints at a very mild sweet grain nose. Taste has a smooth grain accent with the lightest touch of hops on finishing. Mouthfeel is thin and somewhat watery. Drinkability is big as it seems to quaff better with each successive pint. Not my first nor second choice from this brewpub, but a pretty nice option in warmer months. This beer has been watered down to appease the masses as it had much more character and taste when it was first brewed (Gold medal Helles at the GABF in '99).
768 characters
3.22
/5
rDev
-0.3%
look: 2.5 | smell: 3 | taste: 3 | feel: 3.5 | overall: 4
This beer is very light in color. There is a small head. The smell is very slightly of hops. The taste is pretty bland with few flavors showing up. The mouthfeel is pretty smooth and a little bit oily. The drinkability is good. I could session this beer no problem. Not a bad beer, just plain.
293 characters
2.07
/5
rDev
-35.9%
look: 2 | smell: 2.5 | taste: 2 | feel: 2.5 | overall: 1.5
Pours the color of any BMC. Might as well be Bud, Coors, Miller, PBR, or the Beast in my glass. No head, no lacing.
Smells of buttery corn
I really don't see how you could call this any other style, other than American Marco Lager. It's your pretty much run of the mill BMC beer. Taste is of corn and rice.
Very light bodied and watery.
So far this is the worst that I have tried from Smokey Mountain Brewery. It could be a lawn mower beer. But, if that's what you want why not go to the local grocery and get the cheapest Macro in cans.
541 characters
1.15
/5
rDev
-64.4%
look: 3.5 | smell: 1 | taste: 1 | feel: 1 | overall: 1
Thanks to hopdog for this...
Appears a hazy light gold. Some scattered, white lace.
Smell is of buttered rotton corn and other skank ass vegetables.
Taste is of sour creamed corn...blech!!!
Mouthfeel is of rancid, gross, sour malt that isn't impressing me in the least. In fact...it's sour and plain out gross!
F this brew! I hate it!!!
341 characters
3.6
/5
rDev
+11.5%
look: 3 | smell: 3 | taste: 4 | feel: 4 | overall: 3.5
Not a bad tasting brew at all here. It purs a Heineken-esque golden colour with a frothy head. The appearance wasn't what I expected and needless to say, was average at best.
The smell was slightly sweet and hoppy but had some grass notes to it as well. Again, pretty basic stuff here.
The flavour is very much in line with the smell, but more pronounced and enjoyable: hop, grass and some juiciness intermingle nicely throughout. The mouthfeel was right on with carbonation levels as they should be.
This one was fairly enjoyable, though not great, overall. Fix the appearance and smell a bit first (i.e. make them bolder) and they may be on to something here.
670 characters

3.36
/5
rDev
+4%
look: 3 | smell: 4.5 | taste: 3 | feel: 3 | overall: 3
Appearance - light golden color with wisps of sediment floating around mid-glass and up, slowly spreading to the rest of the pint glass.
Aroma - caramelly and malty, but not sweet. Smells wonderful.
Taste - tastes buttery and lemony. Kind of a weird combo, like an English ale meets hefe/summer cooler thing. Curious mix, I'm really not all that banged up about it, but it's tasty enough that it's already gone...
Mouthfeel - smooth, buttery and full of carbonation.
Drinkability - while well crafted, the flavor is too lemony for my liking. Still, it disappeared awfully fast.
589 characters
2.88
/5
rDev
-10.8%
look: 3 | smell: 2.5 | taste: 3 | feel: 3 | overall: 3
Pours a very pale yellow with small white head that falls way to quick. Aroma is light some malt some grassy hops not much going on here. Taste is a little more maltier then their pilsner maybe a touch more hops also but overall just as soon have the Thunder Road not much diffrence between the two. Mouthfeel is light and drinkability is ok goes down quick and is refreshing. This brewery is making their stuff to appeal to Bud drinkers. None of their beers are very taste intensive made not to offend anyone I guess.
518 characters
3.36
/5
rDev
+4%
look: 4 | smell: 3 | taste: 3.5 | feel: 4 | overall: 3
Perhaps the least personality of the beers I've had from this brewery. Very mild, with some malt caramel flavors. Hopping was modest, but the overall flavor profile was fresh and clean. Nothing wrong with this beer, it just really does not distinguish itself in any way.
270 characters

3.79
/5
rDev
+17.3%
look: 3 | smell: 4 | taste: 3.5 | feel: 3.5 | overall: 4.5
Thanks to johnrobe for sending me this. The guy with the funny hat on the label is worth the price of admission. Billed as a "light German style lager" which doesn't really tell you much. Pours a gold color with a medium off-white head and mild effervescence. No lacing. Very light and sweet aroma of honey and even a little bubblegum. Very light-bodied with an unimposing hops flavor, with some malt and citrus as well. Finish is lightly sweet. Complexity is not a factor but this stuff is insanely easy to drink.
514 characters
2.49
/5
rDev
-22.9%
look: 4.5 | smell: 3 | taste: 2 | feel: 4 | overall: 1.5
Update 8/17/04: Wow! This brewery has gone steadily downhill over the past few years. Velas Helles was once a tasty, spot-on domestic Helles, but my last sample had a perceptible amount of diacetyl. Yuck!! Not undrinkable...but I can do better with my homebrews.
A straw colored, extremely clear brew with a densely knit white head that shrinks to 1/4 inch and leaves some lace. The smell consists of a pleasant graininess along with some herbal Saaz and/or Hallertau hops. The taste is slightly dominated by candy-like sweet malt but the hops appear nicely in support. The mouthfeel is a bit creamy yet light at the same time. Not quite as full-bodied as it could be, but I'm being nitpicky. It is billed as a "Light German Style Lager". The finish is very clean and the drinkability is dangerous. Prosit!!
The visage of Smoky Mtn.'s brewmaster, Marty Velas, appears on the label appropriately in traditional German garb. I guess if you're gonna put your name and face on the label, you're gonna make sure it's one tasty brew.
1,032 characters
Velas Helles from Smoky Mountain Brewery & Restaurant
3.23
out of
5
based on
91
ratings.