Dismiss Notice
Charlie's Ale House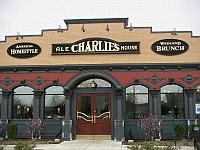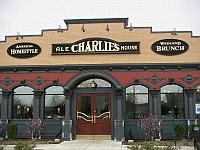 PLACE INFO
Type:
Bar, Eatery
8940 Calumet Ave
Munster
,
Indiana
, 46321-2802
United States
(219) 513-0505
// CLOSED //
Notes:
No notes at this time.
Added by cretemixer
PLACE STATS
Reviews:

12

Ratings:

pDev:

9.04%
HISTOGRAM
Ratings: 12 | Reviews: 12
Reviews by granger10:
4
/5
rDev
+6.4%
vibe: 3.5 | quality: 4 | service: 3.5 | selection: 4.5 | food: 4.5
This place looks really nice from the outside, almost like it could be some fine dining place. The inside was nice as well, but it had more of an Applebee's look to it, but I was nicer than that. There are two sections, the bar and the dining area. I had lunch here and sat at the dining area. Nice menu offered my type of food. It was all homestyle comfort food. And the prices were nice as well. My company got the chicken pot pie which was the biggest potpie I have even seen, by far! She said it was good but not great. I got a burger with a twice baked potato and mac and cheese as a side. I was really hungry but struggled to finish the mammoth portions brought out. All were quite good. The beer selection was awesome considering what I'm used to. About 30 taps with about 25 quality offerings. Nice. The special was Goose Island 3-1-2 for $2.50/pint. A solid starter. I also had the Alpha King with my meal, awesome. The service was decent, I don't know about her knowledge but she was nice enough. Kind of a trendy little place and not somewhere to get drunk or anything like that, but definitely a good place to get food and some good beer, maybe get a good base before heading to 3 Floyds which is about a mile down the street.
1,238 characters
More User Reviews:
4.43
/5
rDev
+17.8%
vibe: 3.5 | quality: 5 | service: 5 | selection: 3.5 | food: 4.5
atm- The atmoshpere wasn't exatly good , but i9t wasn't bad , I'll gived it 3 and a half because it was a sunday and it was picking up as we left, there were a lot of signs or objects on the wall to occupy some time and thought.
quality- it was amazing , the alpha king I had there was soo much better than any bottled one I had ever had , it was as good as the tap straight from 3 floyds. Food was very top notch good ingredients prepared nicely , I was very impressed.
Service- the lady I had was very nice , you could tell she didn't know that much about beer, but she made sure to ask the bartender everytime about every small question I had , we kept getting asked how we were doing and kept getting us our drinks and food promptly.I liked the smile too :-)
Selection- The slection was looking really good probaly about 30-40 different taps I was dissapointed they didn't have pride and joy though , they have robert the bruce, gumballhead and a-king though , I was impressed with the selection until they were very inconsistent with their menu , I ordered 3 different things all of which they did not have , but they made up for it by giving my samples so I'll give a 3.5
Food-damn good great blue salad and friend onion rings to go along with my oberon. I tasted my lady's quasadilla and it was amazing. as well.
The cost won't run you too much , about 3-5 for a good beer (16 oz or so)and food about 5-10 so come with about 10-15 per person , and if you plan on getting drunk make it atleast 20$
Good beer, Good food , Good service,
1,546 characters
3.81
/5
rDev
+1.3%
vibe: 2.5 | quality: 4 | service: 4 | selection: 4
Stopped in here during a late arrival to Munster. Conveniently located across the parking lot from the Hampton Inn in Munster. Too convenient to not stop in for a night cap pint.
Upon walking around the front of the building and peering in the front window I'm quickly reminded that Indiana hasn't banned smoking in these establishments yet. I think 50% of the crowd there was burning them constantly.
Three towers of taps at different spots on the bar. Plenty of the regular staple Three Floyds stuff, some Bells, including Hopslam and your usual crowd pleasers.
Waitress behind the bar was courteous and attentive. Lots of locals in the place.
This place has the convenience factor down. They should get a lot of business travellers stopping in. Good for a convenient, quick pint. Nothing that I'll add as a must go on my next trip to Munster.
845 characters
3.65
/5
rDev
-2.9%
vibe: 3.5 | quality: 4 | service: 3.5 | selection: 3.5 | food: 3.5
I've been to this place multiple times on business, both for lunch and for after-work festivities.
They do have a nice selection of food, beer and liquor here, most noticeably 3 Floyds varieties on tap.
Some nights they have karaoke in the bar, which will be frequented by business travelers staying at the Hampton Inn hotel behind the establishment.
The food here is good, but not outstanding for the price. The atmosphere is like a chain restaurant, kind of like a more rustic and classier TGI Fridays. Clean and nice inside.
I've never seen it jam-packed, so take that as a pro or con.
594 characters
3.7
/5
rDev
-1.6%
vibe: 4 | quality: 4 | service: 3 | selection: 4 | food: 3.5
Stopped in last time I made it back home. I was urged to stop in a try the food and beer. Sets up a good atmosphere to sit and enjoy yourself. You can either sit on the bar side to socialize or have a seat in the dining area. Looking at the beer menu. They do offer some good beers here. They have a solid bottle selection.. Draft selction is better than normal as well. Ending up have some lunch here as well. Food is good. I opted for the chicken sandwich. I was pleased. Everything else that was ordered at my table looked well too. Overall a good place to sit and hang out to get a few good beers in you. Next time i am up in the area I will be sure to stop in again.
671 characters
3.23
/5
rDev
-14.1%
vibe: 4 | quality: 3.5 | service: 2 | selection: 3.5 | food: 4
Stopped at this place during DLD 08.
It is located on the main avenue, Calumet, a 5 minute drive from Three Floyds brewpub.
There are two large areas, one with tables, and one with the bar. The bar looks quite nice, mostly wood and brass, with numerous taps, although unfortunately some of them were out.
The service was very poor, but in their defense, due to DLD, the place was packed, but everything was very slow.
Beer selection, assuming they usually have everything advertised is decent, with some locals including FFF, a few imports. Good, not great, but you can find a few stuff to have with your dinner.
The dinner itself was a pleasant surprise; I just had a burger but it was large, and quite tasty.
I would not go out of my way to eat or drink there, but if you are in the area it is a decent place.
818 characters

3.34
/5
rDev
-11.2%
vibe: 3.5 | quality: 3 | service: 3.5 | selection: 3.5
Charlie's Ale House is located on Calumet Ave. about a mile south of interstate 80/94 and approximately a half mile north of the turn that gets you to Three Floyds Brewery and Brewpub.
The exterior is a standard corporate issued box, like a Bennigan's or similar chain. The interior is quite different. To the left of the entrance is the dining area, which is large and had numerous tables and plenty of people having supper.
On this particular trip I went to the right and sat at the bar. The bar is a massive heavy dark wooden affair with attached shelves, cabinets and mirrors. The floors are hardwood and the high ceiling is surrounded by impressive crown moldings (could that actually be real?). The walls in the bar are covered with antique photos and six or seven televisions.
There were 25 taps with 20% of those being BMC and 45 bottle selections with probably 8 of those being BMC.
I asked for a pint of Sierra Nevada Pale Ale. The bartender attempted to fill the pint, "we're out of that". Tap handle still prominently on display with the keg blown, points off for that.
The food menu had quite a variety of foods steaks, seafood, chicken, etc. On this stop I did not try the food, maybe next time.
I was able to have a couple of pints of beers I have never had on-tap, so that is always nice. The staff was friendly and helpful. It is likely that a stop here would yield a beer or two that you have been meaning to try.
One additional note. Their website's beer menu lists Charlie's Ale and Charlie's Ale Light as draft options. I asked where they were brewed and what styles they were. The bartender confessed that they do not brew beer and if you order one of the "Charlie's" Ales it is actually a BMC that they "promote".
1,755 characters
4.2
/5
rDev
+11.7%
vibe: 3.5 | quality: 4 | service: 4.5 | selection: 4.5 | food: 4
Visited on Thursday August 4, 2005. The place was loud, small child loud, when I first arrived. The outside deck was quiet but the temp was in the 90's. I can handle the loudness and it did quiet down after 15 minutes. 25 taps pouring that night, pints ranging from 2.75-4.00 $ Selections from 3 Floyds, Upland, and 2 "house beers" . Also a nice bottle list with some rarities, Belzebuth, Duvel, La Fin Du Monde, Val Dieu. Appetizers ranged from 6.95-8.95 $ and entrees from 10.95-17.95 $ The food was quick, the service was very good. I would return there.
557 characters
3.73
/5
rDev
-0.8%
vibe: 4 | quality: 3.5 | service: 4 | selection: 3.5 | food: 4
This place looks very similar to many of the typical non-fast food chains like TGI's, Applebee's, etc. The interior was designed to look very old but it wasn't. It had nice tin ceilings and a great wood detailed bar but there was a cheap giant banner advertising "Mexican Mondays" for discounts on Mexican beer.
The quality of beer was pretty good with a large number of taps and a good selection of bottles. I was looking for local beers but they were out, but they did have two three Floyds on tap. The beer was served ice cold and I had to let it sit through my meal to warm enough to taste it.
I went in at lunchtime and I was the only one in the bar. I wanted to see the taps but I didn't realize the bar was the smoking section. The wait staff was very fast and she was the only one working all the drink orders aswell. She was making lots of martini/vodka drinks but not serving much beer.
I think they had 23 beers on tap and another 20 some from the states and that many from the world. Nothing real hard to find but I was happy to see a local selection on the menu.
The food was your typical American fare with salads and sandwiches. The food was good but a bit over priced for what it was.
There is nothing really calling me back unless I need a place to wait while Three Floyds opens the brewery.
1,327 characters
3.3
/5
rDev
-12.2%
vibe: 4 | quality: 3.5 | service: 2.5 | selection: 3.5 | food: 3.5
I don't want this to be a negative review, but when you call yourself an "Ale House" I expect the waitstaff to know what the selections are and provide meaningful answers to questions about the beer. We ordered Da Bell's and Da Goose Is. both seasonals but wanted to know what the seasonal styles were before they were served.
We got our beer with out much more information. Had we been offered a sample or just the name or even the style we would have been pleased. I ended up taking a 312 back to the bar to explain I was given poor information about this "seasonal" beer. A miffed bartender replaced it with a Honkers Ale.
Later we returned to the bar to find out a little about "Da Bells" and were not well treated by a bartender that seemed a little short fused. Before we left we discussed with the manager the need for the waiters to learn more about the offerings or just to offer to bring samples. The manager offered to provide a free glasses of beer, an offer we did not accept. Also we should have been offered a discount since we were staying at the Hampton Inn - that promotion was also poorly handled.
Nice selection of food - this seemed to be their main emphasis, Location very convenient for guests of the Hampton Inn and or those who are visiting nearby Three Floyds Brewery. Great Parking and good neighborhood.
Hopefully our problem with the service aat this location will be quickly remedied. I know that some of the other Charlies Ale House locations in Chicago area are very dedicated to providing a nice selection of beers by a well informed waitstaff.
1,595 characters
3.8
/5
rDev
+1.1%
vibe: 3.5 | quality: 4 | service: 3.5 | selection: 4
Boy, am I glad to have finally left 3 Floyds. I mean, how much Gumball Head, Alpha King and Robert the Bruce can you reasonably drink, right? (Yeah, I know, I know, at least 1 more of each). The correlation between the pull of the Eastern Time Zone, ominous, dangerously close, and my still being ridiculously thirsty only three blocks out of the brewery have thrown the scientific community into controversy once again. What to do, what to do, what to do? Fear not, Crete knows where to go...
Charlie's Ale House, just a mile or three down the road, is a stand alone structure, quite a TGIFriday/Chili's/Bennigans/Applebee's type place, 'cept the beer is better.
Split into 2 rooms, one side holds a dining room with about 2 dozen booths and tables, the room mostly decorated with old cigarette ads, the other side is the bar area. A question mark shaped bar seats a dozen plus, with a large mirrored back unit running up to the pressed tin ceiling. 3 large arch windows to the front of the room, and walls done in beige uppers and green lowers with a dark trim. Stained glass windows and a tile fireplace add some decent color to the room. 4 tables rest against the front windows, plus another 7 bar tables and a few booths run around the bar, TV's in all the corners, track lighting, ceiling fans, and a whole lot of old photos of "Flappers" above and below.
25 taps (2 towers of 11 and 3 more right here), about 1/2 of them are worth talking about, I suppose. 3 Floyds Alpha King & Robert The Bruce, Bells Winter Wheat, Goose Island 312 & Honkers Ale, Upland Amber, Leinenkugel Berry Weiss, plus 2 Charlie's Ale House beers made in Chicago, Hacker Pschorr, Paulaner, Pilsner Urquell, Blue Moon and the rest of them macros. Also some 4 dozen bottles. Micros (DogFishHead, Goose Island, Great Lakes, Stoney Creek Vanilla Porter, Arcadia, Upland Bad Elmer's Porter), imports (Valdieu Blond, Duvel, Fullers, Unibroue, Fischer Amber, Belzebuth, Samuel Smith) and then macros and maltos.
Not too bad. Will serve it's purpose as a pre or post 3 Floyds lunch site (at least until the brewpub opens).
2,101 characters
3.95
/5
rDev
+5.1%
vibe: 4 | quality: 4 | service: 4 | selection: 4 | food: 3.5
Charlie's Ale House fills a much needed void in Northwest Indiana so I was really happy to see a decent beer bar opening just a few miles from my home. The atmosphere is an upscale, comfortable tavern motif, that tries a bit too hard to look that way. A large bar, with several tap stations is very comfortable & there are tables & booths in the bar area too. The other half of the building is a dining room, but back to the bar. I counted 25 taps with craft beer outnumbering the macros by 3 to 1 with an emphasis on the midwest. They also have a decent bottle list bringing some more of what the US & world have to offer. The waitstaff was friendly and gladly offered samples of beers before ordering.
The food menu was mostly upscale bar food ranging from appetizers to full meals. I just had an appetizer & it was decent enough. I will have to sample more food at another time to make a further assesment. Overall, I was pleased & would recommend Charlie's as a stopping point to grab some good beer along with a bite to eat.
1,031 characters
Charlie's Ale House in Munster, IN
Place rating:
3.76
out of
5
with
12
ratings