Bluegrass Brewing Co. - Cincinnati Airport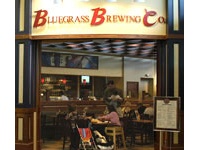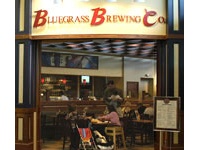 PLACE INFO
Type:
Bar, Eatery
2939 Terminal Dr
Hebron
,
Kentucky
, 41048-9806
United States
(502) 899-7070
// CLOSED //
Notes:
@ Cincinnati Airport, CVG - Concourse C
Added by Dogbrick
PLACE STATS
Reviews:

13

Ratings:

pDev:

10%
HISTOGRAM
View: Place Reviews
Ratings: 13 | Reviews: 13
Reviews by jim102864:
3.23
/5
rDev
-7.7%
vibe: 3.5 | quality: 3.5 | service: 3.5 | selection: 3 | food: 2
Nice, modern airport bar at the Cincinati/Kentucky airport. Went for the seasonal dark star porter, served too cold but good nonetheless. Altbier, American Pale and Bluegrass Gold also available. Slow monday at lunchtime. 14 or 20 oz glasses for a respectable $4.20 and 6 bucks. I had the AP... nice hoppy finish. Copper color. Porter was good but too cold - some coffee and licorice notes. Gobbled down a sothwest avocado salad which had a sweet dressing, pieces of applewood bacon and chunks of spicey chicken. The avocado should've been disposed of rather than served as it was hard as a brick and rusty in color. Decent beer but not breathtaking. Worth a visit for a few pints and to kill some time.
703 characters
More User Reviews:
3.53
/5
rDev
+0.9%
vibe: 3.5 | quality: 4 | service: 3.5 | selection: 3
The Dirty Jobs in Northern Kentucky
My karma tells me...
I had been screwed again by Delta Airlines (they truly are a shit airline) and I was hopelessly wandering Cincinnati airport's C terminal, when I found the BBC. It certainly was a relief to have found this place, given I still had 2+ hours left to kill.
I'm getting put down, I'm getting pushed round...
There was the typical British Pub knockoff on the other side of the terminal that I had walked in, and out of, twice. The place was tiny, mobbed, and I just wasn't in the mood to fight my way to the tiny bar for a Guinness, Bass or Smithwick's. And, that had set me wandering.
It's easy to see that you are one of us...
I felt right at ease as soon as I walked into the BBC. On tap they had their own Porter, APA, Gold and Alt. In addition, they carried Lexington Brewing Co.'s Kentucky Ale, Bud and Bud Light. Beers were served in 14 and 20 oz sizes with the 14oz size costing $4.45 including tax. This place is a true slice of Americana, from the local Kentucky beers to the fast and friendly (Flo's diner like) service.
The place itself is a good-sized wedge-shaped bar/restaurant with a long bar (seating about 12) and a number of TVs each tuned in to CBS's coverage of the NCAA. The bar area is actually cordoned off from the table seating and offering ample space for those just looking for a pint in between flights.
I didn't have anything to eat but the menu looked pretty interesting, offering:
Soups: Texas Beef and Bean Chili,
Salads: SW Chicken Avocado, Buffalo Chicken and a Mediterranean Grilled Chicken Caesar,
Sandwiches: Turkey Applewood Bacon Ciabatta, Lime Infused Grilled Chicken & Brie, Seared Salmon w/Dill Sauce, Portobello Mushroom & Red Peppers, a Smoked Pork sandwich and a few different burgers,
Entrees: Smokehouse Baby Back Ribs, Honey-Lime Glazed Chicken, Jumbo Coconut Shrimp, and a few dessert offering.
After a few good beers I left the BBC feeling much better than before.
I'm all mixed up but I know what's right...
2,021 characters

3.43
/5
rDev
-2%
vibe: 3.5 | quality: 3.5 | service: 3.5 | selection: 3 | food: 4
Stopped here for a couple biers on the way out to a flight to Albany over the last weekend. Better than average for an airport pub....
I had 2 different beers... the APA and the Porter. Both were spot on style and of good quality. The service was good even though there was a hefty crowd when I was there.
The only food reference that I can give is the Lobster Bisque... VERY GOOD! and inexpensive too! $4.99 for the soup... excellent!
The selection is BMC plus 4 of their own offerings.... they should add more good stuff.
Overall.... for my soup and two beers for me and one beer for Sandy... it was $22.46 plus tip.... $6 for the 20oz beers. $4.20 for the 16 oz. beers. This is way good for the airport. Especially since CVG Airport is one of the most expensive in the nation!
792 characters
2.68
/5
rDev
-23.4%
vibe: 2 | quality: 3 | service: 3 | selection: 2.5 | food: 2
Stuck in the airport for 9 hours, might as well give this a try. I usually try to avoid these satellite airport 'brewpubs', because they are not generally an accurate representation of the overall product or experience.
This one is not different. I had one 20 oz. Nut Brown Ale ($6), not bad, but not great either. The price is on par with any macro at the other airport bars. They only had 4 beers on site, this was the seasonal.
I had a cheeseburger and fries, they were average at best, like most airport food spots.
Service was acceptable, the place was pretty empty and my waitress checked on me every 10 minutes or so.
One upside to this spot, you can watch ESPN. If you are sick of the nonstop CNN on the airport TVs, this is a nice change of pace.
It is located in gate C, so if you are connecting at gate A you will need to jump on a shuttle to get to it.
Overall, not bad for an airport, but I think I owe them a visit to one of their 'real' locations. If you are going to be stuck at the airport for an extended period, you might as well check it out. I wouldn't recommend the food, but the beer is worth a try.
1,144 characters
3.03
/5
rDev
-13.4%
vibe: 3 | quality: 3.5 | service: 2 | selection: 3.5 | food: 3
Having been at this airport four times in the last two weeks, I stopped in half the time. It was very crowded during an evening layover, but almost dead in the middle of the day another time. They offered four house beers, and a few macros. The service was fairly slow, and the 'tender actually spilled beer all over my neighbor a the bar (he was a Buckeye fan, so he deserved it), as well as my luggage. The beers were pretty spot-on, especially the pale ale and the porter. The alt didn't taste at all like an ale, though, which was a bit disappointing. The food that I tried, was hit or miss. The lobster bisque was stellar, but the pulled pork sandwich was a bit off. And finally, the beer was quite pricey, but expected in an airport. Besides, what other opportunities do I have for trying Bluegrass? This is the only place any BA should drink at this airport.
865 characters
3.5
/5
rDev 0%
vibe: 3.5 | quality: 3.5 | service: 3.5 | selection: 3.5 | food: 3.5
On a layover from GSO to DFW, I decided to pop in to this place in Concourse C. A rather small area, but wasy to locate. They had three beers on tap; Alt, Wheat, and pale. I was unable to partake since it was 730 am, but I did grab a sandwich. The food was tasty and seemed pretty fresh. If I am ever back in Cincy, I will try the beers here. Service was friendly although the server was a bit verbose for me so early in the morning. Just doing her job I suppose. I nice place to grab a pint in an airport, which is pretty rare (atleast in my experiences).
556 characters
3.73
/5
rDev
+6.6%
vibe: 3.5 | quality: 4 | service: 3.5 | selection: 4 | food: 3
Been spending a good deal of time hitting various airport locations in the last year or so. There are some great ones (Squatter's in Salt Lake) and some bad ones (Fells Point Brewpub BWI). This place has local micro brews, so is just above average than what one would normally find in an airport bar location.
They are located near C40 in Concourse C. I was travelling out of a different area, but security was cool enough to let me cruise through for a drink. Very cookie cutter, home depot type look to the place, but it does have an open space, light wood feel. The seating is somewhat limited, with six seats at the bar, a few tables, and bar-type seating w/ a view of the concourse.
There were four BBC brews when I was there last, plus a host of macros in bottle form. Beer came out colder than normal, but was otherwise spot on.
Slower than normal airport service, mostly because they were also working the food counter on the other side of the bar. Random groups of hotdog lovers slowed everything down. Sandwiches, chips and soup are available. Its an airport, they aren't great and are a bit pricey.
This is the only place in the airport to get some quality brew, except for some chains with a seasonal Sam's or two. Try a local and willow away that extra time you didn't need in security.
1,313 characters
3.98
/5
rDev
+13.7%
vibe: 4.5 | quality: 4 | service: 4 | selection: 3.5 | food: 4.5
Stopped in at this pub during a layover in the Cincy airport with kmpitz2. Had some lobster bisque and a 32oz glass of their Nut Brown Ale. I have to recommend the Nut Brown - very tasty. It has a nice atmosphere with a bar and then some tables on the other side. It's a lot larger than it looks from the outside. Very clean and neat. I believe they had around five beers on tap. The menu was terse, but had plenty of tasty stuff there to choose from. If you're at the airport, I'd recommend stopping in here and having some grub and a brew. It's worth the time.
562 characters
3.9
/5
rDev
+11.4%
vibe: 4 | quality: 4.5 | service: 4 | selection: 3 | food: 4
Was I happy to see this as we got off our flight from Boston. As far as airport locations, this was pretty outstanding. The seating and bar were much larger than expected. Decor was very nice and modern but still conservative with lots of wood to accentuate things. The standard Bluegrass beers were on tap, with two seasonals, so selection was not as great as it could be, but they need to have things there that will please the casual drinker. Our server was very attentive to us, making sure we were always with a beer in hand and not wanting for anything. I had a huge glass of the nut brown, which was as fresh as could be and a treat after 5 hours at Logan and a 2 hour flight. The menu was a bit limited, but had the requisite pub grub as well as some more classy dishes. I had a cup of chili which was very tasty and satisfied my crave. Overall, this was a very positive experience for an airport. Prices were not too far beyond what I would pay in the real world, so I can't fault them for that too much. By far the best airport brewpub I have experienced.
1,065 characters

3.45
/5
rDev
-1.4%
vibe: 4 | quality: 4 | service: 3 | selection: 3
For an airport this place is great, otherwise its less than average.
Nice bar and high stools sit in a wood-themed corner of Terminal C.
Only had 3 of the BCC offerings which was a little bit disappointing. Beer seemed good quality although served a bit too cold. $5 for 20 oz is definitely airport pricing but better than having to put up with a Bud or Coors mess.
Didn't try any food but menu seemed reasonable and prices were not absurd.
If you stuck in Terminal C for an lenght of time this could be a nice oasis.
525 characters

3.44
/5
rDev
-1.7%
vibe: 3 | quality: 3.5 | service: 3.5 | selection: 3.5
Stopped in on a lark on the way to Vegas. Had to try the Kentucky Ale on tap. They had a few BBC offerings, but they also have a full bourbon whiskey menu. If you know your Kentucky Bourbon, this is your place. This place should offer a Scotch Ale on tap to go along with the theme, but as it is they do alright. Not much seating, but most folks are transitionary and turnover occurs quick enough to avoid a long wait for a table. If I have the occasion to visit this airport again I'll return for a cold one before having to cram myself into that airplane seat. We had a Saturday afternoon flight and it wasn't very crowded. In full view of the C Concourse gates so if your flight is in that area you just have a quick scamper to your gate if you need to hustle.
763 characters

3.7
/5
rDev
+5.7%
vibe: 3.5 | quality: 4 | service: 4 | selection: 3 | food: 4
I just love brewpub beer in airports. Every airport should do something like the Shipyard at Orlando and BBC at Cincy's airport. This beer bar is located in the C concourse (near gate C40). Contrary to what some airport rules are, you can hop on the train from your concourse and go to other ones, so you don't necessarily have to have a flight from C to stop in.
The "brewpub" is kind of tucked into a corner, and there is a waiting area for departing flights right outside the restaurant so it can get pretty loud. The place is pretty small with a bar on the left and restaurant seating on the right. They do what they can with the atmosphere, putting banjos and other bluegrass items here and there. However, it's hard to forget you're in an airport.
The bar offers 4 BBC beers at a given time, plus one seasonal (the Nut Brown when we visited). They also have Bud/Bud light but the tap handles are noticeably smaller than for the BBC brews. They also offer a sampler.
The service here is about what you would expect at an airport restaurant. Not steller but not bad either.
The food is pretty good, I had a BBQ cheeseburger and it was tasty.
I would definitely recommend checking this place out if you have time during a stop at the Cincinnati airport.
1,272 characters
3.86
/5
rDev
+10.3%
vibe: 4 | quality: 4 | service: 4.5 | selection: 3
The BBC location inside concourse C of the Cincinnati airport is a great little place to stop before, after, or between flights. They are only allowed 6 taps per airport rules, and also 2 of those must be bud and bud light (also per airport rules) but the other 4 taps are quality BBC brews. They always have their APA, Kentucky Gold Lager, and Altbier on tap, and the 4th tap rotates between their Dark Star Porter and their Nut Brown Ale. The atmosphere is nice for being in an airport. There's a long bar and several small tables for people who are ordering food. The bartender was very friendly and helpful with my selections. He always made sure I had beer in hand, my glass never going dry. If you are flying through CVG, this place is a great stop!
755 characters
Bluegrass Brewing Co. - Cincinnati Airport in Hebron, KY
Place rating:
3.5
out of
5
with
13
ratings