Henry's Tavern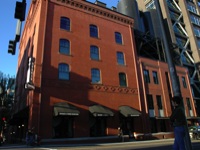 PLACE INFO
Type:
Bar, Eatery
10 NW 12th Ave
Portland
,
Oregon
, 97209-4102
United States
(503) 227-5320 |
map
henrystavern.com
Notes:
Hours:
Sunday - Thursday: 11:00am - 11:00pm
Friday - Saturday: 11:00am - 12:00am
Happy Hour:
Daily: 3:00pm - 6:00pm
Monday - Wednesday: 9:00pm - Close
Thursday - Saturday: 10:30pm - Close
Sunday: All day
(No Happy Hour on 1st Thursdays of the month)
Added by Thrasher
Reviews: 54 | Ratings: 76

4.18
/5
rDev
+3.2%
vibe: 4.5 | quality: 4 | service: 4 | selection: 4.5 | food: 4
Found the place called Henry's Tavern after a BA barfly search. Hustled over to see the 100+ taps that I haven't seen since the likes of Nashville's Flying Saucer.
This place looks like a fortress from the inside out. Big menacing dark brick and interior of dark wood and leather. There are two stories. When ya walk in the front doors, swing left fo the beer, off to the left. Half of the taps are scrod lame-os but there ere some winners. Seasonals were: BSB Summer Honey, Deschuttes Cinder Cone Red, FullSail Hopocity (sold out but Full Sail SunSpot was in its place) New Belgium Loft, and Widnmer '05. This joint is huge to boot. The bar has a strip of perma frost to set your ber glass into if you pefer it extra cold for the likes of "fill in the blank" macro swill.
My barkeep was attentive but not obsequious. Just laid bak an chillin'. He was friendly with offering some unsollicited samples in little glasses. He also added that he has the staff try different beers.
Selection is worthy of mention even if half are Michelob, Bud and Heineken, but they are ALL on tap!!! That gets the goodness going.
If you like IPAs like me, they had Bridgeport, Caldera Dry Hop Orange, Fish Tale Organic, Full Sail, Indian Pelican, Terminal Gravity IPA and Mt. Hood Ice Age Axe.
Henry's has Salads, steaks, burgers, sushi, happy hour 4-6 with $2.50 appetizers. I had the BBQ Brewery burger with friggin' ham on the burger for $8.95. Drafts are $4.50. The free samples made it really worth it! I went on the night after the Fourth of July but I hear that the joint in packed all the time.
Finally, definitely a place that would pass the "Could you take Mom here test?" My Mom would like it if I bought her the Silver Oak Babernet Sauvignon fo $95 a bottle.
Last call: I'd reccomend it to any beer geek regardless of your preferences. This Idiot is glad that I was able to check this place out.
1,913 characters

4.08
/5
rDev
+0.7%
vibe: 3.5 | quality: 4 | service: 4 | selection: 4.5
This was a final stop on Sunday night after the holiday ale fest. My wife and I went straight back to the bar area as we had already enjoyed dinner at Widmer.
The atmosphere was that of high-class, but tended to come of as pretensious, which isn't a bad thing if your into that, which I am not. The bar area was clean and well maintained.
The beer selection was impressive with a count of 101 taps that night. (They were sold out of Bud Light, which I find humerous). The beer was served well and the staff was friendly and somewhat knowledgable. I did find the chill rail along the bar interesting, but going against the idea of enjoying a beer while it warms up to get different flavors and tastes.
I would recommend stopping in for a pint or two if your in the area, but not a place to go out of your way for.
819 characters

4.38
/5
rDev
+8.1%
vibe: 4 | quality: 4 | service: 5 | selection: 4.5 | food: 4
After having been turned away by a crowd last time, we were nearly turned away again for the same reason when the hostess informed us that a party our size had just cancelled and that we could be seated right away instead of waiting the 40 minutes they had predicted. Excellent.
Both the outside and the inside of the building are thoughtfully decorated, but one would expect that of a new place in the Pearl. Location is quite good, close proximity to some of Portland's other great landmarks. The inside is fairly dark, and seems somewhat trendy, but the open kitchen, army of chefs, wait persons, and throngs of guests liven the place. We were seated in a dark booth upstairs that really created a private atmosphere that was conducive to conversation. The bar was too full, which should be expected on a Friday evening.
The beer selection is marvelous, with nearly 100 beers on tap. I was able to try two beers I'd not seen on tap anywhere else (Delirium Tremens and Lagunitas XS) that were fantastic, but served a bit cold, especially the Delirium. However, every beer we ordered was served appropriately and the staff seemed to know the beers fairly well; something that is a rarity even in Portland.
Speaking of which, the staff was amazingly helpful and engaging once they saw that we were receptive to it. The seemed to adjust their involvement to the parties around us, and even snuck us some spare coasters.
We had dinner and the regular menu was as much of a challenge as the beer menu was when decision time came. There a pretty wide variety to choose from, and everyone in the party had something different and were very pleased with their selection.
If you can handle lively crowds, the bar is also a very social place. Being more of a dark corner type, I was happy with the booth, and happy with the place in general. Because of its location, there are plenty of activities in any direction, including books, live music, and other food or drink venues.
I was initially pessimistic given the somewhat trendy atmosphere, but they really have done a nice job so far. I look forward to returning on weeknight.
Addendum: I visited the main bar area recently and found it to be what I'd expect of a fancy east cost style sports-bar. I don't like sports bars. And I don't like chilled glasses nor the chill strip on the bar. This really could be a world class beer bar if they worked out some of these details.
2,441 characters
3.88
/5
rDev
-4.2%
vibe: 4.5 | quality: 3 | service: 5 | selection: 3.5 | food: 4
New beer bar/restaurant located on top of the old Henry Weinhard's brewery in the heart of the high-rent district of downtown Portland.
First off, this place looks outstanding and high class inside. Some dress codes are required, but nothing more than probably to keep the vagrants out that reside in some of the creepy alleys in that area. Simple bar tables surround a central bar. They also have probably the largest TV screen known to mankind against one of the walls showing sports.
Atmosphere: Lively crowd during happy hour. I felt lucky to get a place to sit during this time. I'm curious to see what the place is like later in the evening or on a weekend.
Service: Our waitress was on us like white on rice when it came to refills or when a new guest arrived at out table. This alone is reason to give this place a visit. I certainly hope that this is the way all the staff waits tables and not that we just got lucky.
Selection: 100 or so beers on tap. However, not all are 'quality' beers and several can be found at most grocery stores. There are also some hard to find beer also. I suppose it is a decent selection for all tastes (or those who have yet to aquire one)..
Food: I ordered a simple appetizer at a happy hour price ($1.95) and was decent. The happy hour menu is quite extensive too. Other plates I saw brought to other tables looked good also. Not sure how much dinner would cost in the place, but if it is anything like the beer prices, be sure to bring plenty of money.
Speaking of money, I found that the beer prices seemed a bit high. Perhaps since you're drinking in Portland's Pearl District costs will be a bit higher in order to make sure the lease gets paid on time, but $4.50 for an American pint of beer seems a bit high when one is used to paying $3.95 or less for an Imperial pint. (which is why I scored quality as average)
One last thing one should mention about this is place is actually trying to get here. Street parking is also at a premium. Either find a way to take public transportation or pay up at a parking garage.
2,091 characters
Henry's Tavern in Portland, OR
4.05
out of
5
based on
76
ratings.