Weaver Street Market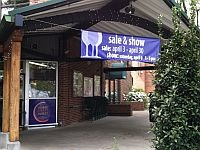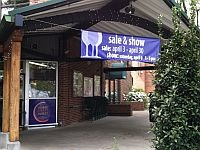 PLACE INFO
Type:
Store
101 E Weaver St
Carrboro
,
North Carolina
, 27510-2370
United States
(919) 929-0010 |
map
weaverstreetmarket.coop
Notes:
No notes at this time.
Added by BeerAdvocate
Ratings: 11 | Reviews: 10
Reviews by beerinator:

4.5
/5
rDev
+15.4%
Lance is Weaver Street's beer guy. He is super at pointing out what he has in stock that is new, and you can tell he loves to talk about beer and attempt to help suggest something for you to try.
The cooler isn't very large, but he keeps a good stock of warm six packs stacked above the freezer of the aisle perpendicular to the beer cooler. They've got a superb selection, ranging from belgian styles to american micros. There are often a couple of growlers in the cooler too.
If you decide to stop by, say hello to Lance.
529 characters
More User Reviews:

3.66
/5
rDev
-6.2%
vibe: 3.5 | quality: 4 | service: 3.5 | selection: 3.5
If youre coming here for beer, dont be afraid to be let down. It doesnt have the selection of the area shops. the selection is solid. I do believe they still have Founders Blushing Monk at the time of this post. Backwoods Bastard was on the shelves as well. Prices are on par with other stores. Local brews are put in the front, and thers no problem there, NC beers are good.
Selection is rather limited, if youre looking for out-of-state brews. Being an NC co--op, NC beers are given the most shelf space.
507 characters

3.66
/5
rDev
-6.2%
vibe: 3.5 | quality: 4 | service: 3 | selection: 4
Carrboro is a real cool little walking town. There are plenty of cool places to grab a beer and everything is real easy to find. This tidy little co-op is a little set back from the road at the fork but still pretty easy to find.
It's a little cramped inside but overall they've got a decent produce section and the prices seem okay. Beer and wine are in the back to the left. There is a big case of cold beer and a few racks of warm. They have a decent but not incredible selection, with respectable micros and Belgians, and growlers from Carolina, Aviator, and Fullsteam. They had a small selection of single beers too but at three bucks a bottle they seemed a smidge pricey. Overall, not a destination type place but worth checking out if you're tooling around Carrboro.
775 characters
3.55
/5
rDev
-9%
love Weaver Street - wish I had a high quality coop nearby, really nice place to grab a bite and enjoy the front lawn which is extremely popular on weekends
the cold selection is quality but limited to a small, maybe 10' wide cooler display, also check atop the coolers in the adjacent refrigerated aisle, nearly all good stuff but nothing particularly rare or exciting, decent local representation including some French Broad bombers, props for carrying Carolina Brewery growlers, nice place to scoop something if you're in the neighborhood but nothing to change your route for
stared at the selection while two guys were stocking the shelves, wasn't acknowledged once
671 characters

3.7
/5
rDev
-5.1%
A great market with a cafe and outdoor seating that's great in nice weather. It's very similar to a Whole Foods; both as a market and in their beer selection. The beer section contains a good number of local beers with a fair sampling from the rest of the US and Europe. It's not extensive but it is reliable. Much of it is refrigerated but they also store bottles on top of the refrigeration units which might be a little on the warm side.
Weaver Street in a nice market but with Carrboro Beverage so close by, I'm not sure I'd purchase too much beer there.
560 characters
4.35
/5
rDev
+11.5%
A few of my friends moved to Chapel Hill the other night, and I was in need of some good beer near them as my bike and heavy beer do not make a fun twenty mile bike ride... Thanks to Beeradvocate I found this rather nice market which, although it has a small beer cooler, has nothing but good beer in it. When faced with a small cooler down here my conundrum is usually: CBC Pale Ale or IPA? At Weaver Street my conundrum became: Which of a good ten or fifteen local ales do I choose from? A much better decision to have to make!
They even have growlers of Carolina brewing ales, and a decent selection of fancy non-local beers (including a rather nice set of Unibroue ales). The market also, naturally, has a lot of good food with a cafe and a very large area for eating right outside with a few good shops behind it, and it is walking distance from Carrburritos!
865 characters
4.35
/5
rDev
+11.5%
Weaver Street Market has has been trod by more Birkenstocks than you can shake a stick at, but at least they don't sell patchouli.Yet.
The market is a haven of local hippies (and I say that fondly, no disparagement) and academic-types and features organic canned goods, meat, and produce as well as a large wine and beer selection. Fresh growlers from Carolina Brewery and plenty of local and small-cap brews from the US and abroad comprise a nice stash of good beers in a place with some really good food and a good vibe to go along with it.
543 characters
3.65
/5
rDev
-6.4%
I visited this store for the umpteenth time today, but on this trip I paid special attention to the beer inventory–I even took along my notebook and jotted a few things down!
Weaver Street Market is a grocery co-operative that is the central retail food supply for the city of Carrboro. It's very close to Chapel Hill, and, as a result, gets a lot of student traffic. It's a superb grocery-buying establishment, especially for produce and dairy. The cheese and wine sections are a little small, but I don't think that's their specialty. Given that, you wouldn't think beer would be one of their specialties either. But the selection here is really quite good, and the prices are on par with other mainstream markets in the area. (Their beer prices seem to be a little lower than Whole Foods and A Southern Season.)
The beer cooler is in the back of the store behind the wine and cheese area, and next to the seafood case. It's a small cooler, only about eight feet, but on top of it are many single beers in bombers. On the frozen foods aisle just adjacent to the beer cooler, you'll notice it's topped with overstock six-packs of items mostly found in the cooler, although I believe I saw a few independent items there.
Service is dependable, as clerks are almost always passing by the cooler, and the beer manager is nearly ever-present and helpful.
The floor of the cooler is mostly stocked with North Carolina items. They carry growlers of all five regular brews by the Carolina Brewery–just a short distance away in Chapel Hill–priced at $7.99. Other local selections include Duck Rabbit, Highland, Top of the Hill, and Carolina Brewing Company. The extent of their macros is also on the floor of the cooler, tucked away on the far right side.
Also available in multi-packs: Bell's (five varieties), North Coast, Terrapin, Dogfish Head, Avery, Delerium Tremens, Left Hand, Anderson Valley, Paulaner, Spaten, Brooklyn, Ayinger Celebrator, Ommegang, and Unibroue.
There are also lots of singles, including Troublette (by Caracole), Chouffe, Weihenstephaner, Scrumpy's, Rogue, Pyramid, Great Divide, Foret, Maredsous, and Dulle Teve.
(This isn't a comprehensive list, but it covers much of what you'll find here.)
2,239 characters
3.55
/5
rDev
-9%
So this place is your typical hippie heaven! But what do you expect in Carrboro? Anyway, it is a grocery store with a huge emphasis on freshness and organic stuff. Not my favorite grocery store. They also have tables outside for you to buy your beer, take it outside and drink it with your friends...okay you can eat your food or drink wine or just sit there too. They do have a large selection of beer, and I never had a problem with the bottles being skunked or whatever. Its not the largest or the most varied selection but they do have something from most mainstream craft breweries. Prices are what I expect to pay...so they are reasonable.
645 characters
4.15
/5
rDev
+6.4%
A few other BAs and I went here after lunch in search of Mash House Hoppy Hour IPA. The mission was a success.
This place seemed to have a lot of natural/organic grocery stock in addition to a nice beer selection. Of note were previously mentioned Mash House, Pyramid seasonal and regular brews, and some Rogue bombers that aren't often found in my part of NC. Other selections included Dogfish 60-min and pale ale, Anderson Valley's oatmeal stout, and quite a few other domestic craft brews and imports. They even had growlers from the local carolina brewery...
The guy who apparently controls the beer selection stopped to chat with us for a bit and seemed more than informed and excited about what he had to offer.
There are quite a few nice beer-related places nearby. I definitely wouldn't mind dropping back by here again.
839 characters
Weaver Street Market in Carrboro, NC
Place rating:
45.5%
out of
100
with
11
ratings