Het Elfde Gebod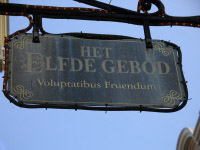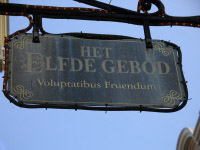 Bar, Eatery
Zeedijk 5
Amsterdam
, 1012 AN
Netherlands
+31 20 622 3577 |
map
hetelfdegebod.com
Notes:
DoubleJ from Wisconsin
4.17
/5
rDev 0%
vibe: 4.5 | quality: 4.75 | service: 4 | selection: 3.5
The Dutch sure seem to like the beers from their southern neighbors. If you're unable to take two hours journey to Antwerp, take a shortcut to Elfde Gebod. The specialty is Belgian beer, all served with its glassware, poured beautifully, and served closer to celler temperature than stright from the fridge cold. Therefore, the presentation and quality receives high marks from me. You have 8 beers on-tap (Westmalle Dubbel, Tripel Karmeliet) and 50 from the bottle (Achel, Floreffe, Gouden Carolus, Liefmans, Boon, La Chouffe), so it's not large compared to some other Amsterdam bars, but there's enough to be happy.
Also receiving high marks is the atmosphere. It's a little dark inside with a few spot of light. Despite most of the seats being taken, it felt very cozy.
Not a must stop in the city, but it is a good place to catch a good beer.
May 13, 2013
dirtylou from New York
4.06
/5
rDev
-2.6%
vibe: 4.5 | quality: 4 | service: 4 | selection: 4
stopped in this random bar one rainy night in amsterdam, because i remembered reading about it on BA
from the exterior, i thought maybe i was enterring a hookah bar or something, without the hookahs. Interior was very dark and woody with cozy decor
the beer selection wasnt anything too fantastic - it clearly fallse below the other A rated bars in Amsterdam in this department. I was craving an orval, so i went that route
very small and vibey - could make for a very cozy evening...not really a beer destination as far as amsterdam goes though. stick to gollem t' arendsnet, in de wildeman for that.
Jun 06, 2010
IPAcraig from Tennessee
4.8
/5
rDev
+15.1%
vibe: 4.5 | quality: 5 | service: 5 | selection: 4.5
I absolutely loved this place. North part of the Redlight district. The name means the elevnth commandment, named after a Belgian beer that isnt made anymore.
The atmosphere was excellent, a small crowd but it was monday. A beautiful bar, dimly lit. There is religous paraphanelia everywhere. Outside the window is a side door to an old church. The door used to be used to bring the bodies into the church for funerals. The name of the place, the decoratoin, the mood, the loaction all fit this bar perfectly. One of the best places I have ever been to have a beer.
The owner was an amazingly friendly and knowledgeable lady. We talked about beer and she told me some of the history of the place. The service was exceptional. Oh, and as I was walking out, she told me to help myself to one of the glasses that was on a shelf. How awesome is that?
I had a Duchesse de Boiurgogne, nice.
They had a very good selction, something like 75-100 belgians in bottles with about 8 on tap. The prices were very reasonable.
If I am ever back in amsterdam I will most defintiely stop in. This is a cant miss for me.
May 21, 2007
rudyarmand from Georgia
2.2
/5
rDev
-47.2%
vibe: 1 | quality: 3 | service: 1 | selection: 3
I visited this place last year on my trip to Holland and was impressed with the Belgian and Dutch draft selection. This time was different. The proprietors were old and grauchy and almost rude, unlike almost every other place I visited on my trip. The "gentleman" pouring the draft was an older, nasty, grouchy, scumbag. They do have a good beer selection, however, but so do a dozen other places that either let you drink in peace, or like Gollem where you can discuss beer and life with customers and employees. I will definately skip this place on future visits. They even accused me of stealing a cardboard beer coaster which I was innocent of. F*$% Them!
May 20, 2007
TheEclecticGent from Georgia
4.78
/5
rDev
+14.6%
vibe: 4.5 | quality: 4.5 | service: 5 | selection: 5
Visited the "Het Elfde Gebod (Voluptatibus Fruendum) on July 15th and 16th, 2005. Loved this little place in Amsterdam, Netherlands! It's is a dark bar with a few tiny street tables that specializes in Belgium beer! The lady there was very elegant and helpful and spoke excellent and elegant English. I will always think of her as the "Duchess" in honor of the Duchess de Bourgogne, my favorite beer. She made my girlfriend and I feel at home at her establishment. Her husband didn't speak English as well, but was very eager to please and after a few "hand-signs" and Dutch and English words, he could figure out what we wanted. If I ever get back to the lovely, lovely city of Amsterdam, I will drink at this place every day I can!!
Dec 31, 2005

JohnfromDublin from Ireland
4.25
/5
rDev
+1.9%
vibe: 4 | quality: 4 | service: 4.5 | selection: 4.5 | food: 4
Visited Elfde Gebod on Saturday 15th October 2005. We were partaking of a minor afternoon pub crawl in the Zeedijk area (Int Aepjen, De Ooievaar, and Elfde Gebod). These are all worth visiting and are within a stone's throw of Central Station, but top of the heap has to be this beer bar. This a long narrow bar with extra seating on a lower level towards the back.
They have quite an extensive beer menu, with plenty of Belgian and Dutch offerings. I had a Maredsous 8 with a shared plate of excellent Trappist cheeses served by a friendly barman. What a nice apperitif before dinner!
Lovely pub, pity we couldn't have stayed longer. Note: there was evidence of live music to be seen, with piano and guitars at the ready.
Elfde Gebod: the Eleventh Comandment, interpreted as "enjoy life" or simply ignore the other ten. Not a totally original name in Europe, but an original pub.
EDIT October 2011: I am not changing my "scores" they were what they were, but I would make the following comment: some bar owners/managers in Amsterdam do not bother enforcing the law on banning smoking from their establishments. Elfde Gebod unfortunately is one of these, and I left as soon as I entered the place because of the smoky atmosphere. Pity.
Oct 19, 2005
Het Elfde Gebod in Amsterdam, Netherlands
Place rating:
4.17
out of
5
with
8
ratings