Waimea Brewing Company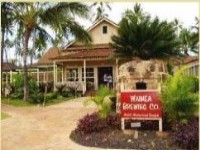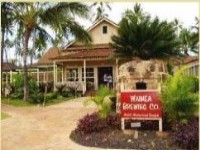 PLACE INFO
Type:
Brewery, Bar, Eatery
PO Box 667
Waimea
,
Hawaii
, 96796-0667
United States
(808) 338-9733
// CLOSED //
Notes:
No notes at this time.
Added by BeerAdvocate
Ratings: 14 | Reviews: 14
Reviews by Czap:
2.85
/5
rDev
-19.9%
vibe: 4.5 | quality: 2.5 | service: 3 | selection: 2 | food: 4
Life just seems better in Kauai. If this place was on the mainland, I probably would have given it all 1's. The beer, what they had of it, was not good. I honestly believe they had only 3 beers avaliable when I went. It was very weak.
The food was decent. The service was friendly and timely, but how hard is that when my wife and I were the only ones in the dining room.
The atmosphere is the saving grace. I mean, c'mon, you're in freaking Kauai. And I'm not talking Hawaii, I'm talking Kauai. For those that have been to all the islands, you know how superior Kauai is. The restaurant is on an old plantation, not too far from the canyon. It is beautiful.
So if you are on Kauai and you want to check out a brewpub, you're in luck, there is one on the island! So enjoy, and have a wonderful time with someone you love, just don't ruin your time by having high expectations.
879 characters
More User Reviews:
3.75
/5
rDev
+5.3%
vibe: 4.5 | quality: 4 | service: 3.5 | selection: 3.5 | food: 3.5
Located on an amazing plantation site, with a nice open feel to it. Sadly when we got there the front veranda was full and the rear was booked for a private tour group.
Service was a bit slow, though in fairness our server was also having to serve the private tour group. As a plus, he did introduce us to the brewmaster.
Selection, both of beer and food was fairly wide. There should be something for everyone. A few of the beers were not available, though the porter was temporarily replaced by what I believe was an oatmeal stout (it wasn't on the menu, and is very new).
Food was good, but I had a grilled cheese sandwich which is pretty hard to screw up. Some of the items were a bit on the expensive side, but hey, so is the rest of Hawaii.
749 characters

3.63
/5
rDev
+2%
vibe: 4 | quality: 4 | service: 2.5 | selection: 4 | food: 4
Visited last night with my wife and friends. Located on an old plantation containing cabins you can stay in this brewpub is not too far from any thing.
Walking in it has a island vibe but not a beach vibe. They had about seven house beers on tap. I tried the IPA,brown,red,;orter, and the lililikoi ale. All were good with the red,lilikoi, and the porter being our favorities.
I had the kalua pork sandwhich which was good and my wiife had the catch of the day which she enjoyed.
The service was disjointed and slow. I thought the prices were decent and would go back again.
578 characters

4.53
/5
rDev
+27.2%
vibe: 4.5 | quality: 5 | service: 4.5 | selection: 4
Popped in for a pint after a long hike through the waimea canyon (I highly recommend the ditch trail in particular, with the side hike out on the ridge into the canyon about mid-way through). The Captain Cook IPA had just been tapped the night before and was super good, I was really impressed. I don't think I saw a single person in Kauai drinking anything but fizzy yellow beer so I didn't have high expectations for their IPA, but the brewer really knows what he's doing. Really reminded me of on of my favorites from home, HUB's. My wife got some kind of fruity cocktail that the bartender said he had just invented as part of some program where once a month the showcase a new cocktail, and asked for her feed back. She really loved it. In general he was nice, fairly humble (he only revealed this mis-way through the drink, and was obviously looking for honest feedback, not bragging about his creation or anything), and attentive. We ordered at the bar and then said we'd like to sit out back. He later walked back there to bring our tab, as well as the t-shirt I wanted, which was beyond what he needed to do, I certainly would have walked back up myself.
The atmosphere was typical open air Hawaiian style, a nice big plantation house or whatever this building was. We went on the back porch and sat in rockers soaking up the view of the lawn / garden and distant ocean. I wanted to stay and have more beer but the wife was hungry and wanted to eat somewhere else. Their menu was very small, good looking dishes but only a few. That might have been the bar only menu though, I'm not sure. I really wanted to come back here later in the trip but it never worked out. Will definitely do so when we return though.
1,720 characters

4.22
/5
rDev
+18.5%
vibe: 4.5 | quality: 4 | service: 4.5 | selection: 4 | food: 4.5
My wife and I popped in for a superb dinner after a delightful afternoon viewing Wiamea Canyon.
Let's start with the beer:
I had their Cane Fire Red ale 1st. Average red ale; a little one-dimensional with the hops and had a lighter mouthfeel than I prefer. (For the record, I generally hold North Coast's Red Seal Ale as my standard for comparison in this category.) C+
My 2nd beer was the Captain Cook IPA. Better than the red ale, but still a little heavy on the hops without a solid malt compliment. I give it a B.
My wife had their mojito which was very good. They used loads of fresh mint grown right on the property. Give it an A.
For our meals, we had the grilled ahi, grilled swordfish and sweet potato fries. Food was excellent all the way around. A
Beers were $5.50
Cocktail was $7
Sweet potato fries - $3.50
Grilled fish entree - $13.95 each... GREAT VALUE!
Atmosphere was top-notch, as was the waitstaff. I would definitely make a return trip. The beer is good, but nothing spectacular that I'd go out of my way for. As a restaurant, it's quite good.
1,069 characters
3.93
/5
rDev
+10.4%
vibe: 4.5 | quality: 4 | service: 4 | selection: 3.5
Stopped by here after visiting Waimea Canyon and the Napali Coast (really beautiful). The location of this place makes it worth a stop if you're in the northern part of Kauai either way; after leaving the mountains it's along the road, on an old plantation site. There are (obviously) trees everywhere, and there is a beach with red dirt sand about 200 yards through the plantation.
The place itself is airy, smells great and was not too crowded at 4PM on a Sunday. There were some locals drinking at the bar, but I sat at a table. Mostly they had light ales and lagers, although there were out of their IPA, so I got the Pakala Porter, which was really good, and just tried the rest of them in smaller glasses. They were all OK, not stuff that I'd want all the time, except the porter which was excellent.
The waitress was really nice and checked up on me a couple of times, and answered every question I had, although she didn't know much about the beer. I didn't eat anything, but the people next to me were raving to me about the food so it must at least appeal to some people, although I didn't rate it. Anyway I didn't see any stray cats or bugs, although I was there in the middle of March and it was a little chilly in Kauai.
So overall I really liked it here, and it is worth a trip just to say that you were there. Check out the plantation huts, the trees, the beach, and then get some beer. It's really a very nice afternoon!
1,439 characters
2.95
/5
rDev
-17.1%
vibe: 4.5 | quality: 3 | service: 3 | selection: 2 | food: 3.5
Stopped by here after heading down out of the canyon. Cannot complain about the setting really... quit beautiful ex-plantation along the southern coast. The beer list was 6/7 options of which only 3/4 were actually available. Had two pints (one a golden ale, the other a pale ale) that were neither good nor bad. Food is typical pub food (for Hawaii...). Didn't get everything we ordered but no problems getting the bill straightened out. All in all a pretty average place. Just watch out for the stray cats trying to steal some of you food.
541 characters
2.9
/5
rDev
-18.5%
vibe: 1.5 | quality: 3 | service: 2.5 | selection: 3.5 | food: 3.5
The beer is not bad ... but nothing special. Had 3-4 other Hawaiian breweries' beer on the trip that were superior. Waimea BC doesn't make any beers that are unique or uniquely Hawaiian.
The place smells pretty bad and was infested with flies on the September day that we were there.
The staff was pretty nice but didn't have much interest in recommending things.
Had the fish and chips and it was decent, but nothing to seek out.
It wasn't a total letdown, but definitely one of the most depressing brewpubs I've been to. And that is quite and accomplishment since it is in Kauai!
585 characters
4
/5
rDev
+12.4%
vibe: 4 | quality: 4 | service: 4 | selection: 4 | food: 4
Visited here in early June before departing back to the mainland.
Atmosphere was nice, open aired restaurant. It is set on an old sugar plantation about a quarter mile from the ocean. Bar was encased in a palapa style "relief". Quality was good, beer was pretty good and the food very good. Service was good, was mostly empty when we first went in but quickly filled. Our server was still able to stay attentive. Selection of styles of beer was good, i believe there were 7-8 taps. Food selection was limited but what we had was very good. It was a bit pricey but again this is coming from a mainlander. Definitely worth a stop if on the southside of Kauai.
658 characters
3.23
/5
rDev
-9.3%
vibe: 5 | quality: 4 | service: 2 | selection: 2.5 | food: 4
Just got back from this place, the Westernmost US Brewery.
I gave it a 5 for atmospehere because the location is FANTASTIC. It is set in an amazing building on a sugar plantation by the ocean, and one HAS to walk around the plantation grounds with a beer in hand to experience what I'm referring to...
I had two beers here (Westside wheat, Na Pali Pale) and wasn't generally impressed with either. The wheat beer was very weak and I wouldn't recommend it. The Pale was significantly better, and while it was drinkable, it just wouldn't stand up to a hoppy ale on the mainland. I'm also a hop freak, so a little biased.
The service absolutely sucks, so I'd go with low expectations and plenty of time on hand. However, the food is very good and the VOLCANO sauce is a must-try. Burgers and fries were ordered...and consumed with a lot of enjoyment.
Combine with a visit to the canyon.
889 characters
4.2
/5
rDev
+18%
vibe: 4 | quality: 4.5 | service: 4 | selection: 4 | food: 4.5
Pretty good food and friendly staff. The staff knew their beer and were happy to make recommendations.
The patio was very pleasant and you got free entertainment (in the form of cats and roosters locked in staring contests over rights to the crumbs dropped by diners).
I'd recommend anything with the volcano sauce, if you like spice... but please have it AFTER you have sampled the beers; you don't want to ruin your palate now, do you?
My group of friends tried almost every beer on offer and found them all quite satisfying. Enjoy your time, and stop by JoJo's shaved ice for dessert!
589 characters
2.15
/5
rDev
-39.6%
vibe: 4 | quality: 2 | service: 2 | selection: 1 | food: 4
When I went here they were out of all of their beers. Not just on tap but bottled also. The said they didn't receive their shipments of supplies from the mainland.
I can understand this being a problem as they are in a somewhat remote location but every other establishment on Kauai had selections of other Hawaiin beers, almost everyone has Kona and a lot of places have Maui. So when the waitress said "all we have is Bud, Bud Light and Coors light" I thought she meant on tap so I asked her what they had in bottles and she repeated (with attitude) "Bud, Bud Light, Coors Light."
So I stuck with water and ordered something to eat. The food was pretty good and the atmosphere is nice.
I would be willing to give it a try again in the future but I will definitely call first and see what they have.
804 characters
2.42
/5
rDev
-32%
vibe: 5 | quality: 2.5 | service: 2.5 | selection: 1 | food: 3
The atmosphere here was excellent. Kauai is an island paradise and this hut type restaurant really exemplified the island feel. We arrived at dusk and there was a Hawaiian guy playing a ukulele out on the patio. Right away I got an excellent vibe.
The quality seemed to be a mixed bag. The food was good but the selection was limited. The beer was served in plastic cups. They reminded me of small party cups however they were flimsier and were clear with the brewery logo. This seemed pretty unacceptable for a brewpub, I would have even been happy with a tumbler with no logo but I guess this was all they had.
The service was about average for Hawaii. Very laid back servers who provided you with everything you asked for but seemed slow by mainland standards. There was only 1 waiter 1 busboy and a bartender when I came so I could understand the delay, I was in no rush.
The selection was absolutely awful. There was no beer on the menu so I figured there was a separate beer menu the server had neglected to give us. It turned out that they only had 3 beers currently on tap, Bud, Bud light and their pale ale which the server informed me was their brewer's choice (i had a hard time understanding how that mattered when there was only 1 to choose from). They said they hadn't had more of their own beer for a while and had no idea when they would get more. They had no logoed tumblers, shirts etc for sale (the only things for sale were coffee mugs with their logo and Frisbees ...). Aside from the beers when we tried to order Onion Rings we were informed they ran out of onions which was also apparent when we got our burgers.
The food was actually fairly good. I enjoyed the meal as did everyone else we went with.
The value was decently good. Obviously a bit overpriced for average food since it was in Hawaii but about the going rate for the island (around 10 dollars a plate, 3.50 for a small plastic cup of beer).
All in all I was very dissapointed. If I went in expecting a family resturant I would have been pleased with the atmosphere and food but the drink selection and plastic cups that they were served in absolutely blew.
As a side note, I was talking with a local the next day and they said the brewpub was under new management and they were probably going to stop brewing all together and just focus on the restaurant. I'm not sure how true that is but it seems like thats probably whats going on.
2,443 characters

4.47
/5
rDev
+25.6%
vibe: 5 | quality: 4.5 | service: 4 | selection: 4.5 | food: 5
Waimea Brewing Company is an open air affair, like most of Hawai'i. Big deep porch, wood plank floors, oversized windows, faux ragged adobe peach walls (wife's review folded into mine), painted surf boards, high red ceilings and windows behind the bar that show a modern looking brewing set up. A very relaxed atmosphere with a friendly "island" waiter, meaning he was very nice, but was in no hurry to get you in, fed, or out. The brewery serves other beers, which given the 6 they offer seemed a bit of an overkill, but a generally good selection, Kona Golden and Fire Rock Ales, SNPA, Mirror pond ale, Gordon Beirsch, and Bud products. They have some great old pub style taps and the beers were served at appropriate temperatures (not freezing). Their signs listed 7 beers (Leilani Light, West Side Wheat, Pakala Porter, Captain Cook IPA, Na Pali Pale Ale, Cane Fire Red, Brewers Special), not including two others that I tried Wai'ale'ale Ale and Lilikoi Light.
Menu prices were moderate ($10 burgers in Hawai'i are about right) and the wife and I spilt a Pulled Pork sandwich on a Maui Onion bun and an order of Onion Rings that came with a great vinegar based hot/sweet dipping sauce; A really great meal! They offer samples in $1.75 6-7oz. glasses that allowed me enough to review each sample and get a great overview of their beers. The pick of the litter for me was the Lilikoi Light, which was made/blended with a large amount of Passion fruit juice; A really unique tasting beer!
After our meal and beers, we wandered out back to the adjoining resort complex that rent cabins. We strolled down the manicured lawn to a large Banyan tree right at the shore and swung Tarzan-style from the vine like roots. Hung out in the hammock and watched waves roll in. Truly a pinnacle moment in my life as a BA. If you make it to Kauai this is a must.
1,860 characters
Waimea Brewing Company in Waimea, HI
Brewery rating:
-
out of
100
with
0
ratings