Löwenbräu Premium Pils
| Löwenbräu AG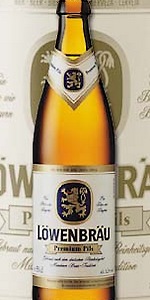 BEER INFO
Brewed by:
Löwenbräu AG
Germany
loewenbraeu.de
Style:
German Pilsener
Alcohol by volume (ABV):
5.20%
Availability:
Year-round
Notes / Commercial Description:
No notes at this time.
Added by Bestuurder on 07-30-2005
Reviews: 7 | Ratings: 27

2.42
/5
rDev
-25.5%
look: 4 | smell: 2 | taste: 2 | feel: 3 | overall: 3
Had this beer at the Lowenbrau restaurant in Berlin. Served on tap in a krug, cool.
A-very clear pale yellow body, thick white head.
S-metallic and faint hop smell.
T-clean with a light but coarse hop finish.
M-light
D-very average tasting, somewhat coarse flavors. Only would drink again if given limited options.
319 characters

2.6
/5
rDev
-20%
look: 2.5 | smell: 2.5 | taste: 2.5 | feel: 3.5 | overall: 2.5
500 ml bottle, poured into a Weizen glass.
Large head after pouring but doesn't stay long. Only a little scattered lacing. Many bubbles rising rapidly.
Smell and taste are pretty average, standard german pilsner. Not a style I enjoy very much.
Light to medium body with good carbonation. Drinkable and refreshing.
I didn't enjoy it too much. I had better pilsners.
366 characters
3.28
/5
rDev
+0.9%
look: 3.5 | smell: 3 | taste: 4 | feel: 2.5 | overall: 2.5
This was a fairly descent German pilsener. If served correctly, this is one of the best beers for a sunday afternoon in the shade. Excellent pale yellow colouration, with a fluffy full snow-white head.
The smell of this pilsener was somewhat questionable, seeming more like a North American macro than a Munchen-brau.
Taste was quite good, on the average it was fairly-well balanced between hops and malt, thought it is a pilsener, it could be a little more towards the malty side, rather than the heavy hoppiness of the this brew.
Mouthfeel was pale and slightly bland. No more to say about that.
Fairly easy to drink, could be drank in large quantities, if you can afford it, but I would certainly recommend a Kostritzer over this one.
749 characters
3.57
/5
rDev
+9.8%
look: 3 | smell: 3.5 | taste: 3.5 | feel: 3.5 | overall: 4
Had a fresh one of these while staying with my brother in Munich.
I must say that the comradery among strangers in that country is unsurpassable, and contributes significantly to the beer drinking experience.
Not as crisp as I was expecting from a Pils (a style I am admittedly not as familiar with) but this did not detract from my enjoyment as it was still remarkably clean tasting. The beer was refreshing and light and would mak a nice "session + " beer. The tenth would be as nice as the first, but not as great as the first.
534 characters
3.83
/5
rDev
+17.8%
look: 4.5 | smell: 4 | taste: 3.5 | feel: 4 | overall: 4
Löwenbräu's shot at the pilsner style is more than on par. When poured into its appropriate tulip glass, the brew produces a good two and a half inch white head that retains quite well. The body is beautiful gold and filtered to create a pure appearance.
Aromas are typical of the style. The hops are mostly lemony, but have a hint of metallic character. A sweet husky undertone is detectable underneath the hop's dominance.
Taste wise, it's on par with lemony hops shining through, with a slight herbal finish.
Mouthfeel is light in body, and very thirst quenching. For a hot German summer and no air conditioning, this pils hits the spot.
645 characters
3.84
/5
rDev
+18.2%
look: 4 | smell: 2.5 | taste: 4 | feel: 4 | overall: 5
Two of my friends and myself were in Munich and it was lunch time. So of course we decided our Euros would be better spent on bier than food we chose to each order a different variation of the famous Lowenbrau (so we could also taste each others). Emmilyn got the Lowenbrau original, Nicholas got the Lowenbrau Dunkel(dark(for those of you new at the game)), and I had the honor of receiving a tall glass of Lowenbrau Premium Pils.
The head was appr. a finger and a half. The smell was a little soft, couldn't really smell it. The taste was spectacular. In technical terms I would be inaccurate to describe the taste further(I should have taken better notes). The drinkability, when compared to that of the original, was easily recognized as smooth.
750 characters
4.05
/5
rDev
+24.6%
look: 4 | smell: 4 | taste: 4 | feel: 4.5 | overall: 4
Sitting in a Munich beer garden with an oversized preztel in one hand and oversized beer in the other, now that is living. It is impossible to not let the atomsphere impact my opinion of the beer.
This is the lightest, most refreshing of all the beers I had while in Munich. The least complex, but also the easiest to drink. So smooth and so fresh, I really had a tough time not having more than 2.
400 characters
Löwenbräu Premium Pils from Löwenbräu AG
3.25
out of
5
based on
27
ratings.