Löwenbräu AG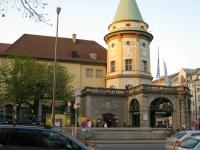 PLACE INFO
Type:
Brewery, Bar, Eatery
Nymphenburger Straße 2
München
, 80335
Germany
(089) 54 72 66 90 |
map
loewenbraeu.de
Notes:
No notes at this time.
Added by BeerAdvocate
Reviews: 13 | Ratings: 20
4.5
/5
rDev
+15.4%
vibe: 4.5 | quality: 4.5 | service: 4.5 | selection: 4.5
The Lowenbrau or Lions brew was an impressive, massive building. I had the Lowenbrau Triumphator ( Dopplebock) on tap, as well as the Lager. A liter of each is a bit filling but it was thankfully a short walk back to my hotel. The atmosphere is very old wood and the service was excellent. It is a lovely location and the pretzels were also very good.
351 characters
4.5
/5
rDev
+15.4%
A clean brauhaus with a good feeling to it. Maybe because we went there for lunch, but it was busy, yet at a respectful noise level. The waitress loved her beers and tongue-in-cheek gave us a hard time for ordering the "girly" half liters until we were on out third half liter. Gotta try them all (or many), you know?!
Had never had their beers before and only occasionally spotted that blue 6-pack here and there in the States, near the domestic swill, making me think it was a passé sort of low brow beer. Well damn. I was wrong! Loved em, and the hearty food we got paired very well.
588 characters
4.13
/5
rDev
+5.9%
vibe: 4 | quality: 4.5 | service: 4 | selection: 3.5 | food: 5
This is a pretty large beer hall not far from the city center.
It has a very nice atmosphere and is more laid-back than say hofbraeuhaus. They have about 5 or 6 beers on tap and a few in bottles. It isn't a huge selection but it isn't bad. This was during starkbierzeit so I got the Triumphator and Dunkel which were both tasty but not mindblowing. The service was friendly and forced me to drink the last little droplets of my first glass to get my second.
The food is pretty good, i got the Shweinhaxe and it was huge and filling. The potatoes it came with were a bit less stellar but the giant hunk of meat made up for it.
Overall this is a nice Beerhall to check out when in Muenchen.
693 characters
4.05
/5
rDev
+3.8%
vibe: 4.5 | quality: 4 | service: 4 | selection: 4 | food: 4
An impressive building from outside (though at time of our visit in April 2007, most of the beer garden was closed for alterations) and the interior rooms impressive, but not so large as to be impersonal. Four beers available when we were there, Hell, Dunkel, and two wheat beers. Food menu was extensive (though non in English available!) though serving staff spoke some English. The beers we had were good, and the food was good too, and average price for Munich Beer Halls. Easy to get to on U-Bahn - stop Stiglmaier-platz on line U1. Worth a visit, and even though not on the main tourist trail, still busy in the evenings.
On the opposite side of the road about 100 yards away from the road junction is the Lowebrau Brewery, and some glass windows allow sight of the huge copper brewing kettles.
JohnW
B'ham UK April 2007
834 characters
3.98
/5
rDev
+2.1%
vibe: 4 | quality: 4.5 | service: 4.5 | selection: 3 | food: 3.5
This place was very relaxing. The atmosphere was a little dark, but there's a lot of stain glass work and other Bavarian style architecture to admire.
I had a just a little bit to eat here. The liver dumpling soup was about the best I'd ever had, but the real reason I was here was for the beer.
They have the standard fair as far as beer goes, but I've always been a fan of Löwenbräu's Helles. It's what got my feet wet for imported beer, which led to my fondness of craft beer.
Overall the prices didn't look too bad, and the waitress was very nice. She joked around and kept the atmosphere very light; in comparison to my experience at the Augistiner establishment I visited.
684 characters

3.93
/5
rDev
+0.8%
vibe: 4 | quality: 4 | service: 4 | selection: 3.5 | food: 4.5
A group of four of us visited this establishment on a Sunday in December 2007. I had had a quick look in earlier when it was very busy. By the time we entered, there was plenty of room, and we had our pick of tables. The interior was typical Munich Bierhalle style with wooden tables, vaulted ceilings etc. An interesting feature I noticed was a stained glass window depicting a figure complete with Lowenbrau steinkrug. There seemed to be a number of other rooms off the main central area.
There was no English menu, but our waiter was very helpful, and translated anything we needed translating. In fact (unusual for Munich), this man was very glad to practice his excellent English, and was very friendly. We had a fine lunch with amazing portions and washed down with Lowenbrau Triumphator (a bit dissappointing), and a Franciskaner Weissbier dunkel.
This is the kind of place that you could get very comfortable in. I was very glad we visited it. It is located close to the musea (Altes Pinakothek, Lanbach Haus, etc.). I certainly enjoyed it.
1,049 characters

3.8
/5
rDev
-2.6%
vibe: 4 | quality: 4.5 | service: 3 | selection: 4 | food: 3
Visited on the evening of the 29/09/2010 before a visit to the Fest.
Located right at the corner of Nymphenburger Strasse and Dachauer strasse. Easy access directly beside Stiglmaierplatz U Bahn station.
Very grand appearance from outside, a castle like turret, golden yellow walls and brick work, with the famous Lowenbrau Lion statue standing outside. Beer garden toward the left hand side but this was closed.
On entering into the restaurant, it was just as grand, like a medieval dining room, the bar area on the right hand side and the kichen area toward the left, lots of booths, large round tables, all dark wood. Toward the back up the large staircase appeared to be several function rooms or maybe some other restaurant area, didnt get a chance to look.
Not overly busy, not many tourists at all, large groups of revellers eating and drinking which made for a bustling atmosphere but not chaotic.
Service was average, there were plenty of waiters and it not being particularly busy, but still took ages to get an order in. There was who seemed to be some sort of head waiter standing up on the staircase, directing other waiters, but he didnt seem to have a clue what was going on. I think he even lost a large groups reservation.
Sampled a half litre of dunkel which was top notch, served in a branded willibecher. This went well with a plate of kaesespaetzle. The dish was pretty bland and dry compared to other spaztles i have tried in munich, but was well presented.
Selection was as expected full range of Lowenbrau beers including Triumphator doppelbock on tap.
A grand building made a wonderful setting, but service and food let it down. Will visit next time in Munich as the condition of the beer was excellent.
1,736 characters

3.65
/5
rDev
-6.4%
vibe: 3.5 | quality: 3.75 | service: 3.5 | selection: 3.75
Visited on a busy summer night, it was very busy. The beer is your typical Munich fare. A small selection of their own brews at a reasonable price. Its a bit further away from city centre, so I probably would not visit again with some better choices like Altes Hackerhaus and Weisses Bräuhaus a short walk from city center.
324 characters
3.6
/5
rDev
-7.7%
vibe: 5 | quality: 4 | service: 3 | selection: 3 | food: 4
Elbow to elbow with fine Muncheners, worst, fish on a stick, pretzels so large that they are carried by putting your arm through them. Great atmosphere. You share park type benches with strangers. Many bring their own food and table cloths (like a picnic).
I rated the service as average because I went to the cafeteria type side where you grab a beer then some food and then pay. There is a sit down restaurant where you have a server, but I did not go to that side.
I rated the selection as average because like all breweries all they had were their own beers. That's not bad, average in this case is a high standard.
This place made me not want to leave Munchen. Very festive place full of locals and some tourists. Far enough out of old town so that it's not full of tourists (like the Hoffbrau Haus) but close enough to walk or take a short tram ride.
The food was of the standard Sud Deutchen variety; worst, kraut, fish on a stick, BBQ pork ribs. Not gourmet, but very tastey. Great if you like pork products. I had the small pork worst with kraut and Bavarian mustard (Sweinworst??) on one trip and the BBQ pork ribs on the second trip. Excellent food to go with the beer and the atmosphere.
I had liters (MaSes) of their Helles, and WeiS beers and they were quite nice. I prefer the Helles, which is a light golden lager to the WeiS which is a cloudy wheat beer.
1,387 characters

3.59
/5
rDev
-7.9%
vibe: 4 | quality: 4 | service: 3 | selection: 3.5
Went here while visiting Munich in the winter of 2010. Lowenbrau wasn't too far away from the main train station so we decided to check it out. This beer hall seemed a lot more laid back than most of the other ones we had been in. Maybe more of a place that real Germans hang out instead of all the other more touristy halls. We checked out the menu and really didn't find too much that looked good to us so we just ended up having a couple beers. The Helles was very good, I think I have had that in the bottle before as well and remember thinking that it was pretty good. The service was just ok...it took forever for us to be able to pay for our drinks but part of that it probably my fault as my German isn't that great. If I'm ever in Munich again I'm gonna have to come back it was a nice laid back change of pace for sure.
829 characters

3.58
/5
rDev
-8.2%
vibe: 4 | quality: 3 | service: 4 | selection: 3.5 | food: 4
There are better beers in Munich (with many others in this regard I agree), and its location outside the old-town (yet still close by) are just two factors why the Löwenbräu Keller hadn't raked very highly on my wish-list. But our renting bicycles on a suspect weather day and recalling comments from travelling companions the year-prior seemed to have conspired together on this occasion as tiny droplets of Munich mist (not beer) were hitting us. So en route we ventured.
Immediately my friends' descriptions were validated: The outside of the building loomed graceful even in this "newish" district. Even better were the inside various compartments and adornments. We sat ourselves down at an empty table in the main "Festsaal" area near the bar; it was lunchtime. And no sooner were we down then a very attentive and affable waiter came our way and offered us menus. We quickly ordered liters of Festbier and enjoyed the brew as we looked through the food choices (I think the waiter was nicely surprised when, knowing we were foreigners, we requested Festbier instead of the standard lion's brew...as he set the sizable amber beers down, he muttered in agreement that this was the essence of the time of year -- at least I believe this is what he was implying).
As I was rather full from breakfast earlier, and the Mass of beer was tastier than I had counted on, I ordered only a soup along with another beer. I have to say the soup - a simple vegetable a la francais - was the best I had ever had in the city.
If in the area, I would recommend a visit. I might even consider taking first-timers here for a quick stop-in, since the beer is such a recognized name (and better offering), and even moreso due to its very cozy, Bavarian interior and feel -- and at least on this trip, it wasn't overly crowded, even as the great O'fest was kicking off in two days. I have heard that it can get quite crazy, however, from time to time and esp. when they throw their various fests.
1,991 characters

3.38
/5
rDev
-13.3%
vibe: 4 | quality: 4 | service: 2.5 | selection: 3 | food: 4
After two days of crazyness to be able to leave town, a transatlantic flight, and 3 hours sleep this was our first (maybe second) stop after checking in. We were led here by my buddy Richie, an American living in Munich, after not getting into Schnieder for Weissewurst. It was a rainy Saturday afternoon with both Oktoberfest and a Soccer game going on. Munich was hopping with loads of people. Appearantly a lot of them also decided to go to Lowenbrau and it took us 25 minutes to find seats with a bunch of old guys. In Munich you have to seat yourself.
Outside of Lowenbrau is an ox rotisserie-ing in a glass case. It was clear that is what we were getting, ox and a dunkel. The dunkel was so good that I happily had two more and relaxed myself into what was a wonderful first trip to Munich. This place really set the mood for the rest of the trip.
This place has the potential to be a tourist trap but instead it is a real place frequented by real Germans. The food and beer are wonderful and authentic. It is rather large and pleasant without being grand or showy.
One word of warning, the baskets of pretzerls are pay as you go, on the honor system.
1,169 characters
3.26
/5
rDev
-16.4%
vibe: 4.75 | quality: 3 | service: 2.75 | selection: 3 | food: 4.5
The Lowenbrau bierhall is easily accessed from the Stiglmaier-platz U-bahn stop (right next to it). It's as large as any of the others in Munich, the biggest distinctions being:
1. Lowenbrau beer
2. Quieter atmosphere than the other beer halls I've been to
While I appreciate point 2, I don't really appreciate point 1. Lowenbrau helles doesn't taste as good to me as the other 5 of the Munich big six and that's why it took 3 trips to Munich before I ever went here. But the hall itself is pretty and the laid-back nature of the place made for a nice dinner experience. If you skip the helles some of the other beers are fine.
One other point: the service was extremely slow. Much slower than it should have been based on my experiences at other beer halls in Munich. Just my experience though.
798 characters
Löwenbräu AG in München, Germany
3.52
out of
5
based on
1,313
ratings.