AJ's Fine Foods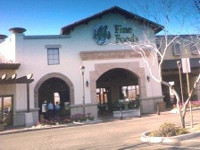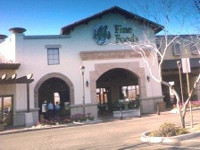 PLACE INFO
Type:
Store
2805 E Skyline Dr
Tucson
,
Arizona
, 85718-3051
United States
(520) 232-6340 |
map
ajsfinefoods.com
Notes:
No notes at this time.
Added by BeerAdvocate
PLACE STATS
Reviews:

9

Ratings:

pDev:

7.2%
HISTOGRAM
View: Place Reviews
Ratings: 13 | Reviews: 9
Reviews by BeerDonkey:
4.2
/5
rDev
+8%
Visited mid May 2008. Thank you fellow BeerAdvocates for the recommendation. In Tuscon for a couple of days for a wedding and wanted to make sure I was able to sample some of the local craft beers and other beers I can't get in Northern California.
This place is exactly like a Whole Foods in California: very ritzy, fabulous looking food/items at (mostly) ridiculous prices. The beer prices, however, were very reasonable by California standards. Nimbus brewery singles at 1.49. Most microbrews under 2$ a single.
Great selection of local stuff and beers from Arizona, New Mexico, Colorado (not just New Belgium) and a lot of Dogfish Head. Exactly what I wanted.
667 characters
More User Reviews:
3.7
/5
rDev
-4.9%
vibe: 4 | quality: 3.5 | service: 4 | selection: 3.5

4.39
/5
rDev
+12.9%
vibe: 3.5 | quality: 4.75 | service: 4.5 | selection: 4.25
3.84
/5
rDev
-1.3%
vibe: 3.25 | quality: 4 | service: 3.75 | selection: 4

4.05
/5
rDev
+4.1%
vibe: 3.5 | quality: 3.5 | service: 5 | selection: 4
So I decided to try this place out. I had seen it while at the nearby Crate & Barrel getting a snifter for bier.
The selection really isn't that diverse, and not that impressive (Compared to Binny's Beverage Depot in Chicagoland). BUT...I bought some CAPITAL Blonde Doppelbock!!!!
Words cannot describe how amazed I was to find this in Tucson.
I am native to an area under the cheese curtain, and have become accustomed to Capital's sublime lagers.
I have not found ANY craft bier out of Wisconsin save for Leinenkugel out here, and that's not saying much.
Finding this bier here was a refreshing explosion to my parched, lager-deprived soul.
It was a bit $$$ ($3), but I am used to buying it locally.
Regardless, this was truly a find of note, and I will be returning again periodically to look for such finds (and/or to buy up their last pack of Capital).
If you're in the area, not a bad stop for bier. Worth a look if in the mood for something different. If I knew they were going to regularly stock Capital, I would go out of my way monthly to shop for bier.
Otherwise an average selection of brews in a refridgerated aisle where one can make their own 6-packs.
Service in the rest of the store seemed attentive...
1,227 characters
3.55
/5
rDev
-8.7%
Q---- Great store. Plain and simple. Then again it is the Foothills of Tucson and it is in a high end mall. There is a Tiffany's so that figures and some good places to eat in La Encantada. Great supermarket with good food and a excellent deli.
S--- For wine... Excellent. Beer?? Not so much. Helpful staff but far more knowledgable on wine and food.
S--- Average beer selection. Basically one chilled isle with a mix of US and imports. Some good US stuff. IE Stone, Anderson Valley, Steamworks but then some very average stuff as well.
V--- The negative. It is the Foothills, so it is pricy. Almost .50 cents to a dollar more expensive than other places per bottle. Go to the Safeway on Swan and Sunrise for cheaper beers and at times a better selection. Lived off of Bridgeport IPA for $6.00 a 6 pack at Safeway for a month. The deli and sushi bar makes it worth while.
875 characters
4
/5
rDev
+2.8%
vibe: 4 | quality: 4 | service: 4 | selection: 4
Visit: November 21, 2007
We were in Tucson visiting family for the Thanksgiving holiday. My wife wanted to bring a nice bottle of wine to dinner, so we were told by her cousin that AJ's was the place to go.
It being the afternoon before the Big Day, the store was quite a madhouse. Charging ahead through the bustling crowds, my wife and her mother dove into the extensive wine/booze department; I sidestepped to the next aisle, where the lengthy beer coolers were almost completely deserted.
They shouldn't have been...terrific selection, far more variety than I'd expected (unfair, I might add - apologies to AZ BA's reading this...). Nice coverage of the European continent, with many Belgians, Germans and UKs to select from. I stayed to the left end of aisle, where the Rocky Mountain/SW beers are kept. Picked up several from local brewer Nimbus and from Santa Fe (that's two new states for me right there); also grabbed some from CO brewers Ska and Breckenridge. The 'score' was a nice caged/corked of the De Proef/Port Tomme Arthur Signature Ale. All things I could never get in Oregon, so I am very happy.
A nice woman from the department with a fair knowledge of the beers helped me choose one or two, grabbed me a couple empty carriers (we got 11 bottles total...and I would have liked more), answered a few questions and chatted about the NW and her trip to OR over the summer.
Prices to me seem quite fair, especially for a 'high-end' specialty store. I liked the pricing on individual bottles especially, not the 'flat-pricing' I've seen elsewhere.
Could have stayed much longer than the 10 minutes we could spare, but we had to leave...family first! At least I now know where to shop on the next visit.
1,726 characters
3.25
/5
rDev
-16.5%
A decent selection of good beers here, but despite its "specialty/gourmet" grocery store status, I haven't talked to anyone there yet that knows their beers or whiskys. Call me crazy, but I think if you're going to try to have have good selections in those departments, you should staff them with someone who knows an ESB from an IPA and a Speyside from an Islay. I rarely visit the place, as its a little out of my way and I don't really like the shopping center its in, so I guess the best thing about AJ's is that I haven't gotten any beer there that tasted mishandled in any way.
583 characters
4
/5
rDev
+2.8%
AJ's is one of my favorite places in Tucson to find top of the line brews. It dosn't have quite the selection Plaza liquors does, but it comes close and you can also make your own six pack with most everything there. Sometimes they also carry some unique brews that you don't find anywhere else. Unfortunately, if they don't sell much of something they tend to not order any more of it. Their prices aren't unreasonable, but they might be a little higher than most other shops. Overall, it's a great place for beer, especially if you live up in the foothills where it's right nearby.
583 characters
3.9
/5
rDev
+0.3%
Quality: well anyone who has been into an AJ's knows that quality is high on the list. this is the highest end store i have been into in Tucson
Service: I know that this isnt a beer specalty store but the person i spoke to didnt seem to know much about the section so i just picked a nice assortment myself.
Selection: as far as top notch beers go this is the place. amazing how many hard to get beers this place has.
Value: for selection you will pay. i noticed that the beers i had seen in other establishments were $1 even $2 more here. an example of this was the Chimay.
583 characters
4
/5
rDev
+2.8%
*Revisited May 6, 2006*
Selection is still good, thought other stores in town are better. Quality is fine, nothing there has been bad in the times I have gone back. However, prices have seemingly gone up, or I just know more about what the prices for beer in Tucson should be. Besides some of the more regional craft beers, like New Belgium, which seem to all fall at between $1.19 and $1.59 per bottle, everything else is at least $.50 to $1.00 more than most other stores in town. Especially the larger, more expensive bottles, which can be several dollars more.
In this case, I don't think you are paying more for selection. There are cheaper stores in town with far better variety and quality on-par or better. Rather, you are paying more because of the store you are in. AJ's serves, or at least purports to serve, a fairly wealthy clientele. This means they are likely to charge more because 1) they can as their patrons will pay it and 2) they want to project the image of a high-dollar establishment.
---
AJ's Fine Foods of Tucson is set in one of the more picturesque areas of town. Located as the centerpiece of La Encantada shopping center in the foothills area of town, it's a bit of a trip for me to make, but it's usually rewarding.
First off let me note the setting: beautiful mountain and valley views spread out in all directions as the store sits atop a relative highground for the area. The surrouding shopping center is nothing if not high-dollar. $200 dollar blue jeans and gold-plated kitchen supplies are abundant in the many designer stores. A few larger chains like Pottery Barn and Crate & Barrel offer more reasonable prices, and C & B has a good selection of glasses that go well with differing beer varieties. I recently picked up four 24oz Weizen glasses for $8. Several upscale restaurants are scattered around.
Now to AJ's itself. It's a high-end food store first, an eatery second, a wine shop third, and beer store a close fourth. Quality fruits and vegetables, good meat and fish market, expensive cheeses and smaller, more expensive brands of foodstuffs abound. They have a large deli, a full service sit down sushi bar, and an ourdoor patio grill area that serves a really good burger, cooked to order. Nice views can be had while eating outside. A large wine section is well stocked and seems to be staffed with at least two sommeliers on staff at all times to help.
Finally, to the beer! A long, open front cooler holds probably 200 or so varieties of beer. A few six packs (mostly the BMC's), but mostly singles in a variety of sizes. It seems to be organized by region and variety, with the lighter Euro Lagers and Pilseners starting on the far right, ending with the Stone and Rogue bombers on the far left. The beer is kept a little colder than need be, but not frozen. It's lit quite brightly with flourescent lights, a mistake in my opinion, but it's mainly the top row, which were mostly brown bottled, so it might be a passable offense. If you're buying a green or clear bottle, just reach a bit further back to avoid the chance of a skunky front-rower.
I had a few questions that one of the wine sommeliers was willing to help with, and he did seem knowledable enough about the stock on hand. However, he'd never heard of a number of the beers I inquired about, so it'd be better to come prepared as a beer shopper. Very curtious staff, all in all.
Overall, a nice store, and nice place for lunch, and a good place to get beer. The prices are quite good too, with Stone AB and IPA and others in 22oz bottles for $2.50. Lots of good 12oz bottles linger in the $1.25 range. Check it out if you're in the area or have another reason to visit La Encantada.
3,721 characters
3.7
/5
rDev
-4.9%
AJ's has a fairly large selection of single bottles (150-200) and a smaller selection of six packs, twelve packs, and cases. They have a decent selection of North American beers, with the US west-coast reperesented best. They also have a number of imports but tend to stock German and Belugn beers, overlooking a lot of UK brews. They are not going to have any real raraties but you are not going to have a hard time finding something you want to drink either. All beer is refrigerated, so the optio of buying warm does not exist. Keep in mind that you will pay, the pricing at AJ's is quite dear.
597 characters
AJ's Fine Foods in Tucson, AZ
Place rating:
3.89
out of
5
with
13
ratings