Du Côte De Chez Boule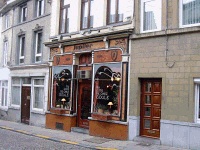 Reviews by TheLongBeachBum:
TheLongBeachBum from California
3.5
/5
rDev 0%
vibe: 3.5 | quality: 3.5 | service: 4 | selection: 3
Good Friday had already included a trip to the Brasserie Caulier in Péruwelz. As our Coach Drivers hours were legally expired for the day, we had a free afternoon to spend as we liked. I find that in Belgium there is nothing more pleasurable than traveling the Railways and visiting a new, previously unexplored, village or town, and going Beer Hunting. So I planned a trip to Binche with 11 others from our party of 30. A Return train ride from Charleroi to Binche, changing at La Louviere-Sud, cost €7,60 each. Binche is on a branch line and is a terminus.
Alighting at the architecturally fantastic dark gray stone built twin towered, but rather run down, Binche Railway Station, we walked downhill and originally planned to hit the Café at the Binchoise Brewery (Les Malterie des Remparts). Sadly on arrival, both the Brewery and the Café appeared closed.
So we referred to Webbie's Guide, and headed out on the short walk from the Brewery up the hill toward the Grand Place in Binche. As we did, we passed the 'Du Côte De Chez Boule', which a few of us immediately recognized as one of the "Try Also" listings in Tim Webb's Guide.
Located on the thin rising cobbled Rue Saint Paul, the exterior of the Du Côte De Chez Boule has a rather unassuming frontage. A centrally located entrance door is located between two large windows which are each painted with the Cafés name and at the top with some Art Nouveau swirls. The whole of the exterior is painted in a rather drab, brown color, reminiscent of the color of the interior of many nicotine stained 'Brown Cafés'. The single word Jupiler covers the front of the doorway along with familiar Jupiler shield cum coat of arms and the dates 1900 & 1990 appear, one above each of the windows.
Inside is a very cozy little bar, so typically uniquely Belgian. The Bar is of dark wood construction and is a small two person affair at the back in the right hand corner of the single roomed bar as you enter. Immediately to your right as you enter, a huge mirror emblazoned with the words Bass, McEwan's and Carlsberg and the dates 1900-1990 (again!?) dominates the right hand wall. A small sign ripped from a piece of cardboard with hand-written notes on it is stuck to the mirror and advertises some of the more popular beers like CTS Scotch, Leffe Blonde and Strongbow (!) The whole interior is painted in a dark tan brown color and is decorated with many Art Nouveau pictures, giving one the impression that you are in Manet's Bar at Les Folies Bergere or in the Moulin Rouge. It all lends some serious character to this small one-roomed bar.
The beer menu list is around the 30 or so mark, and I would not normally include this in BeerFly, except for the fact that the range has many local Brews and is quite good for such a small Bar in what is, after all, a quiet part of Belgium which is not strong on Beer Bars. It has 4 Taps serving Leffe Blonde, Jupiler (for the locals presumably LOL) as well as the locally brewed Binchoise Blonde, the fourth tap was just labeled 'Wit'. I opted for a 33cl glass of the local Blonde, which cost all of €2. The Binchoise range is strongly represented (another reason to include it in BeerFly) and includes the Binchoise: Belge, Blonde, Brune as well as two other beers that I have never seen Cistercienne Bruna (8.2%) and Cistercienne Clara (6.5%) both labeled as brewed by Binchoise. I initially suspected that these were just the Binchoise Brune and Blonde relabeled, but 2 side by side tastings with these led me to believe otherwise - they tasted like tweaked-up versions. In addition Westmalle and Orval were on offer as well as a few other obscure offerings from Binchoise. It also appeared that some bottles that were on sale were not on the printed list on each of the Tables. A quick flash of Tim Webb's Guide will have the woman behind the Bar showing you what else she has to offer, beer wise at least!
Snacks only, but what I liked about the Côte De Chez Boule, was the fact that whilst our party of 11 quietly ordered and sat down, the husband (I presume) prepared a few small plates of cold meat with some salad and mayonnaise which they left at each of our Tables, free gratis, a nice touch!
You will most likely have to pass the Côte De Chez Boule on your way to the Grand Place if you visit Binche, and I would recommend popping in here and trying the excellent local beers from the nearby Binchoise Brewery at a tad lower price than if you were to buy them from any of the Bars located in the main square, if indeed they sell them. You also get the fine Art Nouveau surroundings thrown if for free as well. A very nice cozy little Café that is worthy of your trade, strong on personal service and one that may well just have a hidden special, or two, from Binchoise if you ask nicely.
Last Visit: Friday 9th April, 2004.
Apr 26, 2004
Du Côte De Chez Boule in Binche, Belgium
Place rating:
3.5
out of
5
with
1
ratings