German Pils
| Great Dane Pub & Brewing Company (Downtown)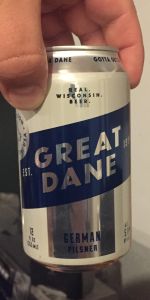 BEER INFO
Brewed by:
Great Dane Pub & Brewing Company (Downtown)
Wisconsin
,
United States
greatdanepub.com
Style:
German Pilsener
Alcohol by volume (ABV):
5.35%
Availability:
Rotating
Notes / Commercial Description:
Our golden lager is an authentic German style Pilsner, brewed with the finest malts and the famous German Hallertau Mittelfrüh hop.
Added by t0rin0 on 11-19-2010
Reviews: 9 | Ratings: 22

3.95
/5
rDev
+5.3%
look: 3.25 | smell: 3.25 | taste: 4.5 | feel: 3.75 | overall: 4
I finally tried the 4th lager/pilsener offering from Great Dane...this time from a can poured into a Perfect Pint:
For reference, here are the other 3 similar beers that I've tried from them:
1. Landmark Lite 3.22
2. Verruckte Stadt German Pils 4.38
3. Pilot Light 4.32
There is nothing on the can that indicates that this is just a canned version of the Verruckte Stadt, but it very well could be. I had both the Landmark Lite and the Pilot Light on tap last evening, and I think I would give the Landmark Lite a slightly higher score today. Without looking at my earlier review, here is what I think of the canned version:
Look/Appearance--Lighter yellow...definitely darker than a Miller Lite pilsener.
Smell--bit of hop herbal and sugar.
Taste--My recollection was that I liked the Landmark Lite better than the Verruckte Stadt, but, as the scores indicate above, my memory was wrong...and as much as I enjoyed the tap version of the Landmark Lite last night, the canned German Pils blows it away--rather malt, faint hop/herbal, somewhat sweet...but not the cloying you would see with corn malt.
Feel--Rather light, but enjoyable...not sweet, not heavily carbonated...a great session beer.
Overall--I would stack this up with any AAL on the market--if you are in Wisconsin, and your friends like Miller High Life or Budweiser or even Spotted Cow, have them try this and realize what a good lager/pilsener should taste like. Paired well with a chorizo burrito and great by itself. I will definitely recommend and this will be in my rotation this summer.
1,565 characters

4.08
/5
rDev
+8.8%
look: 4.25 | smell: 4.25 | taste: 4 | feel: 4 | overall: 4
Thank you Ri0 for this
A- Clear light golden color with a three finger white head.
S- Pilsner malts, a light bit of sweet bread, nice floral hops with some spice and a surprising bright lemongrass quality.
T- Clean bready malts, floral, some spice, lemons, hints of white grapes.
M- Smooth, light body.
O- A solid German Pilsner, the Hellertua Mittelfrüh hops add a great unique twist to the beer. This would make a great summer beer.
441 characters

3.93
/5
rDev
+4.8%
look: 4.5 | smell: 4 | taste: 3.75 | feel: 4 | overall: 4
Pours a pale yellow with a nearly crystal clear look. Head foams up to two fingers in height and white in color with good bubbly retention. A little lacing left behind. Aroma is actually a little heavy with hearty notes of German malts, and a light addition of herbal hops. Flavor profile is similar with German malts that create the majority of the flavor profile. There is a little herbal, spicy hop stick to it as well. Mouth feel is medium in thickness with a good graininess. With that said, it's not the crispest of pilsners, but instead packs more of a presence than most of the style. Overall, it's a flavorful German pilsner that really offers up more of an experience than an easy-sipping, crisp brew.
Served in a 12oz snifter.
739 characters

4
/5
rDev
+6.7%
look: 4 | smell: 4 | taste: 4 | feel: 4 | overall: 4
Poured 12oz can into Pils glass. Clear yellow straw with a 2.5 finger of white head. Retains a thing cap during the session and thick webs of lacing. Streams of micro bubbles rise from the bottom. Aroma is bready and biscuit malt, with some grain, followed by spicy hops. There is quite a bit of taste going on in this Pils. The combination of German malts and hops yield a very flavorful beer. Grains, grass, earth, spice, and bitterness are waking my palate. Light and well carbonated for easy drinking. I really like this locally brewed Pils.
545 characters
4.18
/5
rDev
+11.5%
look: 4.5 | smell: 4.5 | taste: 4 | feel: 4.25 | overall: 4
Had no idea the 'Dane was canning these days. Happened to see six-pack cans over the border and took a chance. The 'Dane was one of the first spots I ever hit in Madison and it holds sentimental value. I've heard good and bad about them in recent years, but let's see how good their retail stuff is.
No clear date on the can, so roll the dice. Poured into my short Becher.
L -- Clear, light gold with a dense and persistent white head. Very Pils-like.
S -- Yeasty, toasted bread nose with light citrus back.
T -- Mild citrus and floral notes up front that fold into a mellow bready character. Light spicy bitterness in the finish that lingers into the aftertaste with a light mineral character. The yeasty bread character reappears right at the end of the aftertaste. Somewhat light in the hop character for a Pilsner.
F -- Soft to crisp mouthfeel with a medium-light body (between light and medium).
O -- Very soft and clean with great malt character for an Ami-take on the German version of Pils, just a little too light in hop character. Nevertheless, there are other Ami Pilsners that don't come close to the malty goodness this beer has and cover up the miss with over-hopping. As it is, the Great Dane Pilsner is a great cross between Pilsner and Helles and worth a taste for German-style beer lovers, I'll definitely ear-mark it for a revisit.
1,366 characters
3.69
/5
rDev
-1.6%
look: 3.75 | smell: 3.5 | taste: 3.75 | feel: 3.75 | overall: 3.75
Pours slightly hazed light yellow with a thin head that lasts and leaves some lacing.
The smell is very mild - a hint of grain, with touch of lemongrass. Something else mixes in that I can't quite place but is not particularly pleasant - fortunately it is muted.
The taste is of grain, some lemongrass balance. Clean finish.
The feel isn't quite crisp, but it is smooth.
An easy-drinker - hits the style well enough. A mild/soft interpretation. Good enough choice for an easy-drinking, inoffensive pils.
507 characters

3.74
/5
rDev
-0.3%
look: 3.5 | smell: 3.25 | taste: 4 | feel: 4 | overall: 3.75
In a shaker pint.
Bright gold body, this pils has a ring of bone white foam.
The scents are light and unobtrusive, lemon, cracker, pepper.
I am surprised by the earthiness that hits me in this pilsner. I was expecting a more crisp profile of flavors. It slowly gives way to a little bit of lemon, grass, and a subtle cereal finish. Again, they are not bold and in your face flavors, fairly light.
I really like the feel. I am so used to pilsners being very carbonated, whereas this one is smooth and floats over the tongue.
This beer is supremely quaffable and will not raise eyebrows in a good or bad way, just a case of good beer doing good things.
655 characters
3.28
/5
rDev
-12.5%
look: 3.5 | smell: 3 | taste: 3.5 | feel: 3.5 | overall: 3
On tap at the downtown brewpub. Neutral aroma, light coloured but noticeably lacey. A decent drinker, with a mild bitterness and mineralness as denoted by 13 IBU. Average mouthfeel. Suitable carbonation.Serviceable sessionable, at 5.4% abv.In a word, unoffensive.
263 characters
3.5
/5
rDev
-6.7%
look: 3.5 | smell: 3.5 | taste: 3.5 | feel: 3.5 | overall: 3.5
Sampled 10/9/2010 at the brewpub.
Pours dark yellow, clear, small white head, small amount of lacing, and not much retention.
Aroma is lemon, urine, malt, and grass.
Flavor is grass, earthiness, corn, pee, and bitterness. Not great by any means but on par for the style. Lots of CO2.
Body is light/medium. Drinkable.
Ƭίcƙ.
353 characters
German Pils from Great Dane Pub & Brewing Company (Downtown)
3.75
out of
5
based on
22
ratings.