Belgian Tripel
| Great Dane Pub & Brewing Company (Downtown)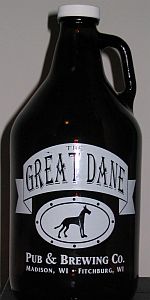 BEER INFO
Brewed by:
Great Dane Pub & Brewing Company (Downtown)
Wisconsin
,
United States
greatdanepub.com
Style:
Tripel
Alcohol by volume (ABV):
not listed
Availability:
Rotating
Notes / Commercial Description:
No notes at this time.
Added by cokes on 02-15-2003
Ratings: 15 | Reviews: 9
3.27
/5
rDev
-21%
look: 3.5 | smell: 4 | taste: 3.5 | feel: 3 | overall: 2
Pours a cloudy, deep orange color with a medium head.
Smells like a wheat beer sweetened with lime and flowers.
Flavors were all over the board for me. Very messy. A large amount of sour and tangy fruits sweetening up the beer, especially oranges. Thickened with high alcohol and honey. There seemed to be some wood flavors and wheat. The aftertaste had a bite of alcohol, and was bitter.
Mouthful seemed thick on the tongue with sugar and alcohol.
Took a long time for me to finish this beer.
Too big of a beer for me. My kryptonite is sweetness, and tripels have never been a favorite of mine. Bartender asked me what I thought, and I explained my feelings. He agreed that it was a big beer for the uninitiated, but a favorite for tripel lovers. I told him the only tripel I've ever enjoyed was the Urthel on tap at Maduro's. We then had a discussion of how much he enjoyed that place.
904 characters

3.89
/5
rDev
-6%
look: 5 | smell: 1 | taste: 5 | feel: 4.5 | overall: 4.5
Served on tap in a tulip glass (at the Eastside location, but probably brewed downtown)
A=Rich golden apricot color, with a nice haze to it. Very appealing.
S=None. Zip, zero, zilch.
T=Apricot, with milky creaminess and hint of spice--nutmeg, perhaps? I am not usually a fan of Tripels, but I loved this beer.
M=Nice...smooth, lightly carbonation.
O=Best tripel I've had to date.
384 characters


4.04
/5
rDev
-2.4%
look: 4.25 | smell: 4 | taste: 4 | feel: 4.25 | overall: 4
4.12
/5
rDev
-0.5%
look: 4 | smell: 4.5 | taste: 4 | feel: 4 | overall: 4
Poured from growler into a tulip-style glass. It pours a slightly cloudy yellow-orange color with two fingers of head. There is just a tiny bit of lacing. The smell is both fruity and spicy. There's lots and lots of citrus present that just leaps out at you. The taste is very spicy. A lot more spice than fruit in the taste, which is kind of opposite the aroma. There's a touch of alcohol too. The mouthfeel is decently thick and smooth. The drinkability is good as well. A decent tripel. Thanks to Kev for sharing this one.
525 characters
4.14
/5
rDev 0%
look: 3.5 | smell: 4.5 | taste: 4 | feel: 3.5 | overall: 4.5
Clear, deep golden bodied with a sizeable pale beige cap.
Aromas of honey, white grapes, mellow alcohol fumes, rose petals and soft maltiness. Lovely.
Act I begins with heavy white grape sweetness mixed with honey. Mead like in a number of ways, but never overly sugary or cloying. Like a Reisling that is both sweet and dry. Interesting to say the least.
Act II brings forth the nuances. Oak hues and vanilla, delicate pale malts, and bits of coarse grain.
The finale boasts an appropriate hop medley. Very floral and drying. Finishes astonishingly clean.
Mouthfeel is substancial without being clunky, but it would be aided with some additional carbonation.
This is very close to extraordinary, but ultimately a bit too strange. Quite likeable nonetheless.
767 characters

4.18
/5
rDev
+1%
look: 4 | smell: 4 | taste: 4.25 | feel: 4.25 | overall: 4.25
Wow, very good tripel. Wife loves it.
I'm impressed, GD!
57 characters
4.32
/5
rDev
+4.3%
look: 4 | smell: 4.5 | taste: 4.5 | feel: 4 | overall: 4
Poured from a growler. This beer is a hazy peachy yellow color with a finger of head that falls to a healthy coating. The nose is really nice. There is definately a banana quality to it. Slight spiceyness makes its way through with a really nice creamy character as well. I dig it. The flavor is good as well. Some lemoney and orange comes out with the banana and spice. I'm not sure this is a triple, but it is damn nice. The feel is thick and creamy, moderate carbonation. Just a fantastic brew. Built to please and it does. I am thankful to have been given the chance to bring it home.
588 characters
4.33
/5
rDev
+4.6%
look: 4.5 | smell: 4 | taste: 4.5 | feel: 4 | overall: 4.5
Pours from the growler a cloudy orange yellow with a nice bubbly, fluffy two finger head on top. Crisp fruity, yeasty aromas with a nice amount of spiciness from cloves, coriander and a bit of pepper. A real treat just to sniff this one.
Fist sip is a lovely wash of tropical fruit, some lemon and a hint of apple. The fruit flavors are joined by a good spiciness that features cloves, cracked pepper and some coriander. Smooth, creamy maltiness with yummy Belgian yeast undertones. Damn tasty brew.
Mouthfeel is medium bodied and creamy with a good carbonation. A joy to drink with only a hint of alcohol. I am so glad I got a growler of this and was able to share it with my dad and brothers. Highly recommended if you're anywhere near Madison.
752 characters
4.35
/5
rDev
+5.1%
look: 4.5 | smell: 4.5 | taste: 4.5 | feel: 4 | overall: 4
It pours a slightly cloudy yellow color with a small head that has good retention, but doesn't leave much lacing on the glass. The aroma is just what I was hoping for. Spices and citrus with a hint of alcohol. The flavor is much the same way. Nice malt character with strong spices and some citrus. Very tasty. The mouthfeel is slightly creamy and has great drinkability. Very tasty tripel here.
395 characters
4.42
/5
rDev
+6.8%
look: 4 | smell: 4.5 | taste: 4.5 | feel: 5 | overall: 4
A mouthwatering and satisfying version of a great style. Appearance is more orange than normal but that I can forgive. Head is creamy, large, and lasting.
Aroma: tropical fruits like papya, pineapple, and lime, some banana, bread, honey, floral hops, and a touch of oak.
Taste: Very tropical, bready, some banana and spice, floral finish.
Mouthfeel: Desert dry. I need more and more after each sip to quench my growing thirst for it. Very well done. I like that it's so heavily fruity but not sweet.
Drinkability: pretty darn good.
Makes my top 5 tripel list straight off the bat.
597 characters
4.7
/5
rDev
+13.5%
look: 4.5 | smell: 4.5 | taste: 5 | feel: 4.5 | overall: 4.5
On-tap at the Downtown Dane. Served in their legendary, what-feels-like-5-pound chalice at $5 a pour. It's a healthy pour, mind you, as it is served in a healthy chalice.
Pour: a mostly clear, light golden-yellow under a cm of white foam that fades to a spotty skim resembling a petri dish full of bacteria colonies. But in a cool, creepy Halloween way.
Nose: bright notes of tropical fruit juices, bananas, alcoholic fumes, dry citrusy yeast and honey.
Taste: Wow. Blasts of pineapple, mango and passion fruit nectars, banana smoothie, dry woody alcohol, lemon marangue, honey and a hint of dry malt in the finish.
Feel: very dry from the yeast and high alcohol content, bubbly and crisp, medium-bodied.
Drinkability/Overall: I can't believe two of Madison's brewpubs have managed to make the two best American tripels I've ever had. Loads of flavor, complexity and balance make this a phenomenal beer. I would say catch this while it lasts, but I want it all to myself. God, I love you Great Dane.
1,014 characters
Belgian Tripel from Great Dane Pub & Brewing Company (Downtown)
4.14
out of
5
based on
15
ratings.