John Martin's IPA
| John Martin's (John Martin SA)
BA SCORE
79
okay
15
Reviews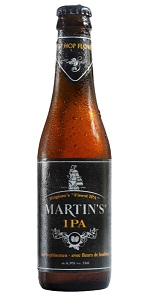 BEER INFO
Brewed by:
John Martin's (John Martin SA)
Belgium
|
website
Style:
English India Pale Ale (IPA)
Alcohol by volume (ABV):
6.90%
Availability:
Rotating
Notes / Commercial Description:
Martin's IPA (Indian Pale Ale) is born out of pure passion for the brewing tradition and the pursuit of quality. A unique beer with a pronounced hopflavour and a cheerful sparkle. Hopflowers are added during fermentation : the secret of its exquisite bouquet. Bottle refermented, discover and enjoy this lively beer, full of tradition and know-how of 4 generations of the Martin family.
Added by Phyl21ca on 11-19-2012
Reviews: 15 | Ratings: 60
4.01
/5
rDev
+23.4%
look: 5 | smell: 4 | taste: 4 | feel: 3.5 | overall: 4
Bottle: Poured a medium copper color ale with a super large foamy head with good retention and some pretty good lacing. Aroma of dry hops with solid Belgian style malt backbone with limited sweetness and some floral notes is pretty enticing. Taste is a good balanced mix between some dry floral notes with semi-sweet Belgian style malt with a light caramel touch. Body is about average with good carbonation and no apparent alcohol. Not your standard IPA but nice touch of floral and dry hops.
★
493 characters

3.25
/5
rDev 0%
look: 3.25 | smell: 3.25 | taste: 3.25 | feel: 3.25 | overall: 3.25
The looks are OK, but other than that, this beer lacks any hop flavor aside from some nasty herbal bitterness. OK for a drink or two if you're out, better than the average pilsner out there, but this is not even close to an IPA, certainly not Belgium's "Finest IPA", as advertised on the label. Houblon Chouffe still reigns supreme.
★
332 characters

3.87
/5
rDev
+19.1%
look: 4 | smell: 3.75 | taste: 4 | feel: 3.75 | overall: 3.75
Beer bottle (75 cl.) purchased from V&B, and tasted in 2013.
Appearance : golden color, with white foamy head (nice lacing).
Smell : malty and grassy aromas.
Taste and mouthfeel : sweet and fruity flavors, with a bitter long duration.
Drinkability : a good beer in the style IPA.
★
280 characters

3.13
/5
rDev
-3.7%
look: 4 | smell: 3.5 | taste: 3 | feel: 2.5 | overall: 3
330ml bottle. Shaker glass. Bright brass color, chill haze appearance. Off-white & rocky froth. Good retention & lacing rings are shown. Aroma profile displays mild toasted malts, moderate orange & ripe peach, hints of resins, minty hues & sugar. Watery upfront & slight malty flavors overwhelmed by citric notes. Light body. Moderate but lively carbonation. Texture is watery. Hops arise as a citric gentle touch & soft citric astringency. Sweet fruity finish. Orange juice & caramel notes on the aftertaste. Unfortunately malty backbone is not sticky enough.
★
560 characters
3.43
/5
rDev
+5.5%
look: 4.75 | smell: 3.5 | taste: 3.25 | feel: 3.5 | overall: 3.25
L:
-pours a hazy amber with a big,foamy,white head
-medium carbonation visible
S:
-cherries,caramel,grassy,slightly tart,cardboard,raisins,red apples,pears
T:
-caramel,cherries,raisins,grassy,bready,corn,toasty finish
-dry
F:
-medium to high carbonation
-light to medium body
-alcohol quite present
O:
It's a weird one.
Probably a Belgian try at an English IPA with some shades of Orval.
If you just put aside a certain 3 letters,it's quite decent.
★
448 characters
3.47
/5
rDev
+6.8%
look: 3 | smell: 3.5 | taste: 3.5 | feel: 3.5 | overall: 3.5
Amber colour, two fingers head that fades leaving a crown and some lace. Smell is sweet, caramel, malts, dark fruits, hints of clove and tropical fruits. Medium body, creamy palate. Taste is also sweet, malts, chocolate, dark fruits, lemon and hints of tropical fruit and spices. Very good, but not what I expect frm an IPA.
★
324 characters
2.06
/5
rDev
-36.6%
look: 4 | smell: 1.75 | taste: 1.75 | feel: 2 | overall: 2.5
Color: dark amber, slightly hazy. Foam white, fairly good-sized, durable and very nicely adorned with glass. Aroma: delicate, slightly floral, caramel, rather does not look good IPA. Taste: I said it tastes like bitter. Caramel, toffee and butter to it yet. Gentian low, dull, a little "solvent" niepomoga. Saturation high. Alcohol some leaves.
★
344 characters
4
/5
rDev
+23.1%
nice amber color
nose is very hoppy, wiht hints of mirabelle
palate is completely different from the nose, full of malty bitterness and some muted sweetness (liquorice)
overall, a bit too much Jägermeister for me ....
★
218 characters
3.51
/5
rDev
+8%
look: 4 | smell: 3.5 | taste: 3.5 | feel: 3.25 | overall: 3.5
Bottle (33cl) picked up at a grocery store a few days ago, from a brewer of the sort that I tend to overlook in the grocery store. So, karma demands a review. It poured a gorgeously lit-from-within amber caramel color with a big fluff of head briefing filling up the rest of the tulip glass. The little booklet on the bottle neck promises dry hopping, but there's not tons of it -- just a bit of a summer field alongside a restrained aroma of clove, cinnamon and a bit of sawdust. A clean bitter attack, "triple hop flower" speaking of complexity rather than intensity, built over a caramel malt structure, with some apricot-jam-on-toast flavors, but a persistent dry finish. The mouthfeel reads as a bit thick and a touch of oil, but strongly carbonated. In the tradition of this brewer, closer to an English than American IPA. It's good to see these guys push what they do a bit further. There, I feel better.
★
911 characters
2
/5
rDev
-38.5%
Review according to BJCP2008 guidelines (style 14A). Bottle 75cl - Batch ?. AROMA: high fruit like aromas (tropical fruits) with sweet malt aroma. no floral or fuit hop aromas present. APPEARANCE: amber color and very clear. white to ivory head with average retention. TASTE: unbalanced sweet flavour with low bitterness that somewhat persists to the end. no hop flavours. PALATE: medium-low body with average carbonation. No alcohol warming. OVERALL: a sweet IPA that lacks the traditional hop aromas.
★
503 characters

3.97
/5
rDev
+22.2%
look: 3.5 | smell: 4 | taste: 4 | feel: 4 | overall: 4
33 cl bottle poured into a Pint glass
App---yellow/orange/copper colour with a big head (3 fingers) colour white and long lasting
Aroma--- malt, herbs & fruits, Strong smell
Taste--- starts with a little sweetness and citrus notes that changes to bitterness with a dry finish
Mouthfeel---medium carbonation and body. Well balance in mouth.
Overall--- Not a classic english or american IPA and not a classic belgium ale but a nice beer well constructed.
★
452 characters

3.07
/5
rDev
-5.5%
look: 3.25 | smell: 3 | taste: 3 | feel: 3 | overall: 3.25
Mid. 2012 Rating. 15 cl. tasting glass @ Bierpassie Weekend XIII // One of those neat Champagne bottles that seem to be gaining popularity ever since 3F did them (did they start the thing or?) // I was flabbergasted when the guy behind the stand poured this one, his technique reminded me of how someone would about pouring a "pintje" // he uncorked the bottle, started pouring straight, no tilting glass or anything, full strength, vigorously, watching the foam as it began overflowing all over the counter until the beer almost reached the rim of the glass // once he accomplished this feat, he started vigorously shaking the bottle, for the yeast I presume, he more or less began the whole thing anew, stepped back, admiring his work, I think he actually finished the whole 75 cl. bottle doing this // the stand was a wasteland, unsurprisingly honestly there was not much interest in their beers // I am pretty sure he was following the man's instructions while doing it, the "right" way // I just kept staring at him the whole time, this is bit of an unusual technique for what is supposed to be a fancy, expensive craft beer or is this standard, was I impolite for staring at him // I probably was // interesting pouring ritual, probably deserves a couples of extra points added to the score, it is part of the presentation, experience, etc. // clear amber with a creamy white head (no wonder) // smells quite sweet, sugar, peaches, apricots, sweet grains, bit odd, still not extremely alarming // taste is grains, lots of grains & grains, I am really not getting this, didn't expect this to be much of an IPA but this is very far away from what it should be either side of the pond, grains everywhere, touch sweet, lightly fruity, apricot peach, small touch caramel, light floral bitterness in the finish // grainy, grainy body // I am really not comprehending the existence of this grain concoction which is supposed to be an expensive IPA which has never quite been an expensive, small batch beer style //'The very unique style is due to the brewing secret: the hopflowers which are added at the end of the yeast process" press release // seriously // well it is toasted, I suppose (only Mad Men reference I am capable of understanding, just to show how sophisticated I am).
★
2,298 characters
2.17
/5
rDev
-33.2%
look: 3.25 | smell: 2.5 | taste: 1.75 | feel: 2.25 | overall: 2.25
Reddish colour, like a berry. It's quite transparent. A lot of carbonation. Virtually no head
Smell to raspberry and forest fruits.
Not a lot of body, though.
The feel isn't very good, just average.
★
198 characters

3.37
/5
rDev
+3.7%
look: 3 | smell: 3.5 | taste: 3.5 | feel: 3 | overall: 3.25
Color is amber, with a white head. Aroma of caramel and some herbal/floral accents. Honey and citrus accents are also present in the taste, but there is also a metallic aftertaste. It's more like an extra hopped speciale belge, rather than an ipa though.
★
254 characters
3.3
/5
rDev
+1.5%
look: 3.5 | smell: 3.5 | taste: 3.25 | feel: 3 | overall: 3.25
75cl bottle (champagne style) served in a tasting glass
A: copper with good head
S: Orange, malty and a bit herby
T: light sweetness, malty with a dry finish
M: medium carbonation and body. Well balanced
O: Not much to say about it, it is not bad but i miss some bitterness
★
274 characters
John Martin's IPA from John Martin's (John Martin SA)
3.25
out of
5
based on
60
ratings.