Dismiss Notice
Extreme Beer Fest:Los Angeles
Join us December 9th in Los Angeles for the ultimate throwdown of craft beer creativity!
Learn more...
Mountain Crest Jack's American Lager
| Mountain Crest Liquors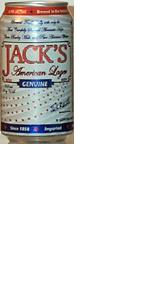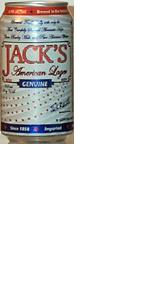 BEER INFO
Brewed by:
Mountain Crest Liquors
Alberta
,
Canada
damngoodbeer.ca
Style:
American Adjunct Lager
Alcohol by volume (ABV):
4.90%
Availability:
Year-round
Notes / Commercial Description:
No notes at this time.
Added by IronDjinn on 01-23-2005
HISTOGRAM
Ratings: 4 | Reviews: 4
Reviews by pootz:

2.2
/5
rDev
+33.3%
look: 2.5 | smell: 2.5 | taste: 2 | feel: 2.5 | overall: 2
Sweet vegetal aroma with a grainy husk undertone...piss yellow, vanishing head, watery, lightly hopped...high on corn and and weak on malt....typical US maco-swill...we need more of this slop imported to Alberta like our Prime Minister needs another scandal.
258 characters
More User Reviews:
1.76
/5
rDev
+6.7%
look: 2.5 | smell: 1.5 | taste: 2 | feel: 1.5 | overall: 1.5
355ml can. Wow, the first product from this company that actually proclaims on the label, in headlines, 'Brewed in the United States of America'. Unfortunately, I think it's only to go with the tacky stars and stripe/barbershop theme they're projecting...seriously - Jack Russell?
This beer pours a clear, pallid medium yellow colour, with two peppy fingers of thin foamy white head, which exits as quickly as it arrived, leaving a little Rorschach action in the way of lace souvenirs in the process.
It smells of musty, dusty phenolic nail polish remover, lording over a sweet and sour (not in a good way) graininess. The taste is sweet, sugary, apple juice - with that not so subtle kiss of having spent too long in a stale fridge. The plastic booze is thankfully downplayed, and a lowest common denominator rice/corn 'maltiness' lends just a smidgeon of beer credibility to the whole mess, too little, much too late.
The bubbles are damned near comatose, the body medium weight, quite clammy, and smooth only in the twisted manner Big Beer's advertising has leeched into the collective consciousness. It finishes on a chemical fruit note, with a good ol' college try at balance, and lo and behold, some dryness kicks in, but it's just mostly metallic booze, sans the heat.
To be fair, I can see now that there are indeed differences between these myriad Minhas AAL offerings. It's just that I don't care to investigate them as a whole, when I must purge my detailed memory so soon after experiencing each one.
1,516 characters

1.18
/5
rDev
-28.5%
look: 2 | smell: 1.5 | taste: 1 | feel: 1 | overall: 1
Hmmmm, the appeal of this stuff to a prominent Canadian market (imported and distributed by Mountain Crest Liquors Inc.) truly eludes me. The whole big stars and stripes motif, and the association with American macros I feel would be better appreciated by the palates and social conditioning south of the border than in this market. But what gets my utmost attention is the proclamation on the side of the can that it's "Brewed In The USA Under The Official Supervision Of Jack Russell". All that statement makes me picture is an ornery little dog quickly prancing up and down catwalks in a brewery, aggressively drooling, and urinating into the vats to mark the territory of his suprvised beer below. I've hung out with poorly trained Jack Russell's. Not appealing.
And thus then a perfect metaphor for this beer itself. It pours out a weak and limpid apple juice hue, very little carbonation, no head at all. The aroma is faint, but is somewhat sour and vegetable-like, with a presence of rice adjunct at the very least, if not corn and rice. The flavour and mouthfeel lead me to believe this is a rice adjunct lager, typical American macro stereotype style a la "Bud". An underlying sourness to the flavour as well, though very weak in flavour overall. Almost no flavour, allowing the presence of off-flavours to spoil the party I suppose. Mouthfeel is flaccid and incredibly watery. Overall this is a truly awful beer, I don't understand the point of it's existence at all. But on a positive note, it's an applaudable brewing attempt for a dog.
1,551 characters

1.45
/5
rDev
-12.1%
look: 1.5 | smell: 1.5 | taste: 1.5 | feel: 2 | overall: 1
Not sure what the point of this beer is, Brewed in the USA under the official supervision of Jack Russell. Stars and stripes, the can looks impressive and boasts catch words like 'Since 1858', Imported, Premium Quality, No preservatives, extra smooth.
Sorry - none of the above. Pours a pale watery yellow color, no head to speak of. There is a slightly sour smell, not appealing at all. Thin, watery flavor of rice or other additives. Sour, puckering finish. Basically flat, does not give any mouthfeel. Must be consumed ice cold and very quickly. I guess the remaining 5 cans will wait in the fridge for guests.
615 characters
Mountain Crest Jack's American Lager from Mountain Crest Liquors
Beer rating:
1.65
out of
5
with
4
ratings