Perfect 10
| Minhas Micro Brewery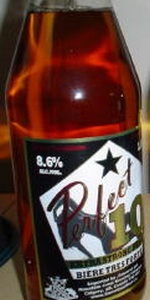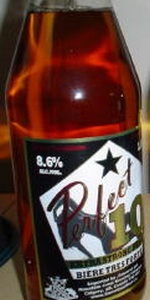 BEER INFO
Brewed by:
Minhas Micro Brewery
Alberta
,
Canada
minhasbrewery.com
Style:
American Malt Liquor
Alcohol by volume (ABV):
8.60%
Availability:
Year-round
Notes / Commercial Description:
No notes at this time.
Added by IronDjinn on 06-21-2005
HISTOGRAM
Ratings: 4 | Reviews: 4
Reviews by CrazyMike:

2.48
/5
rDev
+27.2%
look: 2.5 | smell: 2 | taste: 2.5 | feel: 2.5 | overall: 3
Golden straw appearance with moderate head, smell is grainy and very sweet. High alcohol is already evident.
Taste is very sour and sugary, picked up a hint of grain. The body is moderate with poor carbonation. Aftertaste is a little different, it is light and dry but shortly afterward your hit again with an overwhelmingly sour taste.
Overall, this comes off as lighter then most malt liquors and somewhat drinkable. Usually see homeless people drink this, guess they know the best way to get drunk for cheap. I predict a massive hangover from drinking this.
562 characters
More User Reviews:
1.49
/5
rDev
-23.6%
look: 3 | smell: 1.5 | taste: 1.5 | feel: 1.5 | overall: 1
I'm familiar with the term buck a beer - but this is one of the few times where I literally spent only one dollar for a can of beer from the most obvious perpetrators of marketing fraud this side of Taco Bell 'meat'. The can label kicks thing off in grand style with its ode to trucker mud flap coolness everywhere. Oh, and my relatively, and thankfully only 355ml can comes in at 7.1% ABV.
This beer pours a pretty clear pale yellow colour, with two fingers of thin foamy bone-white head, which leaves some thin mesh lace around the glass as it quickly drops out of sight. It smells like the water from a can of creamed corn, mixed with dusty rubbing alcohol. The taste is overripe, overwrought apple, some stewed corn mash, and a dusty, dirty dry character. The carbonation is average, the body medium weight, though pushes the term 'cloying' to a whole new unnecessary level. It fin-ish-es... with that weird musty, dusty vegetal, corn-husk essence.
Disagreeable - the expected corn grain isn't obfuscated in the least. I guess the big booze is not noticeable, but that alone does not make up for the rest of this mess. No more for me - you get what you pay for in this case.
1,180 characters

1.76
/5
rDev
-9.7%
look: 3 | smell: 2 | taste: 1.5 | feel: 3 | overall: 1
I almost felt a little dirty buying this beer. Perfect 10 is written overtop the black silhouette of a poorly rendered cheesecake girl, the sort of thing you'd expect to come out of a grade 10 design class of hormonally zealous teenage boys. I should know, I probably did a few of my own back then. Rounding out this beer's appeal to the lowest common denomenator it's also 8.6% abv malt liquor in a can, for cheap.
It pours out a chill-hazed corn hue, all right for a malt liquor, I can't say I've sampled enough of them in almost a decade to know, and never bothered to check what they looked like in a glass. The aroma kind of slaps you around for a bit, it's not here to get close or intimate, it has other work to do. Predominantly sour, sour grains, sour adjuncts. The flavour, while cidery sour as well, is not truly awful, not totally undrinkable, but it isn't good either. If you are drinking this stuff intentionally then you are doing it for other reasons that are a ways off from caring what this tastes like. The mouth feel is light with a bit of body, actually quite smooth for something of this abv%. Drinkability? No thanks, I'm only halfway down the glass and this stuff is breathing down my neck trying to knock me on my ass.
Overall this is a beer for those who have hit rock bottom and don't have the foresight (or simply don't care) about the impending hangover this stuff wants to drop on you, and the drop kicks to your taste buds and liver in the mean time.
1,489 characters

2.09
/5
rDev
+7.2%
look: 3 | smell: 1.5 | taste: 2.5 | feel: 2.5 | overall: 1.5
Black can, same label as on bottle pictured. This one lists 7.1% abv around top of label.
It pours a gold yellow color, white foam, looks about as it should. The aroma has alcohol bite, sour grains, not at all apetizing. More sour mash in the flavour, adjuncts, actually not as terrible as I was expecting. The mouthfeel is alright, OK body. Drinkability not high for me, high alcohol at a low price, that's what it is for.
424 characters
Perfect 10 from Minhas Micro Brewery
Beer rating:
1.95
out of
5
with
4
ratings