Crow Beer
| Mountain Crest Liquors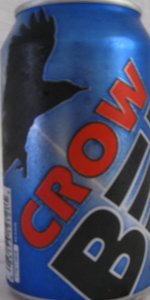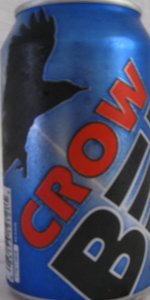 BEER INFO
Brewed by:
Mountain Crest Liquors
Alberta
,
Canada
damngoodbeer.ca
Style:
American Adjunct Lager
Alcohol by volume (ABV):
5.00%
Availability:
Year-round
Notes / Commercial Description:
No notes at this time.
Added by woodychandler on 07-08-2010
HISTOGRAM
Ratings: 4 | Reviews: 4
Reviews by CrazyMike:

1.65
/5
rDev
-2.9%
look: 2 | smell: 2 | taste: 1.5 | feel: 1.5 | overall: 1.5
Pale yellow, slightly cloudy, appearance with thick white head that disappears quickly. Smell is sweet with a hint of grapes and wheat.
Taste is sweet with a hint of grapes, has a bizarre medicinal taste to it that over powers the beer. Light bodied with low carbonation. Aftertaste reminds me of cough syrup (I'm starting to wonder if this is any different).
This whole beer feels like its low quality, I have trouble distinguishing it as a beer. There's a reason why it's so cheap. If you're in the Crowfoot liquor store, avoid no matter how many cases you see.
567 characters
More User Reviews:
1.74
/5
rDev
+2.4%
look: 3 | smell: 1.5 | taste: 1.5 | feel: 2 | overall: 2
In my hometown for Christmas with the family, and I popped into the original post-ALCB liquor store that I remember from days of yore. Turns out they're now part of the Crowfoot booze chain that's in and around Calgary, and as such, carry this curiosity in 355ml servings, made for their collective bottom shelves by the Minhas outfit down there in Wisconsin. Big surprise.
This beer pours a slightly hazy, very pale apple juice yellow colour, with two fingers of loose foamy, thinly rocky white head, which leaves some pocked sudsy lace around the glass as it slips away. It smells sweet - metallic grape pop, watery rice pudding, and some rubbing alcohol for balance.
The taste, I'm none to shocked to experience, is much the same - kid's birthday party artificial grape flavour, though not as sweet as expected, some florals, of the dead flowers sort, and a rising flinty, no, plastic edge, that purports to take on the countering responsibilities of hops in this sad little situation.
I notice a bit of an astringent, cutting stripe to the carbonation - it's not too big, but it weirdly lingers. The body is medium weight, in a sugary fruit juice manner, the smoothness quotient here not really worth investigating - ya don't try too hard to find out the personality of that roadkill you happen to pass. It finishes still sweet and fruity, a little mustiness horning it's way in.
While sweetness and fruitiness usually play well with me, that is not the case when they are so verily borne of cheap, LCD ingredients. Not truly awful like a number of this 'brewer's' many other products, but still just sickly, weak (malt liquor) sauce.
1,642 characters

1.75
/5
rDev
+2.9%
look: 1.75 | smell: 1.75 | taste: 1.75 | feel: 1.75 | overall: 1.75
355 ml cans, available in 6 packs (wish I could have gotten away with just having to buy a single.
I believe this is a Minhas beer made / distributed to the Crowfoot Liquor Store chain.
This beer poured a pale yellow color, starts with an inch or so of loose bubbles, not really enough to call it head fades quickly, soapy lace lines.
It smells sweet, slightly artificial sweetener, a bit metallic and alcohol burn in the nose.
The taste has about the same components, artificial sweetness, some metallic vegetation, and a bit of skunk at the end.
Stinging carbonation, medium body, slick mouth feel.
I really tried to be unbiased, but this just doesn't cut it. Regardless of price I probably won't get it again.
713 characters

1.66
/5
rDev
-2.4%
look: 3 | smell: 2 | taste: 1 | feel: 3 | overall: 1.5
CANned beer from CANada in support of the CANQuest! CAN it get any better than this?
My pour developed two foamy fingers' worth of bone-white head that popped and fizzled and melted away in the heat and humidity of the day. Color was a lemon-yellow with NE-quality clarity. Nose was sharp with a vinous, grapey quality. I am suspicious of such things ... Mouthfeel was medium with an astringent medicinal taste in the mouth. Holy gag factor, Batman! Finish had a foul medicinal taste like rinsing with hydrogen peroxide. Hey, do I look like I have trenchmouth?!? Phew. Onward!
580 characters
Crow Beer from Mountain Crest Liquors
Beer rating:
1.7
out of
5
with
4
ratings