Mountain Crest Gold Lager
| Mountain Crest Liquors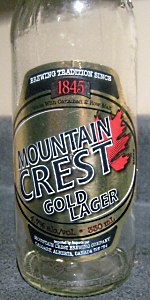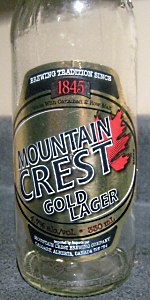 BEER INFO
Brewed by:
Mountain Crest Liquors
Alberta
,
Canada
damngoodbeer.ca
Style:
American Adjunct Lager
Alcohol by volume (ABV):
4.70%
Availability:
Year-round
Notes / Commercial Description:
No notes at this time.
Added by woodychandler on 07-08-2010
Ratings: 6 | Reviews: 4
Reviews by Lemke10:

2.82
/5
rDev
+36.9%
look: 3.5 | smell: 2.75 | taste: 2.75 | feel: 2.5 | overall: 3
I got this after taking the brewery tour at Minhas. This pours a clear, pale yellow color with a foamy, off-white head. The scent is mostly of grassy grains. There is a pretty good punch from the grain flavor but it doesn't exactly make for a good taste. Drinks a little chewy and finishes slightly bitter and chalky. A nice step up from Budweiser, but that's about it.
373 characters
More User Reviews:

1.77
/5
rDev
-14.1%
look: 3.5 | smell: 2 | taste: 1.25 | feel: 2.75 | overall: 1.5
From a 6pack after a tour of Minhas Brewery.
Poured into shaker pint; pale straw yellow, clear, with a single finger white head that fades quickly but leaves relatively nice lacing.
Smell is that same Minhas bouquet; a hint of malt, and then a slap of grassiness, corn, and sugar.
Taste is...awful. It's like someone left a glass of instant iced tea out in the sun and it fermented slightly. Corn and sugar everywhere, sickly sweet and somehow manages to assault your entire mouth even though it's not even 5%.
Mouthfeel is thin.
Overall, another drain pour. I mean, I was expecting it to be bad, and I was still impressed by the level of terribleness this beer achieves. This took work.
691 characters
1.46
/5
rDev
-29.1%
look: 2.5 | smell: 1.5 | taste: 1.5 | feel: 1.5 | overall: 1
330ml bottle. Taking one for those who should know better, including myself!
This beer pours a hazy medium straw colour, with one finger of foamy white head, which leaves some random specks of lace around the glass as it recedes. It smells of sweet, sugary cooked corn, of the canned variety, even though this beer ain't - clear bottles, a much better idea. The taste is more of the same - sweet, cloying corn mash, a bit of buttery alcohol, and some nondescript, overburdened bitterness. The carbonation is on the low side, the body medium weight, and corn syrup-smooth. It finishes in the same abhorrent vein - sweet, cooked veggies.
Between the obvious heritage obfuscation, and the bottom of the heh, barrel product quality, this is definitely DamnGrossBeer...
766 characters

2.8
/5
rDev
+35.9%
look: 3 | smell: 3 | taste: 3 | feel: 3 | overall: 2
Another CANned beer from CANada for the CANQuest (TM)! Happy happy, joy joy! CAN you dig it?
From the CAN: "Craft brewed with [CAN]adian 2 row malt; Please drink responsibly; Never drink and drive; If you are pregnant, avoid alcohol; Brewing Tradition Since 1845; DamnGoodBeer.ca"
My pour created two fingers' worth of rocky, bone-white head with lousy retention. Color was a lemon-yellow with NE-quality clarity. Nose smelled like a typical adjunct lager, slightly sweet with underlying notes of corn and cereal. I had no idea when I embarked on the CANQuest (TM) that I would become so familiar with the style. I now know it when I smell it, though. Mouthfeel was medium with a standard adjunct lager taste - slightly lager-sweet but masked by whatever adjuncts they throw into the mash. It was not unpleasant, but it was also a-dime-a-dozen. Finish was a simple reminder of why I am not a fan of the style - very little there and what was present was not terribly appealing.
983 characters
Mountain Crest Gold Lager from Mountain Crest Liquors
Beer rating:
0
out of
100
with
6
ratings