Atomic Ale Brewpub And Eatery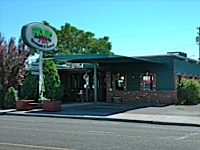 PLACE INFO
Type:
Brewery, Bar, Eatery
1015 Lee Blvd.
Richland
,
Washington
, 99352
United States
(509) 946-5465 |
map
atomicalebrewpub.com
Notes:
No notes at this time.
Added by woemad
Reviews: 8 | Ratings: 10
Reviews by bigkingken:
3.1
/5
rDev
-2.5%
vibe: 4 | quality: 2.5 | service: 3.5 | selection: 2.5 | food: 4.5
Atomic Ales is not a big establishment, but it's got some history, which the menu will tell you all about. Apparently located across the street from the location of a women's dorm that housed the female workers needed to supplant the men during World War II. The menu also mentions something about it being a former roller skating drive-in type places, further confirmed by the presence of a car canopy that fits the bill. The house does not seat many people. It's jam-packed full of local history from newspapers to pictures and everything you could want to read. There are no televisions, video games, darts, or pool. Instead, they choose to provide a number of board games for patrons to play over a pint.
The beer selection is a little small since it is a small establishment. There are three "main" brews always on tap, and that day they offered another three seasonal brews for my enjoyment. The seasonal were much more adventurous and thus more to my liking. The main stays seem to have been so mindlessly brewed over and over again that they have lost all originality. The half-life heffe was rather bland, the atomic amber was way too sweet without some major hops for balance, and the porter was tasty but lacked any real depth of flavor. Of the seasonals, a blonde came out that was very much to my liking. Light yet somehow fully flavored. The IPA was definitely hoppy, almost to a fault, with the bitterness overpowering any of the more subtle hop flavors consistent with a good IPA. The final selection was a Brown that was the least appetizing of the six.
The pizza here is wonderful. It's almost as good as the best I've had, located at New Albanian Brewing in southern Indiana. The selections range from typical to wild. I myself had a "black and blue" pizza topped with a white cheese sauce, chicken, black olives, pepperoni, black seasoning and crumbled blue cheese. The thin crust pizza was thin, yet not a cracker, and still maintained the chewiness so difficult to achieve in thin crust. I would come back here for pizza once a week if I lived nearby. My one complaint was the brownie bite. It had obviously been sitting for about a week and should not have been served. Over 75% of it was tough and crunchy, definitely not appetizing, and not even worth the dollar I spent for the lunch portion. Perhaps the chocolate cake is better.
★
2,358 characters
More User Reviews:

3.48
/5
rDev
+9.4%
vibe: 3.75 | quality: 3.25 | service: 3.5 | selection: 3.5 | food: 3.75
Atomic is a small brewery/pizza place that definitely seems to have been around for awhile. It's got a neat enough vibe going on, and definitely leverages the local nuclear history in its theme and décor. There were 7 house taps available when I visited; the beer was OK enough, nothing spectacular. Service was your basic restaurant-type service, friendly but not really beer-knowledgeable. As for food, I had the quesadilla which was actually pretty good and went well with a beer.
★
488 characters



2.6
/5
rDev
-18.2%
vibe: 2.5 | quality: 2 | service: 3 | selection: 3 | food: 2.5
I realize this is just a glorified pizza joint in the middle of eastern Washington. But still, there should be some standards. The beer - passable. The food - barely passable. The service passable. I was in Richland for a business trip and hit this place for dinner/drinks late Wed night because it was an easy walk from my hotel. But following the taster tray and cardboard like pizza, I tried to order a pint and it turns out last call had passed unannounced. The servers were more concerned about bitching about their shift than worrying about customers.
Of course, at the end of the meal, having another pint was likely okay. The beer was marginal and I couldn't finish my pizza. I didn't expect much, which was fortunate, as it didn't deliver much either.
★
761 characters

2.94
/5
rDev
-7.5%
vibe: 3.25 | quality: 3 | service: 3 | selection: 2.75 | food: 2.75
Tons of local history being leveraged, including the nod to the nuclear power plant. Comfortable vibe and feel,obviously a local hangout but not in the you boys ain't from around here mode.
Not the typical bar food, but nothing to write home about either. Colleague and I split one of their special pizzas which was decent enough, thin crispy crust, moderately tasty, but unremarkable. I had the porter - again, OK but hardly any wow factor. Two people had the amber and asked me if it tasted OK. It was just about Ok but had a weird flavor that did not belong in an amber. Not infected or anything, just not quite right.
Service was prompt and friendly. Food delivery was a tad bit slow, but the place was packed with two large parties.
As New Englanders, we recognized the A&W Rootbeer motif going on which the menu story confirmed. The brew house in my opinion was quite run down. Obviously an adaptation of existing space versus any kind of showcase. Tough layout, for sure.
Not great, OK or a little bit less. I wouldn't make a special effort to visit. Don't think it a good sign for a brew pub when two twelve tops are all drinking soda...
★
1,149 characters
3.38
/5
rDev
+6.3%
vibe: 3 | quality: 3.5 | service: 3 | selection: 3.5 | food: 4
I frequent this place quit a bit, and since I am new to the beer advocate I decided it was time to review.
The food is quite excellent, I recommend their potato soup. The beer is average, some are better than others but I recommend their Plutonium Porter.
The service is average, feels more like a college bar. The one strike against the place is that there is no television. Being sports guy I like to catch a game or two while I am there.
The place carries some historically significance and given the location is close to the Hanford Site, is adequatly named. Some local memorabilia adorns the place that is interesting.
The place can get packed on the weekends in the evenings, so I recommend going there for lunch.
★
726 characters
3.2
/5
rDev
+0.6%
vibe: 4 | quality: 2.5 | service: 4 | selection: 3 | food: 3
There's lots of neat places you can visit in Central Washington that make reference to the area's legacy as radioactive funland. The Atomic Ale Brewpub is one such place. Founded in 1997, the building originally served as an A&W drive-in back in the fifties when people dined in the comfort and luxury of their own cars and waitresses delivered burgers and shakes on roller skates. The late actress and Playboy model Sharon Tate is alleged to have worked there. The building and its shopping strip environs betray the cozy ambiance of the interior, which resembles something of a one-room red brick Italian place. Colored holiday lights hang from the ceiling, and house specials (beer and food) are written on chalkboards at either end of the room. Make good use of these postings as food offerings change constantly.
Atomic brews just three regular beers on their tiny six-barrel brewing system. You'll see the brewhouse near the front entrance. Jars of various malts and grains line a shelf at the perfect height for a young child to grab hold of them and start asking questions. I enjoyed watching this scene played out repeatedly during my visits as dads with daughters gazed at the malts and the bright fermentation tanks. Dad explains that that's where beer comes from and the kid looks at the grains, looks at the tanks, and begins to make the connection. It's kinda nice, and someday, she'll be back.
At any given time Atomic might also feature three or more of their rotational and seasonal offerings. Beer quality is at the lower end of the common scale though their darker beers are worth a shot. Best bets for food would probably include the wood fired pizzas though they also serve pasta, salads, and sandwiches. I found the pasta looked better than it tasted – too much salt – but serving sizes are generous and prices are fair. If you're looking for a more ambitious menu, Atomic has an Italian sisteraunt across the street in a converted railroad dining car.
Growlers are busily serviced at Atomic by the very responsive and friendly staff. No guest taps or cask beers are offered. Expect it to get busy during diner hours, even during weeknights.
★
2,176 characters
2.7
/5
rDev
-15.1%
vibe: 3 | quality: 2.5 | service: 3 | selection: 2 | food: 4
I live in Richland and I was excited when Atomic opened so I frequented it often early. Due to many factors I stopped going there so I decided I needed to try it again before submitting a review. I regret to report not much has changed in the past two years!!! The bar brewed beer is "thin," has little punch, and poor mouth feel. However, my companion (a woman) who went to lunch with me loved the beer!!! She viewed it as being light and refreshing. There is very limited seating but it is kinda neat eating and drinking beer in a former A&W where Sharon Tate worked before moving on to infamy at the hands of the Manson Clan. The food is good to above average. I doubt I'll be back unless they have a live band as a draw.
★
724 characters
3.45
/5
rDev
+8.5%
vibe: 4 | quality: 3 | service: 4 | selection: 3 | food: 4
UPDATE FROM 6-3-05 VISIT:
The nuclear power theme has been toned down a little bit since my last visit several years ago, but is still present, especially in the names of the beers. I sampled all their offerings, either in sampler glasses or in regular pints, and their Oppenheimer Oatmeal Stout is what impressed me the most. Plutonium Porter was average, while I found Atomic Amber and, especially, Half-Life Hefeweizen below average. The place is rather snug, being an old A&W drive-in. I was there in late afternoon, so it wasn't too crowded, just a couple of crusty regulars. I had a wood-oven baked pizza (the menu boasts of how they have the only wood pizza oven in the Tri-Cities), and it was quite tasty. This would be an OK place to have a mediocre pint or two of locally brewed beer if I lived in Richland, but that's about all to reccomend it, besides the pizza, which is worth a visit by itself.
ORIGINAL REVIEW:
This was the first brewpub in the Tri-Cities area. Located on Lee Boulevard in Richland, it's probably the only brewpub with nuclear power paraphenalia. This is because Richland wouldn't exist if it had not been for the establishment of Hanford, a few miles away. Consequently there are beers like "Plutonium Porter." That's the only title I can remember, but I'm sure there were others.
The menu includes some tasty pizza options. I ate here with my parents, neither of whom care for beer. They were there for the pizza.
The interior is rather "woody", with pictures and items having to do with Hanford and the nuclear industry. If this offends you, too bad. This is a town whose high school team is "The Bombers," and virtually everyone who lives there works at "the area" or is related to someone who did. I believe they sometimes have bands play, which I think would be a little crowded, as it's not a huge place.
The service was fine, nothing exemplary, but certainly not inattentive or rude.
When I dined here, I was vaguely knowledgeable about beer. I had the porter, and I liked it, but remember little else. I plan on visiting the place next time I go down to the Tri-Cities, after which I can re-do this review.
Incidently, someone told me that the owners of this place didn't do their research properly, and had planned to offer a line of bottled beers for sale, but didn't realize the zoning laws where they were located did not permit alcohol being sold for off-the-premises consumption. Don't know if it's true or not, but if true, it's a good lesson for others to make sure they've done all their research.
★
2,570 characters
Atomic Ale Brewpub And Eatery in Richland, WA
3.03
out of
5
based on
20
ratings.