Økologisk Thy Humle

Thisted Bryghus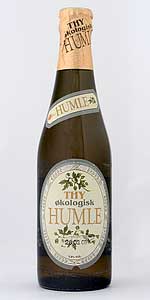 Rate It
Beer Geek Stats
| Print Shelf Talker
From:

Style:

ABV:

5.8%

Score:

81

Avg:

3.29

| pDev:

21.28%

Reviews:

9

Ratings:

Status:

Active

Rated:

Dec 11, 2020

Added:

Mar 01, 2005

Wants:

Gots: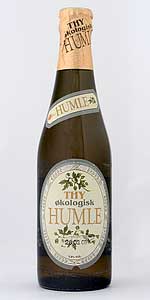 Notes:
An organic lager with extra hops.
Recent ratings and reviews.
| Log in to view more ratings + sorting options.
Ratings by bark:
Reviewed by bark from Sweden
2.3
/5
rDev
-30.1%
look: 2 | smell: 2 | taste: 2.5 | feel: 2 | overall: 2.5
Just an observation: All the "organic" beers from Thisted seem to have metallic foil round the bottle necks – a custom that all the Swedish breweries have quit, referring to environmental reasons.

The colour is pale gold; the small white foam sinks down quickly leaving minimal lacing.

The smell is bitter with some sweet malt and notes of alcohol, minerals (chalk) and some hints of fruit and honey. Not very exciting.

The taste is quite neutral. Some sour-sweet malt, quite a lot of unbalanced sour-bitter hops. The aftertaste got some sweetness, some diacetyl and an overall unbalanced bitterness with a touch of band aid.

The carbonation is too strong. Medium sized sharp, small bubbles.

I have been told by a coffee blender that it is very hard to create a good blend of organic coffee; the production is so small that it is tough to make a harmonic and balanced end product. The situation seems to be exactly the same when it comes to malt and hops…
Feb 16, 2007
More User Ratings:
Reviewed by Sigmund from Norway
3.02
/5
rDev
-8.2%
look: 3.25 | smell: 3 | taste: 3 | feel: 3 | overall: 3
Rerate, 500 ml bottle, new label, from NETTO, Denmark. ABV is still 5.8%. Golden colour, moderate white head. Half-decent hoppy aroma, grassy and herbal notes. I don't find the flavour too bitter any more, the bitterness is balanced by a more pronounced sweetness than I remembered. Still, this is just another pilsener (only with organic ingredients), not bad, but not really remarkable either. Original rating, on tap and 330 ml bottle, in Denmark: Too bitter for my taste. Try Thy Økologisk Pilsner in stead.
Dec 11, 2020
Reviewed by adbj from Massachusetts
4.1
/5
rDev
+24.6%
look: 3.25 | smell: 3.75 | taste: 4.5 | feel: 3.5 | overall: 4.25
This is my favorite summer beer when in Denmark. Easy to drink with lunch or dinner, and never too hoppy. Best if not really cold, so just keep it in your beer basement.
Jan 20, 2016
Reviewed by sfprint from Germany
4.07
/5
rDev
+23.7%
look: 3 | smell: 3.5 | taste: 4.5 | feel: 3.5 | overall: 4.5
Appearance: Between an amber and a pilsner in darkness, with teeny bubbles in the head.

Smell: Ambery/ Lambic like in smell. Fruity. There's also a hint of cherry cough drops.

Taste: Sort of ambery, but also sort of creamy. Not super strong in flavor but really nice. Cream sodaish.

Mouthfeel: Light sting of the micro carbonation.

Drinkability: Quite good. The flavor is what matters.
Jun 02, 2010
Reviewed by foamyhead from Denmark
2.78
/5
rDev
-15.5%
look: 3.5 | smell: 3 | taste: 2.5 | feel: 2.5 | overall: 3
Thisted Brewery pioneered the field of organic beers in Denmark. This beer is the "big brother" to DK's first organic beer; Økologisk Thy Pilsner from the same brewery.

A golden pilsnerstyle beer with a steady white head and a smell that reveals both hay, a little sweetness from the malt and a bit of hops. A hint of metal as well.

Pleasant caramel-like malty taste, but sadly also some metal coming through here. My bottle could use some more carbonation. A good interplay between malt and hops, though, and generally good balance. Medium bitterness considering the style.

All in all a drinkable beer, but I definitely prefer some of the many new inventions from this brewery in recent time; the stone beers and the "Forsøgsbryg".
May 02, 2008

Reviewed by ATPete from New Jersey
3.82
/5
rDev
+16.1%
look: 3 | smell: 3.5 | taste: 4 | feel: 4 | overall: 4
A- N/A

S- Hops, Metal, Flowers, Dirt

T- Excellent, a cross between a rustic belgian blonde and an american Pale Ale. Very dirty with loads of hops. For some reason this beer tastes like it could be good for you...

M- Awesome, give me more.

D- Oh man when i was in Kobenhaven...this and Tuborg went down ALL DAY LONG...oh yea except for that day that i drank 9 Elephants in Christiania at the Woodstock Cafe...bad day in Denmark...=)

Any body over seas interested in trading drop me a line =)

cheers
Mar 28, 2008
Reviewed by smcreator from Texas
3.48
/5
rDev
+5.8%
look: 3.5 | smell: 3 | taste: 3.5 | feel: 3.5 | overall: 4
Note: Pour this beer aggressively for a descent head. Also try serving fairly cold... maybe that is why several people did not experience good head retention.

A: Golden orange beer with a one finger white-off-white head. The head sustained on my pour for some time. the head looks ultra smooth in texture. My head also laced as I drank my beer, but was too smooth at first to stick as it diminished originally (prior to drinking).
S: I did not detect the metallic smell (unfortunately my nose was only at 40%) I can say that the smell was interesting, but not something that I wanted to continue smelling.
T: It is a nice fresh tasting beer, although it is not as refreshing as one might hope. I just read 'barks' review of this beer as near the bottom of my glass, and it, in fact, does have a hint of Band Aide. Strange.
M: Light to medium bodied beer. Medium carbonation, but the head (which sustained on my beer) smooths out the abruptness of the bubbles and makes them ultra-fine. I would have liked this beer to be slightly thicker bodied. Leaves a slight film on tongue.
D: Good enough, clean enough that it would be easy to drink all day.
Jun 18, 2007
Reviewed by jtslay from Colorado
3.67
/5
rDev
+11.6%
look: 4 | smell: 2 | taste: 4 | feel: 4.5 | overall: 4.5
This beer pours a darker golden amber. The head is thin but seems to be staying around without lacing. The aroma is a bit sour (I think it has a metallic smell). The taste is very light on the tongue and has a very clean aftertaste. The mouthfeel is a very bubbly and hoppy lager or pilsner.
Jun 16, 2007
Reviewed by garymuchow from Minnesota
3.65
/5
rDev
+10.9%
look: 3 | smell: 3 | taste: 4 | feel: 3.5 | overall: 4
This is an organic brew that was brought back from Denmark by my brother. Many thanks. Date on bottle 260606

Traditional aroma of most Danish lagers at about the same level of intensity (moderate). Hops a bit stronger than the malt. Light and generally fresh.
Dark yellow to gold (almost greenish). Water clear. Smallish white head with light white lacing.
Drier than many lagers and this increases as it warms. Nice mix of malt and hop flavors, blended well (but moves the standard for style). Nice sweetness up front with a touch of sourness that blends to create a fruity quality. Low on bitterness.
Very fine carbonation with a slightly above thin feel, which seems close to appropriate for style.
In many ways this is like many traditional Danish lagers, but the hop additions make it above normal and traditional. Nice flavors and easy drinking.
Jun 24, 2006
Økologisk Thy Humle from Thisted Bryghus
Beer rating:
81
out of
100
with
10
ratings