Upstream Brewing Company - Legacy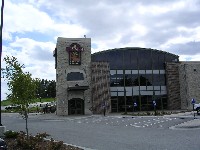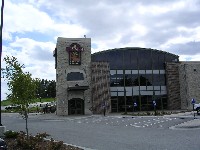 PLACE INFO
Type:
Brewery, Bar, Eatery, Beer-to-go
17070 Wright Plz
Omaha
,
Nebraska
, 68130-2083
United States
(402) 778-0100
// CLOSED //
Notes:
Per Omaha City Ordinance, as of October 1st 2006, this establishment is non-smoking throughout.
Added by bditty187
HISTOGRAM
View: Beers | Place Reviews
Ratings: 14 | Reviews: 13
Reviews by daniagates:
More User Reviews:
4.5
/5
rDev
+16.3%
vibe: 4.25 | quality: 4.5 | service: 4.5 | selection: 4.5 | food: 4.75
Stopped in the day after Christmas in 2016 which was on a Monday for lunch as we received a $25 gift card as a Christmas gift from two of closest friends. Last summer we stopped in Upstream's Brewery other location located at the Old Market in downtown Omaha.
The wife and I ordered a few appetizers which included a flat-bread pizza. The food arrived very fast as I just but in my beer selection which was of 4-5 ounce brews for the flight. The wife ordered a mix drink which that forgot to bring and after about 25 minutes, the bartender remembered and brought her one for free.
The brews I sampled were all fantastic and very happy with my selection. This location is much better than the other and busier location in my opinion. Better service here as well. Very happy with everything overall and we will be back since we live about 30+ minutes or so away.
865 characters
4.06
/5
rDev
+4.9%
vibe: 4 | quality: 4 | service: 4.25 | selection: 4 | food: 4
This is a pretty large place: 2 levels and a large outdoor seating area. It has a good sized bar, but only 2 TV's. The original is in an old industrial building in downtown Omaha, and they did a good job of recreating some of that feel. It has a good sized menu: lots of appetizers, somewhat gourmet pizzas and salads. Varied entrees. The steaks are Omaha steaks, which looks as it it bumped the price up a little, but my Filet was excellent, served with some excellent mashed potatoes and shaved Brussels sprouts. The pot roast was also very good. Pretty varied beer selection. All the ones I had were solid, but not spectacular. Worth the trip.
659 characters
4.53
/5
rDev
+17.1%
vibe: 4.5 | quality: 5 | service: 4.5 | selection: 4 | food: 4.5
A beautiful building inside and out, this place has a nice warm feel as soon as you walk in the door. The aromas of hearty food and yeasty bread smell fill the building. The exposed brew house portion of the restaurant is very interesting. Additionally, several barrel aged beers are on display and are just plain cool decor.
The food selection is good and I've never had anything I disliked. Pizzas are good, the comfort food selections are excellent. They have a nice selection of year round brews, but they supplement that with some great seasonals. Try a weekend brunch with whatever the current seasonal wheat selection.
The seating is comfortable and there's just the right amount of televisions to keep track of the important games and for the occasional distraction from dinner, but not too many that it feels overwhelming.
Hands down my favorite brew pub in West O (and perhaps Omaha in general).
910 characters

3.63
/5
rDev
-6.2%
vibe: 3.5 | quality: 3.5 | service: 3.5 | selection: 4 | food: 3.5
My wife and I live in Lincoln, but she had an interview close by so we decided try to this for lunch on a Wednesday. This place was pretty busy for a weekday afternoon, but we were seated immediately by a friendly hostess. The menu has some interesting food (interesting in a good way) that was a little on the high end for price. The food was good, but it didn't blow our minds. I enjoyed their "Double Dutch" brew and my wife really liked their root beer. Service was fast, friendly, and I have absolutely no complaints. I'm not gonna seek this out every time we go to Omaha, but it might be on our list every once in a while.
628 characters

3.25
/5
rDev
-16%
vibe: 4 | quality: 4 | service: 1 | selection: 4 | food: 4
The service here was quite possibly the worst I've ever encountered. It's 4:30 PM on a Saturday afternoon. Not a whole lot of folks in the place. After being seated, we waited almost 15 minutes to even get acknowledged by our server. He was not friendly at all and threw the coasters down on the table. We've been to this location a few times before and haven't had service this bad. Pork Schnitzel was good, definitely large enough to share. Food was good but service was poor. Downtown Omaha location is a better choice.
522 characters
3.83
/5
rDev
-1%
vibe: 4 | quality: 4.5 | service: 2.5 | selection: 4 | food: 4.5
The food and the majority of the beer in this location is the same as the one in the Old Market.
A couple of key differences to beer drinkers:
- No cask beer at this location. I was shocked since the downtown Upstream has two beer engines.
- Takes longer to get the new experimental beer (upside is that these beers seem to be around longer at this location than the Old Market location)
- This location is more clean cut and Yuppy in feel and customer base than the Old Market location. If you like this, advantage. If you want something with a little more interest or vibe than the Old Market location is for you.
I'm not a big fan of their mainline beer. It's very true to style with nothing that truly stands out.
The food and service is usually outstanding. Like all brewpubs in Omaha, few of the wait staff can help you with the beer menu. When I first moved to Omaha from Colorado I asked about a beer and the waiter's reply was, "It's a good beer."
Really? That's the best you got?
Luckily, the beer menu is laid out well and since the beers are brewed to style there aren't any surprises.
I've eaten numerous dishes and they are all fairly outstanding. I little on the pricey side but overall a great experience. I typically try to come here every month or two for the food and to try the experimental beer.
If it's available, purchase their Grand Cru. I haven't tried it yet myself (despite having two bottles cellaring right now) but the reviews on this beer are top notch. They hand bottle it and label each bottle individually.
1,549 characters
4.13
/5
rDev
+6.7%
vibe: 4 | quality: 4 | service: 4 | selection: 4.5 | food: 4
Visit: 20th June, 2009
Ok, if the character of the location itself is so very important to you, fine: go downtown. It's all "older" and "woody" and "historic," but at the end of the day, I'm here for the beer. The decor here is definitely suburban-chic, but as others have mentioned: likely no wait and ample parking, lots of light and noise pollution was low due to the high-ceilings. Frankly, I liked it.
And if cask beers are a must, go downtown: fair enough. I love me a good cask ale, but it's not like their rest of their beers are undrinkable swill.
Otherwise, I think this location is great. The beers are excellent, the selection is broad, the waitstaff were very efficient and courteous (also, this establishment is very kid-friendly).
Their full beer line-up is available, including interesting specials, and as well, they have all the corked/caged bottles (I picked up their lambic & oak-aged Ebenezer) cold for now or room-temp to-go. I sampled the pale ale (B+), the IPA (A-), the Scottish (B) and the special Raspberry Brown, which was subtle & fantastic, comprised of a blend of oak-aged brown ale with a fresh brown ale and raspberries... I liked how the fruit was all in the finish; well-done, solid A.
No complaints. (oh, and I second the beer-braised potroast...mmmm!)
1,293 characters
3.75
/5
rDev
-3.1%
vibe: 4 | quality: 4 | service: 3.5 | selection: 3.5 | food: 4
The short and skinny: go to the downtown location.
This place lacks all of the heart and soul of the original. Seems more restauranty than the downtown location for some reason or another. The real kicker, however, is that this place doesn't serve cask ale whereas the downtown location does. Cask ale is the one thing that brings me back to the Upstream time and time again, even though I like the food quite a bit too.
A few other differences:
The menu seemed to have a few different items at this location. Must everything contain fish or shrimp here? Luckily they still had the Beer Braised Pot Roast, which is a favorite.
The wait staff was not very educated about the beer. Perhaps it was a fluke, because I have had one or two servers downtown that weren't all that bright either, but it's a rarity considering how many times I've been there.
I will never go to this location again, but I will continue to go to the downtown location. Even if I lived closer to this location, I wouldn't be able to escape the draw of cask ale from all the way across the city.
1,071 characters
4.15
/5
rDev
+7.2%
vibe: 5 | quality: 4 | service: 4 | selection: 4 | food: 4.5
I am a big fan of Upstream Brewery in Downtown Omaha. We stayed nearby and visited this place 2 times on our road trip. I much preferred the parking issue, although the downtown atmosphere is very fun in summer. I think if I were in Omaha in summer, I'd rather go downtown because it's romantic and quaint but in winter in the biting snow, nearby parking is preferable. I loved sitting in the upstairs the second time, very beautiful.
The food was superb. I enjoyed the beer selection. I did NOT know prior to our visit last week that they cask age and sell bottles of limited edition ales. I wish they advertised that a bit more. Our waitress the first time mentioned it and sent the manager over to give us more details, and we purchased some beer that way. The second time she did not mention it. But it is really neat, so I'd suggest that they promote it a bit more because that is really special and unique.
914 characters
3.15
/5
rDev
-18.6%
vibe: 3 | quality: 3.5 | service: 3 | selection: 3 | food: 3
I was in Omaha on business and had some time to spare in West Omaha. This was a decent discovery in the suburbun western side. Let's just say I didn't raise my expectations regarding Nebraska brewing.
The atmosphere was a typical brewery setting in a suburban area. Food was good. I was there on 6 dollar pizza night. Beer selection typical - not great.
I drank the hefeweizen and the pale ale. Decent, nothing great.
This place was very average. I could homebrew better, but if you want to go out with friends, not bad.
531 characters
3.7
/5
rDev
-4.4%
vibe: 3.5 | quality: 4 | service: 4 | selection: 3 | food: 4
Obviously, the same company that has operated the Upstream in the Old Market of Omaha for many years. I have visited this West Omaha location twice, and both times I was happy with my experience.
The location is very inconvenient for me (living in the Old Market and not working in West Omaha), but I do have friends who live out in this section of the world who find it very convenient. The parking is ample, and is not difficult to spot, resembling a medium size suburban corporate, glass emblazoned office building. Personally, I prefer the aesthetic of the downtown location, but I do admire the superior smoke dissapation in this design.
The beers are practically identical to the other Upstream, though I did find their IPA (perhaps it was the week I visited) to be a little less hoppy than I am accustomed to enjoying.
The food is good, too, with only minor variations in the menu from the downtown location. I had a very good pizza here, and I am not normally much of a pizza eater, having filled that particular organ while in college back east!
Ultimately, this establishment owes everything to the original Upstream location. Any reviewer would be hard pressed not to compare the two, so I suppose the true test comes to what kind of (physical) location you prefer. If you're a suburbanite, you will like this better; if you are more comfortable in an urban environment, then the Old Market Upstream will be a better experience.
One thing I did find better at this location was the service. The waitstaff just seems to be more attentive out here than in the Old Market when it gets busy. So, there, a difference!
All in all, if you enjoy one Upstream, you will enjoy the other. A good quality, though not spectacular, brewpub in Omaha, Nebraska.
1,774 characters

3.88
/5
rDev
+0.3%
vibe: 3.5 | quality: 4 | service: 3.5 | selection: 4 | food: 4.5
Upstream-Legacy opened a couple years ago but do to its inconvenient location I rarely visit. In all honestly there isn't many reasons for me to drive out west when there is a "better" Upstream downtown. What is the difference between the two locations? Atmosphere. If you like the look and feel of suburban restaurants, Upstream-Legacy is for you. If not, go downtown. Legacy is a standalone building with enough parking (even though space is shared by another, popular restaurant). The building is over two stories tall and very attractive looking on the outside. Once inside the vibe is clean, want-to-be homey feel with a dark wood and stone injected to give it an upscale feel. It doesn't feel like a chain restaurant but it doesn't feel independent either, even though it is. Odd. It is fairly dark inside, for the mood you know. The bar is large, square with a couple flat screen TVs adorning the walls. There are some darts and such upstairs but I didn't explore it completely. On the main level is the exposed brewing equipment. All in all, this is a casual restaurant with a modest "West O" flair.
The beer is mostly the same as the downtown location; there is a light lager here (to cater to the "West O" yuppie/low-carb folks) plus a stout, Scotch, DIPA, Pale Ale, Wheat, ESB, seasonal (and one or two other beers that I'm forgetting). No cask beer. There is a Belgian Tripel in bottles and other Belgian goodies are in the works, these will not be found downtown. This will keep me going here.
Food menu is mostly the same as the downtown location; there is some low-carb food here. I like their food, tasty stuff. The pot roast is great. The pizzas are tasty too.
My service on my four or five visits was quite varied. The bartenders were so-so; the waiters in the restaurant area were good, very attentive and friendly. Beer knowledge is limited and sometimes the workers flat-out make shit up about the beer. This is very annoying. If you don't know the answer say, "I don't know." Don't lie.
There aren't many good beer spots in the western parts of Omaha, so if you find yourself in need of good beer, visit here. There are no complaints, only nitpickings!
2,204 characters

3.8
/5
rDev
-1.8%
vibe: 3.5 | quality: 4 | service: 4 | selection: 3.5
Finally made it out to the west location. Not bad. Building is impressive, if not too corporate. Just a little big, in my mind. I sat at the bar and it was about noon. not very busy, but the place is still new. The fella behind the bar was quite nice and i only had a chance to try their light lager. I chose that beer, because i had not had it yet. It was about what you would think. Overall, the downtown location has lots more charm and is a lot closer to my place. In other words, i wont make it here again soon.
516 characters
Upstream Brewing Company - Legacy in Omaha, NE
Brewery rating:
0
out of
5
with
0
ratings