Dickie's Beer & Grillhouse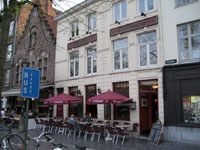 Reviews by goodbyeohio:
goodbyeohio from Oregon
4.1
/5
rDev
+14.8%
vibe: 4 | quality: 4 | service: 5 | selection: 3 | food: 5
a small, charming tavern reminiscent of the upper-crust irish pubs of new england. not too many tables, but in this area of brugge, there aren't many people walking around either.
dickie is both the owner and the fascinating bar dog. the dog mills around sniffing everyone and quickly becomes bored. the owner, however, is full of life and was eager to serve up some great brews and talk nasty about george w... he was excited to show us his dusty bottle of dogfish head 120-minute IPA that he treasures behind the bar.
we sampled some piraat, some triple karmeliet, some cuvee des trolls and a la chouffe (which was on tap). friendly service with one of the best bar snacks i've had, dickie's own blend of provincial style green olives. sat and talked next to a warm fireplace..
two tourists came in asking for colas, and dickie quickly escorted them out reiterating that it was a beer bar (although he had cola available, but is short-tempered towards non-beerites).
the other impressive thing is the charcoal grill setup in the rear, with magnificent steak, shrimp and various meat selections available which are grilled in the open, with passion, by dickie.
Nov 01, 2004
More User Reviews:
BlackHaddock from England
4.1
/5
rDev
+14.8%
vibe: 3.5 | quality: 4.5 | service: 4 | selection: 4
This review is from a sunny Friday afternoon in June 2009. I have used this bar many times before I joined the BA site, but hadn't realised I'd not reviewed it.
This bar/grillhouse is on t'Zand at the far end from the big red building and the fountain. Inside it is a basic Belgian/Dutch style place, heavy on the wood. You are welcome at the bar, on the window seats or outside at any time, the main area inside is really for diners. Dickie the Daschound (who the joint is named after) rules the roost inside, so look out for him.
We sat outside under the huge umbrellas and watched the world bike, walk and drive by. On tap La Chouffe was the first choice for the ten of us, followed by a Bolleke of De Koninck and then a Brigand, each beer arrived in the correct glass and served with a smile. The only other people outside were 4 British motorbikers, this is a well known and well used bar to us Brits.
Jul 04, 2009

corby112 from Pennsylvania
3.8
/5
rDev
+6.4%
vibe: 3.5 | quality: 4 | service: 4 | selection: 3.5
Nice bar restaurant about a half mile from my hotle in Brugges. Nice atmosphere although not very crowded during lunch. My wife and I were the only patrons at the time. They have a lot of antique belgian beer signs all over the wall and a very nice bar with bottles lined up along it. The owner's also has a very cute and friendly dog. The selection was decent with a lot of Belgians that I never heard of before going over there. We didn't eat and only stayed for one drink but enjoyed our visit. Didn't get a chance to go back for dining.
Dec 02, 2008
Dukeofearl from California
3.83
/5
rDev
+7.3%
vibe: 3.5 | quality: 4 | service: 3.5 | selection: 4 | food: 4
After some of the negative reviews listed on BA, I had some trepidation about coming here when my wife and I did the Netherlands/Belgium tour in April 2007. However, we determined to have dinner here at the encouragement of a Brussels-based RateBeerian we ran into at Cafe Erasmus earlier in the day. And we were quite happy we did.
I think the story here is that this truly is a restaurant with a nice beer selection, rather than a beer bar. We entered rather early on a mid-week night off-season, and it wasn't very busy. In fact, we almost had the place to ourselves. We spoke to the owners for a bit (they were nice enough, but not terribly out-going), and Dickie the dachsund came out for scratches and other inspection before we settled in for a nice long dinner.
The very small bar holds 4 taps but there is a large bottle list as well. For dinner, I had the steak with Chouffe sauce, and La Chouffe on the side. My wife had a different steak. Both were quite good, but the Chouffe sauce (this is the house special steak) was much better. It seemed that Jose (the owner) was also the cook- he did a very nice job.
A bottle of the incredible Pannepot afterwards while my wife enjoyed her dessert made for a very nice experience. But definitely a restaurant, not a beer bar.
Jan 20, 2008
JohnW from England
3.28
/5
rDev
-8.1%
vibe: 3.5 | quality: 3 | service: 3 | selection: 3.5 | food: 4
Having read the three reviews in here (latest from LongBeachBum in Easter 2005) thought I should add something! I was here in March 2004, and enjoyed the two visits we made to this restaurant/bar. At the time I was there, he had a menu of about 80 beers, interesting choice, and the food was excellent as 'GoodbyeOhio' found. It maybe that there have been changes for the worse since my visit in 2004, so maybe other BA members when in Brugge should check again to comfirm a downward trend or otherwise!
The owner/chef is not the most openly friendly of guys, but knowledgable of the beers he sells, and was always courteous and welcoming while we were there. It is more of a grill/restaurant than beer bar, but we found it good value and quieter than some of the more central restaurants and bars.
JohnW Bham UK
Aug 17, 2005
TheLongBeachBum from California
2.31
/5
rDev
-35.3%
vibe: 3 | quality: 3 | service: 1 | selection: 2.5
I have to say right here and now that I have wrestled with my consciousness about adding this BeerFly since I came back from my Easter Trip to Belgium; Should I? Shouldn't I?? Yes!! No!! Well finally, and especially after reading fellow BA JohnfromDublin's BeerFly just recently, and being staggered by the continued listing in Tim Webb's 'new' Belgium Beer Guide, I decided that even a "bad" first time experience should be reported, regardless of whether it was a 'one-off' or not, which was my reason for not originally adding this BeerFly.
I should also add that our party of five had already reacquainted ourselves with the excellent Hotel Erasmus and, thanks to Tim Webb's (4th Edition) Good Beer Guide to Belgium & Holland we had managed an inaugural visit to both the new & promising Keldercafé De Zolder, and then the eclectic Kuppe. As we headed back into Brugge from the Kuppe, Webbies Guide had us contemplating a visit to the "recommended" Dickie's Beer & Grillhouse, which was on our way back to the Train Station from the Kuppe so why not?
It was late evening when we entered, and whilst it wasn't exactly full, it seemed lively. Our party of five could easily have been a gang of twenty Hell's Angels for the look on the Waitress that walked past us as we entered. We had, to be fair, eaten earlier at the Keldercafé De Zolder, so we were very clear in asking the Waitress if we could just have a beer, to utter ignorance. So we stood, waited a second or two, stared at the Bar Area that already had a brace of rather bored looking drinkers. Upon her return the Waitress looked at us again and never spoke, but we did. Strange. Then she vaguely nodded when asked again (maybe our third time) if we could "just drink". So we made our way to the Bar. Then she disappeared.
Time passes, I get to look at the handful of taps at the Bar, nothing exciting at all, now this was one of those times when we reckoned that another one of Tim Webb's GBG2B&H entries had "gone South", especially after earlier in the day we found the 'Ovene' decidedly shut-closed-dead. I interject here to add that some 2 months later (last Saturday in fact) when Tim Webb's latest (5th Edition) Good Beer Guide to Belgium dropped in my Mailbox, I see from page 288 that we must have been wrong (!) for "Dickie's" Beer Bar & Grillhouse is still listed.
OK, so back to the Bar, I lost track of how long we had been here and I have to say that I don't mind waiting, I just hate being "ignored". It got worse though, it did not seem to have a visible Beer List anywhere, everyone appeared to be drinking the draft brews, no sign of the bottle brews anywhere. Another fleeting nod from the waitress and now a chap from behind the bar, I'm getting thirsty, we asked if they had a Beer List to which the answer was a "no" whilst pointing to the four or five taps. Hmmmm………time to make a tactful withdrawal.
Maybe they never wanted to serve us just a beer, or maybe they never wanted to serve us period. But I honestly cannot think why, and if so, why not just tell us that fact when we specifically asked the question as we entered…….all rather strange indeed.
Overall…hmmm, difficult one, here is my honest gut feel….
• At Best; it seems like a place that wants to serve food, yearns to be a Restaurant and Bar, but seemingly does not have the staff, space or layout to be both - it can only be one or the other; it is a Jack of both trades and master of neither. It either cannot be bothered with drinkers at times when it seems more than 75% full of diners and/or just doesn't like non-eaters, or…
• At Worst; its just one of those ignorant eateries that "plays" at being a "Beer Bar" as and when it likes, or rather feels like it wants to do be Beer Bar without the hassle of the Beer.
Whatever it is – bottom line for me is that Dickie's is most certainly NOT a drinker friendly Beer Bar at all times, and most certainly it does not deserve your patronage based on my rather disappointing first visit here.
If you are walking past, pop in and either prove me wrong or add a stellar BeerFly showing that my visit was indeed a "one-off", either way I'll be happy.
However, regardless of the above, as BA JohnfromDublin states, there are much better *Real* Beer Bars in Brugge, those that will genuinely appreciate your patronage.
More Grillhouse than BeerBar.
So there it is. It feels sad to add my lowest rated BeerFly ever, out of some 400 to date. But you have to say it as it is...I will not be coming back here again.
Last Visit: Good Friday 25th March, 2005.
Jun 08, 2005

JohnfromDublin from Ireland
3.55
/5
rDev
-0.6%
vibe: 3 | quality: 3.5 | service: 3 | selection: 4 | food: 4.5
Visited Dickie's on Sunday May 22nd 2005 just before 7 in the evening, following recommendations from this site and another. Entered somewhat smoky atmosphere and first thing of note was that there was no evidence of there being a beer menu. None was offered by the barmaid, and there were none on tables or at the bar. However, there were 4 beers on tap; Grimbergan, La Chouffe, Maes and another. We ordered a couple of La Chouffes and they were served well enough, but without a smile. We relocated a little farther into the bar towards the grill area, which was non smoking. Atmosphere was more diner than beerbar. My wife, who notices these things observed that the place was clean "on the surface" only. When we were leaving, we had to pay our bill to the barman (possibly the owner), and in keeping with our earlier experience this guy was surly in demeanour. Dickies certainly will not be seeing me again, and it is a reasonable trudge from the centre of Bruges to get to the place. Very disappointing. You can do much better in this beautiful city.
2006 Visit. Okay, firstly just to say that I don't believe in deleting the review from 2005; it was what it was (Atm:3, Qua:3, Ser:2, Sel:2.5).
Entered at about 6pm on a recent Friday evening. The place was empty, with tables nicely set for diners. Potted plants added to the effort being made. And up at the bar; behold: a beer menu! Several others were on adjacent high tables. 4 taps: Maes pils, La Chouffe, Grimbergen dubbel, Straff Hendrick blonde. We had some excellent beers from the menu. The owner/barman is not the friendliest of people. At one point he was very prompt in serving our next beers. He started to remove our glasses but I had not finished. I asked him to leave mine, which he did but made a remark to the effect "if you really love beer, it shouldn't matter". I was unsure how to take this!
Unperturbed we decided to eat there and ordered a couple of steaks. These were superbly cooked to order, mine with a La Chouffe sauce. Washed down with La Chouffe, needless to say.
I feel that there is an odd atmosphere here. It is almost like you should feel privileged to be there. It suffers a little from it's location (being away from the Centrum). It was a marked improvement on my previous visit, however. Make your own mind up! (added 10 Apr 06)
May 24, 2005
Dickie's Beer & Grillhouse in Brugge, Belgium
Place rating:
3.57
out of
5
with
7
ratings