Wotever Next?
| Teme Valley Brewery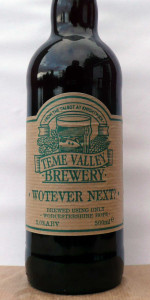 BEER INFO
Brewed by:
Teme Valley Brewery
England
,
United Kingdom
Style:
English Bitter
Alcohol by volume (ABV):
5.00%
Availability:
Year-round
Notes / Commercial Description:
No notes at this time.
Added by Doiv on 05-06-2004
Ratings: 9 | Reviews: 7
Reviews by jazzyjeff13:

3.22
/5
rDev
-13.4%
look: 3.25 | smell: 3 | taste: 3.25 | feel: 3.5 | overall: 3.25
A 500ml bottle with a BB of May 2014. Acquired a while back from a supermarket. Described on the label as a strong, dark bitter only available in bottles. Uses Worcestershire hops in the recipe.
Poured into a tulip pint glass. Bottle conditioned. A dark, hazy coppery-amber hue with fine sediment and light carbonation. Yields a decent head of creamy off-white foam that lasts for a minute or two before reducing to a patchy surface layer. Slight lacing. Aroma of mild roasted malt with hints of caramel, grass/hay, ale yeast and stewed leaves. Rather dull.
Tastes of mild roasted malt with a dry, bitter finish. Notes of subtle roasted grain, caramel, husks, grass/hay, ale yeast, stewed leaves and a twinge of harsh cardboard. Well-attenuated, followed by a strident bitterness upon swallowing. Mouthfeel is smooth and dry, with soft carbonation and decent body. Quite astringent, accompanied by an aftertaste of bitter roasted malt, stewed leaves and cardboard.
Not brilliant. Looks OK, while the aroma is bland and the flavour is surprisingly bitter. Mostly roasted malt and stewed leaves - a bit rough around the edges. Body is alright. Can't say I found this a particularly inspiring brew; rather characterless. No need to seek it out.
1,244 characters
More User Reviews:
4.03
/5
rDev
+8.3%
look: 4.5 | smell: 4 | taste: 4 | feel: 4 | overall: 4
Bottle conditioned, 500ml, best before the end of Apr 2011, drank and reviewed 18th Jan 2011.
The beer was poured into an Abbot Ale glass tankard: bright amber body, clear with minute bubbles rising up the beer to the impressive off-white foaming head. Some good lacing produced as the beer level sank down the tankard.
The smell is malty, with hints of yeast esters and fruity hops.
The taste is a nice mix of bittering hops and sweetening malts. Really well balanced, the alcohol content hardly noticed, which indicates a good beer to me. Only in the latter stages of the mouthfeel does the alcohol begin to rear its head.
627 characters
3.67
/5
rDev
-1.3%
look: 4 | smell: 3.75 | taste: 3.5 | feel: 3.75 | overall: 3.75
Bottle conditioned. Mid chestnut brown. Frothy head. Lacing throughout.
Caramel malt and toffee apple aroma.
Taste reflects the aroma with added grain and mild hop. A rather off putting astringency to finish.
Moderate body. Carbonation similar to a draught ale.
262 characters
4.03
/5
rDev
+8.3%
look: 4.5 | smell: 4 | taste: 4 | feel: 4 | overall: 4
500 ml brown bottle, courtesy of Cardinal pub, Stavanger. Bottle conditioned, ABV is 5.0%. According to the label, the beer is now available only in bottles. The beer gushes out of the bottle when opening. Hazy reddish brown colour, huge, creamy and long lasting off-white head. Vinous aroma with notes of moderate malts, barnyard and balsamic vinegar. Flavour is distinctly hoppy throughout, but there is also a moderately sweet maltiness with hints of caramel. Moderate carbonation in the glass. Bitter aftertaste. I get a "homebrew" feeling with this one. I like it!
569 characters
3.6
/5
rDev
-3.2%
look: 4 | smell: 4 | taste: 3.5 | feel: 3 | overall: 3.5
Pours a slightly cloudy dark caramel colour, with an extraordinarily gassy off-white to tan head.
Aroma is of roasted hops, yeast, caramel, sticky toffee and yeast extract (vegemite).
The taste is of malts, roasted hops, chocolate and sticky toffee pudding.
Mouthfeel is heavy and a bit sticky, and the drinkability is alright.
336 characters


4.13
/5
rDev
+11%
look: 4 | smell: 4 | taste: 4.25 | feel: 3.75 | overall: 4.25
Served at cellar temperature from 500ml bottle into straight pint glass.
L) Lightish / mid-brown, nice fluffy 1cm off-white head. Hazy; its bottle conditioned and I haven't poured it slowly enough.
S) Sweetish malt, like a digestive biscuit.
T) A very good balance of muted grapefruit-like hop bitterness and slightly sweet darker malt.
F) Muted carbonation, quite a bitter aftertaste but overall drinkable.
O) A superior bitter, definitely recommend it.
462 characters
3.96
/5
rDev
+6.5%
look: 4.5 | smell: 3.5 | taste: 4 | feel: 4.5 | overall: 4
This beer is bottle-conditioned, coming in a 500ml brown bottle with a BBE date of Oct. 05.
Appearance: in a goblet it pours an extremely thick, foamy and pillowy off-white beerhead, lasting quite well throughout the drink and leaving very fine but uneven lace around the glass; abundant carbonation is detected.
Aroma: upfront on the nose is musty, yeasty, slightly cinnamon and pine wood-like aroma mixed with medium-sharp, tart/lemony edge of hops and yeasts, which is a bit too overpowering at first and turns softer later on.
Taste: the palate is sharply tart and fizzy at first; after overcoming this obstacle to tasting, I could sense a profound earthy and woody flavour of hops and considerable mushroomy and nutty malts in the background. Certain "tannic"-like mouthfeel is evident in the finish, along with a bone-dry bitterness in the throat--this beer definitely needs "de-canting", I think. After breathing for a while, the mouthfeel turns much rounder and the vertical strcuture stands out, while the lingering, earthy and woody bitterness in the aftertaste sustains throughout the drink and makes its way deep into the throat. Fantastic mouthfeel especially in the finish.
Overall it's a medium-full flavoured strong bitter with a medium-body. I'm surprised to find the flavour changing so much after the beer "takes a deep breath", and definitely it's a distinctive as well as enjoyable beer of its own class.
1,431 characters
Wotever Next? from Teme Valley Brewery
3.72
out of
5
based on
9
ratings.