Lux Lounge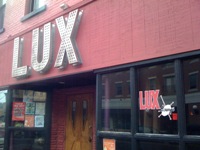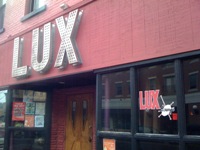 PLACE INFO
Type:
Bar
666 South Ave
Rochester
,
New York
, 14620-1344
United States
(585) 232-9030 |
map
lux666.com
Notes:
No notes at this time.
Added by CBFanWish
PLACE STATS
Reviews:

7

Ratings:

pDev:

18.86%
HISTOGRAM
View: Place Reviews
Ratings: 8 | Reviews: 7
Reviews by CBFanWish:
3.69
/5
rDev
+5.4%
vibe: 5 | quality: 3.5 | service: 4 | selection: 3
It's like walking into Satan's playhouse. A cross between 'The Cell' and 'Edward Scissorhands'. It's as dark as hell with quirky little shit all over the place. Where else can you drink a Pabst Smear (can of Pabst and a cheap shot) while sitting on a hommock made for two. The have regular specials on Saranac, Ithaca, and several other regional brews on a regular basis.You have got to make it for arts and crafts night. There's nothing like having a couple and playing with macaroni and glue. This is not a place for everyone. I would suggest keeping out if you don't have an open mind. For freaks like myself, it's a good time.
630 characters
More User Reviews:
3.92
/5
rDev
+12%
vibe: 4 | quality: 3.75 | service: 4.25 | selection: 3.75
Lux is a cool little "hipster" bar in the South Wedge. About 4-5 taps at any given time, PBR, Sam Seasonal, their house brew from CB's, a few others. Dirt cheap prices, a great jukebox, cool furniture to lounge on, friendly staff, eclectic weird patrons.
254 characters
3.56
/5
rDev
+1.7%
vibe: 4 | quality: 3.5 | service: 4 | selection: 3
Stopped at this place after a long line of recommendations. Decent beer, cool atmosphere, decent music. Overall a cool place to hang out if you are a part of the alternative crowd.
Off beat, crazy, independent.
A nice change on a Saturday night.
They played a lot of the songs off of the movie "Trainspotting" while I was there. I liked the movie, so I'll consider it a bonus...
Several goth people, a few from the indie crowd, a bunch with no direction, and a few straight-up crazies. The kind of crowd that one can really appreciate.
P.S. There is also some bonus points awarded due to the way they label the men's and women's rooms: A picture of a banana on the men's, and a picture of a peach on the woman's.
729 characters
3.06
/5
rDev
-12.6%
vibe: 3.5 | quality: 3 | service: 4 | selection: 2
I visited here on a Friday night after having dinner at the Beale Street Cafe. Previous BeerFly reviews of it's quirkiness intrigued me. Honestly, I would not include this place in a review of beer bars. A previous reviewer mentioned Saranac and Ithaca but when I was there, the only non-swill handles were Guiness, Bass and Sierra Nevada Pale. I'm glad I went there though. It is really a cool place with an interesting clientele. You can spend quite a while checking out all the decorations and knick-knacks. I would come back, but not for the beer.
551 characters
2.78
/5
rDev
-20.6%
vibe: 4.5 | quality: 3 | service: 2.5 | selection: 2
Not a bad place at all. Few beers on tap, not that much selection, and it seems like they are trying to up their level of service. I feel comfortable there no matter what I wear or what I do. You can wear orange hair and no one will point and laugh like Alexander Street bars might. Probably the best jukebox in the city. The girls behind the bar are actually looking at people now, so you don't feel so alienated anymore. Prices are good, beautifully tacky deco, tons of board games, outside wood stove, bring chalk to write on the walls outside, watch movies there every week outside, pool table, etc etc. Bathroom's too small...
631 characters

3.74
/5
rDev
+6.9%
vibe: 5 | quality: 4.5 | service: 3.5 | selection: 2.5
This is so sweet. Really trendy and hip yet sometimes there will be some crack whores around. Transvestives seem to liek this place too. Anways. It is great, arts and crafts nights, game nights, lots of quirkey stuff. It has a nice huge outdoor area where you can hang during the hot ass summer. My only big complaint is no air conditioning. This place looks cool. The adress is interestingly at 666 South ave so there is a devilish theme. But a friendly devilish theme. The sign on teh outside of the building rocks also. The jukebox selection is grand lots of indie music and 80's stuff.
The beer selection on teh otherhand lacks. hardly any of the taps were working. But they had blue moon and uhhh....Sam adams. But I looked plast that as this place rocks.
The serivce is allright. The bouncer is this cool guy who looks like one of those old thyme wrestlers/baseball players wiht a big ass handlebar moustache. The bartenders vary. The suicde girls looking one is scary looking and looks like a man. But the others are nice.
1,035 characters

2.51
/5
rDev
-28.3%
vibe: 3.5 | quality: 3 | service: 1 | selection: 3
The Lux is a very intersting place. I love the south wedge area and I think that the Lux has a good thing going there right past Gregory. Sadly they have to compete with MacGregor's for beer selection. would give it higher marks, but when I split it up into the pros and cons the score remains rather average.
Pros: the general ambiance is great. Darkly lit. Plenty of interesting art on the walls, tables, bathroom etc. The furniture is eclectic and very comfortable. The back yard is awesome. The have a great wood burning open stove to keep warm as well as plenty of seating. It is also a nice place to bring your dog when he or she gets too rambunctious. I also like the fact that dogs are allowed. Lastly and probably the cherry on the icing is the juke box. If it fought the juke box from Dickies it would be a battle of such immense proportions. You've got every worthy band to play in the past 30-40 years plus some kitschy favorites, in fact I think I heard "I Will Survive" when I was in last night.
As for the beer it is always cheap and they have some decent tap selections and bottles. They have a Pabst Smear special. PBR and a PB&J for something like 2 bucks. Pretty sweet.
Cons: The clientel are way too full of it for being from Rochester. You'd think they thought that the Lux was smack in the middle of Williamsburg from 3 years ago. Believe me I read my fair share of pitchforkmedia and gawker, but I don't really wear it on my sleeve because that is obnoxious. Everyone affects and indier than thou attitude, which is rather bothersome.
The service sucks! I repeat it sucks. The female bartender (who I swear I have seen on suicide girls) could be the most rude person I have met. I am pretty sure she will purposely see someone at the bar and then go to the other end to talk to a friend instead of taking care of you. The other bartender isn't much better.
In addition they can't mix drinks to save their lives. I ordered a G&T once and I will never make that mistake again unless I really want a tonic water...
So in conclusion, Lux tries to be a little too hip and comes off flat and a bit contrived. I like hanging out there with my friends, but someone else will have to suggest it for me to go. Dickies is unintentially more hip. So if you are looking for the real dive try there first, but if you are into theatrics go for it.
2,372 characters
Lux Lounge in Rochester, NY
Place rating:
3.5
out of
5
with
8
ratings