Lefty's Main Street Grille / Right Mind Brewing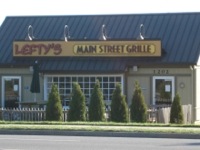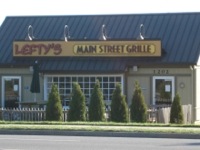 Brewery, Bar, Eatery
1410 S Main St
Blacksburg
,
Virginia
, 24060
United States
(540) 552-7000 |
map
leftysgrille.com
Notes:
Reviews by JasonTaverner:

More User Reviews:
WillieThreebiers from Connecticut
4.09
/5
rDev
+3.8%
vibe: 4 | quality: 4 | service: 4.5 | selection: 3.75 | food: 4.25
Small brew pub restaurant in shopping center. The place had a bit of a diner feel to it, with booths and tables filling the main area and a u-shaped bar that seat about 20 in the back. 9 beers on tap, the two I had were very good. Friendly service. And the food was excellent
Sep 19, 2018

RobertinBlacksburgVAUSA from Virginia
5
/5
rDev
+26.9%
vibe: 5 | quality: 5 | service: 5 | selection: 5 | food: 5
Quality of food and service is excellent. Got chicken and turkey sandwiches, as well as appetizer. All superlative. Service is immediate and sophisticated. Comprehensive menu. Vibe is casual dining for VIP's, movers and shakers. Quite the place to be seen. Had a great time with my party, and talking to the staff. Tried their Oktoberfest beer, and it gets all A plus scores, across the board. I guess you could say their Master Brewer has knocked this one out of the ballpark on the Oktoberfest. It's got a hint of hops, but not too much.
Oktoberfest ends the first week of October, but it was still very much alive in my mind. The typical beer consumed at Oktoberfest is a Weissbier, or wheat beer. (Erdinger is an example of an Oktoberfest wheat beer, but it is not available in the USA.) Lefty's Oktoberfest, when I initially drank a glass, I thought was a wheat beer, but upon asking, that turned out not to be the case! I can tell you that Lefty's Oktoberfest is the perfect beer for the Oktoberfest season. The experience of drinking this beer is incredible. The beer was a beautiful sight to behold, with a very fresh smell. It went down very easy. The taste was good beyond description.
One of my most memorable moments at Oktoberfest was being in the middle of the Trompetenecho trumpets. To remember the moment, I have provided a You Tube link to Trompetenecho:
https://www.youtube.com/watch?v=rNnhApj_aW4
After watching/listening to this video, request a Lefty's Oktoberfest!
Oct 31, 2017

Boone757 from Virginia
3.84
/5
rDev
-2.5%
vibe: 4 | quality: 3.75 | service: 3.75 | selection: 4 | food: 3.75
Sep 22, 2016

dwoolley1 from New York
4.39
/5
rDev
+11.4%
vibe: 4 | quality: 4.5 | service: 4.5 | selection: 4.25 | food: 4.5
Mar 12, 2016

Redwood21 from Virginia
3.45
/5
rDev
-12.4%
vibe: 2.5 | quality: 3 | service: 4 | selection: 4 | food: 3
This was a good place. Seems low key and has the standard assortment of sandwiches and appetizers. I can attest to the cheese steak and calamari, it was above par but not spectacular. the beer selection was not immense, but what they did have was for the most part great beer. i had a stone ruination ipa, which for the type of place this is impressed me. the prices were not too steep either though i have been places of similar caliber for cheaper. I do wish the beer list was longer, it would make this place more of a find. as it is, its a good little local joint that has an almost picnic atmosphere with good beer
Oct 31, 2007
brentk56 from North Carolina
3.6
/5
rDev
-8.6%
vibe: 2.5 | quality: 4 | service: 3 | selection: 4 | food: 4
Let's be honest about this place. There is only so much you can do with the atmosphere of a converted Long John Silver's and the owner hasn't done much other than to hang some photos of famous left-handed people. Who knew that so many of the presidents in the last 50 years were lefties?
But get beyond the atmosphere as unless you live in Blacksburg, the reason why a BA would come to Lefty's is because you just drove from somewhere else to go to Vintage Cellar and now you need to get a bite to eat. Since Lefty's is within a block of Vintage Cellar it's a pretty good choice to get a little fortification for the road.
Other's have complained about the bottle selection being boring but I think that is deliberate as no place that offers the draft selection this place offers would be so naive to offer plain jane bottles without some good reason. Since the BA's will order draft, that's why the drafts are carefully selected. Other patrons who have never heard of the drafts will run to the safety of the macro brews in the bottle. I have a hunch the economics work pretty well on this, too. When I was there, only three drafts were available: Doggie Style, Stone IPA and Brooklyn Chocolate Stout - not many choices, but something for everybody.
Again, this place is not a beer bar. It is really a lunch spot - burgers, sandwiches and salads - where you can get a good beer.
And I have to say that Lefty's serves good lunch food. At our table, we had a selection of soup, salad and sandwiches and everybody agreed that it was surprisingly good. A particular favorite was the roasted eggplant, roasted red pepper and goat cheese on grilled sourdough bread.
It's great to have a decent place to grab a bite and a brew before heading back from your pilgrimage to the regional beer mecca that is Vintage Cellar.
Nov 29, 2004
TinusTime from Virginia
3.95
/5
rDev
+0.3%
vibe: 3 | quality: 4 | service: 4.5 | selection: 3.5 | food: 4.5
Went here on my recent trip down to Blacksburg. Lefty's is a fairly non-descript sandwich shop in what used to be a Long John Silvers. Simple tables and benches . Four beers on draft were Stone IPA, Flying dog Pale, Old 38 Stout, and Brooklyn Lager. Bottles run the Macro Gambit with SNPA also in there. The best thing about the beers is the price. 3 bucks for a 16 oz pint of Stone IPA is hard to beat. The service was nice and attentive. The food was good. The Philly Cheesesteak was quite good and an interesting twist on the sandwich. Overall if you want a good sandwich and a good beer at a great price to wash it down with I would recommend lefties.
Sep 16, 2004
JISurfer from South Carolina
4.2
/5
rDev
+6.6%
vibe: 3 | quality: 4 | service: 4.5 | selection: 4.5 | food: 4.5
Not a bad little shop at all. Very clean and roomy. Not much to the atmosphere, except for the pics of famous left handed people, which was kind of cool. Other than that, it was kind of stale, so I was being a little nice with the 3. The Service was wonderful. The waitress was always there to help out and offer selections, and refill drinks and such. Some of the best service I have had in quite sometime. The only thing that, was that she called the Brooklyn Lager they had on tap, Brooklyn Layger. I thought that was little funny, but oh well, no big deal. I'm not going to be too nit picky. The beer selection in bottles was average, but the beer selection on tap, while small, was wonderful. Doggie Style, Yuengling, Old No. 38 Stout, Stone IPA, and Booklyn Lager. Cheap too! The most expensive was the Stone and Old 38 at $3. The food was great too! Nice big, juicy burgers. Mmmm, oh so damn good. After I finished eating, I was actually full. Prices on food were ok, burgers were around $6.50, which is high, but average anywhere you go. You do get a lot to eat though, so it's worth it.
Aug 16, 2004

GCBrewingCo from North Carolina
3.8
/5
rDev
-3.6%
vibe: 4 | quality: 4 | service: 4 | selection: 3 | food: 4.5
I walked into Lefty's and was greeted by a sign saying to seat yourself. On the wall was a chalkboard of their specials. Two soups and two pasta and/or meat dishes. The soup prices are on the menu, the pasta/meat dishes were listed as $12.95.
I picked a spot and spyed an occupancy rating or 40. It is a small joint. There was no smoke and the atmosphere was cozy. If I could have toned down the family table in the center all would have been well. You get one boisterous mother in the middle and all heck breaks loose in Lefty's.
Onward to the beer. The Stone IPA was out. I opted for a few of the Blacksburg Oatmeal Stouts. They also have Flying Dog Doggie Style on tap and Yuengling. In bottles the selection is kinda boring. SNPA is the only thing to get excited about. When the Blacksburg keg floats I wonder what they will put in it's place since they are now kaput.
The food, I opted for soup and a sandwich, was served in a basket. The soup actually came in a cup, but the sandwich was in a narrow basket with the side dish propped up at one end. A more difficult eating scenario could not have been crafted. The food was actually pretty darn good. I would like to try some other items and perhaps some of the specials.
The service was attentive, but she asked if I was ready for the check before I had even finished my meal. I could not figure out why she would be sort of rushing me when there was only one other table, the one I mentioned already, in the place and it was not late by any means. Very attentive service no matter how you slice it, but a little more laid back attitude would go a long way.
Lefty's is named for the owner being left handed. I noticed on the walls the place is broken out into sections of pictures...the presidents - actors - musicians- etc...turns out they were all supposedly left handed. Anyway, that is the origin of the name. I did not meet the owner, but I did overhear him tell the other group there that he had been in Blacksburg about 3 years.
Someone in the area should have a sit down with Lefty and get his draft selections nailed down and a more interesting bottle list. It wouldn't take much to make this the place to be with the food and the beer they would definitely have the whole package.
Jun 17, 2004
Murph from Arizona
4.18
/5
rDev
+6.1%
vibe: 4 | quality: 5 | service: 4 | selection: 3.5 | food: 4
Well, let me start by saying this really isn't a beer bar because it actually has no bar at all. It was originally a Long John Silvers that got converted into a very informal eatery. Atmosphere is really laid back with some, usually equally laid back, music playing in the background. The quality of the brews is exceptional but since they just opened I would expect nothing less. Service has been at worst, average. I've been in once when they were short staffed and the owner himself is out on the floor taking orders and doing everything else but the service didn't lack. Now the selection of brews is limited. They only have 4 taps. Somehow, amazingly, though there is no crap on tap! Stone IPA, Blacksburg Oatmeal Stout, Redhook Blonde, and Doggie Style Pale Ale. Now, while the blond and the pa are not two of my favorites I have a lot of respect for someone doing this kind of beer selection in southwest Virginia. They do have a few macro bottles but also some SA and SN as well. The food has been very good on all of my trips. Not much difference as far as types of food, sandwiches and burgers, than what you would find on a regular bar type menu but definitely with a bit of a different spin. My favorites have been the Turkey Rueben and the Smoked Turkey Club with turkey and prosciutto. I pu them at a 4.0 not for lack of quality but for smaller selection. Also, try their soups, excellent everytime so far. One last point is the value at this place. I don't think that there is a single thing on the menu more expensive than 7.95 and most are less than that. While those aren't knockout prices for sandwiches the most expensive brew is the Stone at $3 a pint with everything else going for under $3. Pretty good as far as I'm concerned especially for the quality of what you're getting.
May 09, 2004
Lefty's Main Street Grille / Right Mind Brewing in Blacksburg, VA
Brewery rating:
4.02
out of
5
with
8
ratings