Beverage Plus 2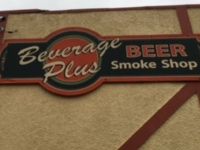 PLACE INFO
Type:
Store
17 South St
Warwick
,
New York
, 10990-1325
United States
(845) 986-8855 |
map
Notes:
No notes at this time.
Added by Billolick
Reviews: 12 | Ratings: 17

4.11
/5
rDev
+3.3%
vibe: 3.75 | quality: 4 | service: 4.25 | selection: 4.25
This establishment is a mecca for those of us from south of the border (i.e., New Jersey). It features and excellent selection of craft beers from New York and around the country, including many that are not distributed in New Jersey. The staff is friendly and very helpful. I make several visits each year.
310 characters
4.93
/5
rDev
+23.9%
vibe: 5 | quality: 5 | service: 4.75 | selection: 5
I've lived in Warwick for over 10 years and this place has always been great. They are really nice folks and will help you find something to fit your taste. Their selection is great and they are always offering up unique beers. They moved their location recently (to right next door) and the concerns about beer being in the windows has been addressed. They also have occasional tasting from Northeast brewers which is great. Highly recommend if you're in Warwick.
465 characters

4
/5
rDev
+0.5%
Ran into this place on my way back from pumpkin picking. I had seen that they had some Jai Alai in-stock on beermenus.
These gents made me feel real good about being in their store. Really nice people all around. Super helpful. I will return when I'm up in that area for sure.
1 thing to note... check bottle dates before you check out. I picked up a bomber (IPA) without checking and when I got home noticed it was 2 and 1/2 years old. Yikes...
449 characters
4.28
/5
rDev
+7.5%
vibe: 4 | quality: 4 | service: 5 | selection: 4
After entering the threshold into the town of Warwick, I had great expectations. Thirsty, I entered the subtle, yet quaint, Beverage Plus on the corner of South Street. For a small New York beer store, they had more of a selection than I could have hoped for. Elegantly placed along the sides of the emporium was a multifarious selection of brew. Me, being a bit of a beer nerd, was in nirvana. Not only was I satiated with the selection, but with the service. A young gentleman, who they called Parmigiana, showed me the newest brews that the store had to offer. Happily, I selected several brews that were equally as satisfying as was the service. Defending the plus part of the store's name, their gum collection was shocking. (Out of town, I needed my usual gum) I recommend this beer store to anyone in the area, out of town or local.
839 characters
4.9
/5
rDev
+23.1%
vibe: 5 | quality: 5 | service: 5 | selection: 5 | food: 4
from my first visit to this store, I immediately felt like a kid in a candy store. I was blown away by their vast selection of tasty microbrews and belgium beers. I always encounter exceptional service from the two owners, Nayant and Joy, as well as the manager Kurt who always cracks me up with funny one liners. last time I went, a new guy working there named Ray put me on to a great beer, Ballast Point Sculpin IPA. I was hooked like a fish on fishing rod, similar to their logo. the store has been radically re-designed, with new racks and improved inventory of quality products. I would recommend this fine establishment to anyone with a good pallet for beers, and not to mention they have great beers on tap for growler fill ups that are rotated consistently. you owe it to yourself to stop in, you'll soon become a frequent customer as I already am. cheers.
865 characters
4.44
/5
rDev
+11.6%
vibe: 4 | quality: 4.5 | service: 4.5 | selection: 4.5
This is becoming my favorite beer store. The selection is second to none and They get different products in weekly. The growler pours are key, and there is always two that I want, perhaps I need to get another growler. The last time I was in they had Dogfish Head 60, 90, and Old School on the taps. They had a Dogfish Head rep in. The time before was Troegs Nugget Nectar, and Southern Tier Oak Aged Unearthly IPA and two others that I can't remember. The service is unbeliveable and very friendly. If your in the area stop by and check it out.
545 characters

5
/5
rDev
+25.6%
you don't walk into a store for the time and are treated like a long time customer very often, but that's exactlly what my expierence was at this great store. Both Nayant and Joy greeted me when I walked in the door and asked me right away if I needed help asking me about styles I prefered and brands. I thought this was great !!! I never have been given such personal attention especially at a Beer store where it's common place to get in get out. Nayant gave me a tour of the store and showed me multiple great import and craft brew selections for the style I selected. This store was on the smaller side but had a selection that is hard to beat anywhere around here. They had at least a 50% ratio of craft / micro brews on hand and a decent selection of the standards ie. budd, coors, miller. they have a cold section which was stocked great smuttynose, DFH, West coast, Lagunitas etc etc etc... but the best part they have taps on the wall that they fill Growlers with !!! you can get a few different style selections and choose different size growlers to take home and bring back to refill. seriouslly these guys know what their talking about one talk with either gentlemen shows this easily their selection is great service is outstanding and if you live around Warwick NY you got to give this store a visit.
1,315 characters
4.5
/5
rDev
+13.1%
I really like the selection they have in the cold refrig. Also, the taps are cool - but - could use more people drinking from them!
I really like the selection they have in the cold refrig. Also, the taps are cool - but - could use more people drinking from them!
I really like the selection they have in the cold refrig. Also, the taps are cool - but - could use more people drinking from them!
I really like the selection they have in the cold refrig. Also, the taps are cool - but - could use more people drinking from them!
530 characters
3.5
/5
rDev
-12.1%
Not a bad little beer store, though I was mortified to find that they had shelves of bottled beer displayed in the window. The window seems tinted so the sun probably doesn't do a lot of damage to their product, but still I was reluctant to buy anything in the window. They have a decent amount of cold stuff in the fridges and a fairly good selection for such a small place.
Also the staff is friendly and seem reasonably knowledgeable.
It's convenient for me since I live in the area, but I don't know if I'd necessarily seek this place out if I didn't live in the region.
576 characters

3.95
/5
rDev
-0.8%
Located a block off the main drag in Warwick, with an unassuming corner bodega type look to it.
The selection was pretty expansive for a small cramped space. Tons of bombers of local and west coast beer - Stone, Rogue, Lagunitas, Sly Fox, Weyerbacher, Southampton, Moylan's etc., which were reasonably priced. The six packs, however, were for the most part overpriced by at least 2 bucks.
One problem I did notice was that a lot of the stock is kept in the windows, so I would imagine it is damaged goods.
The owner was super nice however and gave me a free Newcastle Imperial pint glass. Worth a visit if you are in the area.
630 characters
3.4
/5
rDev
-14.6%
I used to work at this store so I can give you and insiders look as well as that of a customer. Don't wory I quit six months ago. Service is good selection is great and as far a beer knowlege well how about an A for effort. One thing he does is buy large quantites of craft beer because he gets a deal with BMC this makes sense but not with good beer which will spoil. Keep pointing out the beer in the window problem to him. I did get one bad six pack from him and he will take back bad product but still. All in all not a bad store just be carfull what you buy (ask whats new)
578 characters

4
/5
rDev
+0.5%
In the past 6 months or so this little place has added a ton of new stuff. Quality singles in the coolers, a variety of domestic micros, hard to find belgians etc etc. The most exciting new addition is four taps for Growler pours! When I was last in they had Smithwicks, DFH Raison D'etra, Magic Hat #9 and Mendicino IPA. On the down side, Some of the bottles were exhibing too much dust and some were in a sunny window. I picked up a bomber of Allagash Quad and a 4 pack of Druid Fluid Barley wine. This is a place that is trying hard to push the beer envelope in an area with alot of hard core macro drinkers. Check this place out if youre in the area.
654 characters
Beverage Plus 2 in Warwick, NY
3.98
out of
5
based on
17
ratings.