Smoked Lager
| Craft Microbrewery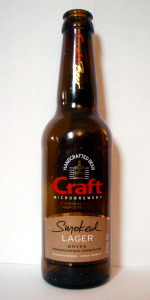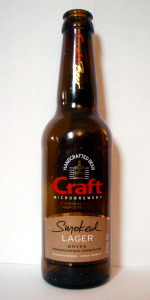 BEER INFO
Brewed by:
Craft Microbrewery
Greece
Style:
Rauchbier
Alcohol by volume (ABV):
5.00%
Availability:
Year-round
Notes / Commercial Description:
No notes at this time.
Added by donaldchapman on 07-14-2008
This beer is retired; no longer brewed.
Ratings: 14 | Reviews: 11
Reviews by rowyn:
More User Reviews:
4.15
/5
rDev
+9.5%
look: 4 | smell: 4 | taste: 4 | feel: 3.5 | overall: 5
On vacation in Athens past September. Poured into pint glass.
Orangy pour, ample white layer. Actually laced ok.
Campfire, peat, wood, bit of bacon. Good caramel malt component.
Taste was smoked malt, some caramel, toffee. Hint of citrus hops to keep it clean. Had no expectations, this was quite good.
Mouthfeel was a little thin, in turn this was very drinkable. This went down real easy on a warm late summer afternoon.
Easily the best brew I had on the whole trip. Italian beers were a little lacking.
510 characters
2.72
/5
rDev
-28.2%
look: 2.5 | smell: 3 | taste: 2.5 | feel: 2.5 | overall: 3
Pours amber with a short-lived, sudsy head.
Nose shows some smoke with bacon characters, along with light fruity hops, bready malt and a soft cooked vegetable note.
Flavours continue along those lines: bready, grainy malt with cardboard character, campfire smoke and a light fruity lilt towards the end.
Very watery body.
I prefer more sweet malt in my smoke beers.
365 characters
3.95
/5
rDev
+4.2%
look: 4 | smell: 4 | taste: 4 | feel: 3.5 | overall: 4
poured into the brewery tall pils glass at the brewpub in athens 6/30/11 (riots what?)
A - bright amber, a bit lighter than anticipated. crystal clear body, 1-2 finger medium frothy head that dissipated rather fast, not a lot of lacing on the glass.
S - sweet beechwood smoke, though done with a much more subtle hand than many of its kind. Some sweet caramel malts and cleaner finishing character.
T - follows aroma, nice sweetness with the smoke, cleaner finish than expected. some sharpness from the smoke.
M - medium-thinish body. not as substantial as I would have liked, med carbonation.
D - highly drinkable due to light body and smoke character that isnt domineering. a nice flavorful yet crisp refreshing beer on a hot Athens day after running from demonstrations and riot gas.
great to see a haven of beer in the land of wine and ouzo.
851 characters
3.33
/5
rDev
-12.1%
look: 3.5 | smell: 3 | taste: 3.5 | feel: 3 | overall: 3.5
A clear orange brew, an off-white, some lacing occurs.
A sweet malty aroma, some oranges and a bit smoke, sausage style.
The taste is more sweet than the smell, acidity like grapes, some sherry flavors, a mild smoky nuance.
Medium carbonation, a bit watery.
A very discrete smokiness, a bit bland.
301 characters
4.25
/5
rDev
+12.1%
look: 4 | smell: 4 | taste: 4.5 | feel: 3.5 | overall: 4.5
Pours clear light copper with large and dense head. Aroma is mostly smoked cheese with bits of hops in the background.
Taste reminded me of smoked goat cheese and bacon, it became more intense towards the end of the glass, very well balanced with sweetish malt. Mouthfeel is light-medium with about moderate carbonation.
Overall, very enjoyable smoked beer, I liked the unusually intense and pleasant smoke character.
419 characters
3.7
/5
rDev
-2.4%
look: 3.5 | smell: 3.5 | taste: 4 | feel: 4.5 | overall: 3
Poured into a 500mL pilsner glass from the tap at the Craft Microbrewery in Athens Greece.
A: Pure clear gold color with one finger of slightly offwhite frothy head with OK retention.
S: Soft aroma of smoked pork and some roasted malt. You can smell this from the other side of the table.
T: Huge meaty flavor here, with the most prominent being bacon or prosciutto ham. Way in your face taste. Some woodiness in the finish. The meaty taste dominates everything, but there is some touch of bitterness in the middle. As the beer warms a bit and the palate becomes accustomed to the flavor, a bit more bitterness comes through, making it slightly more balanced.
Overall: A surprisingly flavorful, medium bodied lager. Not too bad but one is enough for the time being. The beer is not too heavy, but the flavor is really in your face. A nice offering from Craft.
863 characters
4.56
/5
rDev
+20.3%
look: 3.5 | smell: 5 | taste: 5 | feel: 3.5 | overall: 4
Wow, out of all the beers I had in Greece (there are not many mind you) this one by far is the best. In fact out of all of the smoked lagers this one is the best I have had.
Appearance - is average at best, golden brown with about a fingers width of head at the top. Leaves only a very light lacing.
Smell - To me this is what makes this beer great. You smell the smoke of course but there is a clean smell to it. To many smoked beers smell like a bottle of liquid smoke and this one does not.
Taste - Has a smoked hoppy/malt flavor very nicely balanced. Thing to note is that that the smoke does not outstrip the other flavors.
Mouthfeel - Not much above average here, medium carbonation
Drinkability - Well I went back to this place 3 times and this was the main reason. This is a very pleasant drink to have. Not to carbonated and not to smoky to drive you away.
This is a very finely balanced beer and they deserve a lot of credit for getting the smoky taste right were not many others have succeed. (especially in a lager)
1,037 characters

2.83
/5
rDev
-25.3%
look: 3.5 | smell: 3 | taste: 3 | feel: 2 | overall: 2.5
Tasted from a 33 cl bottle bought in Greece.
A - The beer is golden-orange and clear. It has an off-white head that is initially thin and settles to a tiny layer and a ring of bubbles made of extremely tiny bubbles. Good lacing by the same bubbles.
S - Aroma is fairly nondescript. It almost smells like a standard European lager without much malt, but there is a strange note that I can identify as smoke mostly because I was expecting it. The smoke is not as prominent as I expected.
T - Taste is understated. Little malt or hops comes through. It is a very neutral lager to which smoke flavor has somehow been added. The smoke is very prominent in mid-palate but fades quickly to a mild aftertaste. It seems to be wood smoke, not peat, and is reminiscent of Rauchbier-type smoke. The smoke tastes a bit chemically and I suspect it is from artificial flavoring and not smoked malt.
M - The body is thin. The carbonation gives a harsh bite and there is a bit of a chemical-tasting coating in the mouth after swallowing.
O - This seems to be a very non-descript, "drinkable" lager with smoke added. While it is more interesting than the average Greek beer, it is just not very tasty.
1,188 characters

4.39
/5
rDev
+15.8%
look: 3.5 | smell: 4.5 | taste: 4.5 | feel: 4 | overall: 4.5
Wow, this one really caught me off guard. After having had a few of the local offerings in Greece, I tried this on tap at Zythos in Athens, and I wasn't expected too much. It starts out fairly innocent with a clear golden amber pour with a bubbly head that had decent retention and little lacing. The smell really kicked it up a notch. Big smoked malt aromas with smoked bacon and wood with some light hops in the nose as well. Then the taste just keeps it coming with huge smoked hickory and bacon tastes balanced very well with the hops and malts. The mouthfeel is light to medium-bodied with lots of carbonation. This is one of the best smoked beers I have tasted to date and kudos to Craft for this hidden gem. A great beer.
728 characters

3.58
/5
rDev
-5.5%
look: 3.5 | smell: 3 | taste: 4 | feel: 3.5 | overall: 3.5
Beer brought back from Greece for me by my cousin.
A: 1/8" white head over copper liquid with good clarity.
S: Smoke, smoke and more smoke.
T: Overpowering amount of smoke at first which I became accustomed to. This smoke flavor along with bacon and wood turns to a semi-sweet corn finish.
M: Medium viscosity and a high level of carbonation.
O: A strange beer in that I found it overpowering at first, but settled into it and liked the flavours more the more I had.
471 characters

4.3
/5
rDev
+13.5%
look: 4 | smell: 4 | taste: 4.5 | feel: 4 | overall: 4.5
A - Deep Gold color, with brilliant clarity, and frothy head.
S - Noticeable smoke aromas, with some malty notes.
T - Malty sweetness (Toasty, caramel), with a slight smoke flavor up front that increases through the taste. Very well balanced.
M - Good carbonation, medium light body, clean and refreshing.
This beer surprised me, the malt and smoke balance in this to make an exceptional brew. The smoke starts out very light at first and then grows. It is very well balanced!
482 characters
Smoked Lager from Craft Microbrewery
Beer rating:
57.1%
out of
100
with
14
ratings