Black Lager
| Craft Microbrewery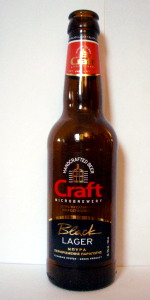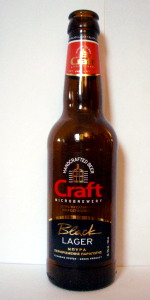 BEER INFO
Brewed by:
Craft Microbrewery
Greece
Style:
Schwarzbier
Alcohol by volume (ABV):
5.00%
Availability:
Year-round
Notes / Commercial Description:
No notes at this time.
Added by BlackHaddock on 09-26-2008
This beer is retired; no longer brewed.
HISTOGRAM
Ratings: 11 | Reviews: 10
2.83
/5
rDev
-19.8%
look: 4 | smell: 3.5 | taste: 2.5 | feel: 2.5 | overall: 2.5
This brewery doesn't mess around with fancy names. The four fonts on offer at the only bar I've seen this beer at were: Lager, Black Lager, Red Ale and Weiss Bier.
Poured into the breweries own glassware, this beer was jet black with a good tan head on top. It looked impressive sat next to the nuts and warming in the early evening sun by the harbour in Chania, Crete.
The aroma was all about roasted and burnt malts, as was the taste. Sadly it was just like drinking a watered down, fizzy Porter or Stout. There was no creaminess or rich body to it at all. It was a lager, but black and with a smell (unlike most lagers).
The beer just didn't feel right, it looked so wholesome and inviting, but failed to live up to its looks. It was too fizzy and lacked body.
772 characters

3.21
/5
rDev
-9.1%
look: 4 | smell: 3 | taste: 3.5 | feel: 2.5 | overall: 3
Pours a four finger tan head that fades slowly leaving traces of lace. Black color, no highlights. Light-medium carbonation and light-medium bodied. Oak nose. Flavor is a smokey oak and subdued caramel. Best by Dec 2009. €1.45 ($2.06) for a 330ml bottle from a supermarket in Athens, Greece.
292 characters

3.35
/5
rDev
-5.1%
look: 3.5 | smell: 3.5 | taste: 3.5 | feel: 2 | overall: 3.5
A: 1/4" mocha coloured head over cola coloured liquid.
S: Yeast and toasted malt.
T: Bitter coffee which transitions to toasted malt and yeast.
M: Thin viscosity and low carbonation.
O: A decent schwarzbier that could benefit most from a better mouthfeel.
259 characters
3.42
/5
rDev
-3.1%
look: 3 | smell: 3.5 | taste: 3.5 | feel: 3 | overall: 3.5
Pours dark brown with a very small head.
Nose shows lots of nice dark chocolate and caramel, but very clean underneath.
Flavours suggest coffee, cocoa and roasted malt with some faint sweet caramel underneath.
Carbonation could be lower.
Nice, very easy drinking.
263 characters
3.46
/5
rDev
-2%
look: 5 | smell: 4 | taste: 3 | feel: 3 | overall: 3.5
Saw this poured, and how dark it was, and immediately I was excited. They call it a lager but it pours more like a porter or stout.
Appearance - Black with no light passing through. good tan head on top. Looks like a very nice stout or porter. Nice amount of head but with even less lacing then their other beers.
Smell - Malts is all I could think of here.
Taste - Now I know why they call it a lager. There is not much to this beer to make it stand out. It probably has something to do with the appearance you are expecting more out of this beer.
Mouthfeel - Light with more carbonation than I expected.
Drinkability - Even though it said lager my mind was thinking porter I think. This is not a bad lager, but really expected more out of and with the amount of carbonation it had I made it a one time only drink. (craft brewery has quite a few other offerings that are better)
889 characters
3.53
/5
rDev 0%
look: 4 | smell: 3.5 | taste: 3.5 | feel: 3.5 | overall: 3.5
Pours black with large and foamy brown head that slowly fades to dense layer, patchy downsliding lacing. Aroma is a bit sharp burnt malt.
Taste is sweetish roastiness with hints of lemony sourness, long lasting burnt aftertaste. Mouthfeel is light with moderate carbonation.
The beer felt somewhat too plain and even watery. It is possible I had some other expections as it has very stout-like appearance.
407 characters
3.65
/5
rDev
+3.4%
look: 4 | smell: 4 | taste: 3.5 | feel: 3.5 | overall: 3.5
Pours opaque black edges in rusty brown with a creamy tan porter-like head. Tar, barrel and fig nose. Date, smoke and dark malts, a flinty middle and slight herb and grass hops in mostly dead bottom half. Spritzy brown sugar finish and licorice linger. Thin but creamy, some chew, fizzy.
Body doesn't match the nose. Awkwardly falls between a schwarz- and a Baltic Porter. Interesting, but too light to hold up the darker flavors.
432 characters

3.77
/5
rDev
+6.8%
look: 3 | smell: 3.5 | taste: 4 | feel: 3.5 | overall: 4
Bottle purchased in Athens.
Pours a dark, dark brown out of the bottle with a small, rocky tan head that hung around for a little while with no lacing. The smell is dominated by roasted malts with hints of both coffee and smoke. The taste is much sweeter than the aroma would indicate and has a sizable caramel malt backbone with a noticeable smoky roasted character. Mouthfeel is creamy but with strong carbonation. I really enjoyed this beer though I would put it a notch below the smoked lager from Craft.
509 characters
3.88
/5
rDev
+9.9%
look: 3.5 | smell: 3 | taste: 4.5 | feel: 3.5 | overall: 4
Poured into a 500mL pilsner glass from the tap at Craft Microbrewery in Athens Greece. Drank with a chocolate pannacotta from the brewpub.
A: The beer is a dark brown color with clear brown at the bottom of the glass. Head is 2 fingers, light tan, fothy with ok retention.
S: Chocolate, some roasted malt, a odd hint of soy sauce. Not too much else here.
T: First taste is creamy with milk chocolate notes, with a light taste of berries in the midpalate - cherries or raspberries dipped in a light chocolate. Finish is clean with a lingering creamy taste. The pairing brought out some slightly bitter notes of maybe cafe au lait and cola.
F: Very creamy but not eavy. Lightly carbonate, somewhat thin.
D: Great beer with a lot of taste and high drinkability. Good after dinner beer with a light dessert.
808 characters
4.27
/5
rDev
+21%
look: 4 | smell: 4.5 | taste: 4 | feel: 4.5 | overall: 4.5
served on tap at the Athens Brewpub.
A - deep black with some ruby highlights at the bottom of the tall glass. clean and clear. Thin but tight off white head. pretty decent lacing sticking to the glass.
S - sharp roast malts with some bitter dark chocolate, only a light sweetness. didnt pick up on any fruitiness, rather clean.
T - rich and roasty/ toasty up front. good round but clean sweetness in the middle, softened quickly towards the end to a quite a clean finish with only a little malingering of black coffee.
M - quite pleased with the creaminess of the body and fullness on the palate while not feeling too heavy for the style and still being refreshing.definitely more substantial than other brewpub schwartzbiers I've sampled.
D - overall a very strong offering from Craft thats rich and flavorful yet refreshing. a nice and easy session beer.
862 characters
Black Lager from Craft Microbrewery
Beer rating:
3.53
out of
5
with
11
ratings