Gold Digger Golden Ale
| Silver City Brewing Co.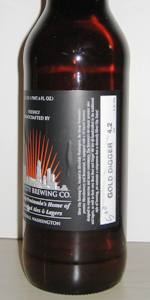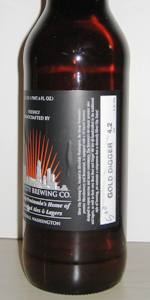 BEER INFO
Brewed by:
Silver City Brewing Co.
Washington
,
United States
silvercity.beer
Style:
American Blonde Ale
Alcohol by volume (ABV):
4.20%
Availability:
Year-round
Notes / Commercial Description:
No notes at this time.
Added by RedDiamond on 08-27-2006
This beer is retired; no longer brewed.
HISTOGRAM
Ratings: 6 | Reviews: 6
Reviews by deanhead:

3.83
/5
rDev
+3%
look: 4 | smell: 3.5 | taste: 4 | feel: 3.5 | overall: 4
This beer poured a really nice golden color, with a few bubbles clinging to the glass. The first few sips it eminated a grainy, earthy taste with an almost vegetable like finish. Perhaps a very slight hint of DMS wihch actually disappeared as the beer warmed up in my hands. It had a really nice clean hop finish.
Nice medium bodied beer. Crisp and clean, a brilliantly clear beer. Yet another tastey brew form the guys at Siver City
434 characters
More User Reviews:

3.1
/5
rDev
-16.7%
look: 3 | smell: 3 | taste: 3 | feel: 3 | overall: 3.5
Pours a clear light golden yellow with a medium light head. Leaves a 2-3 cm lace above the head. Smells strongly of flowers and citrus. Taste is bright, malty and a bit too "citrus-y" The lemon/orange/clove just seems to be such a strong note, that it detracts from the balance of the beer. There are some tasty hops in there but you don't really notice them. The feel is light, carbonated and refreshing. A good summer beer to pair with something heavy. Certainly refreshing, and if you like citrus, a good beer. Worth a swig.
527 characters
3.98
/5
rDev
+7%
look: 4 | smell: 3.5 | taste: 4 | feel: 4 | overall: 4.5
This beer came out a pretty, light straw golden color, with a generous sparkling head.
I wasn't expecting an overload of scents, but more came than expected. Sweet and floral, primarily. The menu description mentioned that it was generously hopped, or something to that nature. Must be what I smell.
I liked the taste, especially for such a light beer. The floral hops were still there, subtle but very tasty. Not enough to drown out the light, toasty hops. A very easy drinking beer.
Mouthfeel was light and smooth, almost creamy. Balances the delicate flavors. This is not an overpowering beer by any means, but it still draws you in. I'd qualify this as definitely sessionable. 4.2%, easy flavors that would compliment a lot of food, yet good on its own. Go for it.
777 characters
3.83
/5
rDev
+3%
look: 4 | smell: 3.5 | taste: 4 | feel: 3.5 | overall: 4
A 22 oz. bottle poured to a pint glass. Label is a generic one from Silver City Brewing, with "GOLD DIGGER 4.2" rubber-stamped down the right side. Picked this up a few weeks ago at By the Bottle, Vancouver, WA.
A: Clear and perfectly golden-yellow. Ample carbonation pours to a creamy white head, which starts around a finger and fades to a pock-marked film. Lace sticks in pretty bands.
S: Light grainy/yeasty sweetness, crisp and clean. Gentle lemon zest hoppiness but most notably grassy and somewhat flowery.
T: Bready malts followed by a lemony & grassy hop bite. This one is nicely balanced, with a back-and-forth hop/malt/hop/malt thing going on in my mouth. Finishes with a little spice and becomes dry and a little bitter/herbal.
M: Mellow mouthfeel that spreads nicely and a dry bitterness that lingers quietly. Light-moderate carbonation, clean, refreshing. A little sticky sweetness remains on the lips.
D: Quite easy to drink, a pleasing little session-type beer with good flavor. Next time I'd pair this with some spicy food, but this went down well today after some light yardwork and basement cleaning...recommended.
1,148 characters
3.85
/5
rDev
+3.5%
look: 4 | smell: 4 | taste: 3.5 | feel: 4.5 | overall: 4
I bought a bomber of Silver City Gold Digger while visiting the brewery a couple of months ago. Poured in to a pint glass.
Pours a pale gold color and is crystal clear. Frothy white head. Effervescent appearance with many many bubbles rising in the beer.
Smell sweet, floral or soft fruit smelling. There is a little grain aroma, but the sweet fruity fragrances dominate.
Taste is a citrus bread flavor. A little yeast note, and then a dry bitter finish.
Mouthfeel is zippy, a highly carbonated beer, with a crisp clean character.
A very drinkable beer. Light, refreshing, sessionable, would go with most any food as well.
627 characters
3.71
/5
rDev
-0.3%
look: 4.5 | smell: 3.5 | taste: 3.5 | feel: 4 | overall: 4
A visually gorgeous beer of bold colors: bright clear yellow topped by dazzlingly white suds. Gold Digger is a light session beer but is not weak in temperament. Both the aroma and taste are yeasted-defined while the flavor closes with blunted bittering. Some may find the yeast properties excessive, but I found the flavor highly complimentary to spicy food. Easy drinkin'.
374 characters
Gold Digger Golden Ale from Silver City Brewing Co.
Beer rating:
3.72
out of
5
with
6
ratings