Beautimus
| Silver City Brewing Co.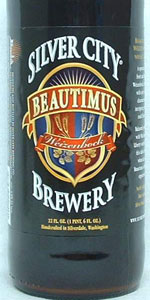 BEER INFO
Brewed by:
Silver City Brewing Co.
Washington
,
United States
silvercitybrewery.com
Style:
Weizenbock
Alcohol by volume (ABV):
6.80%
Availability:
Winter
Notes / Commercial Description:
No notes at this time.
Added by RedDiamond on 12-24-2008
This beer is retired; no longer brewed.
Ratings: 7 | Reviews: 6
Reviews by blackc5:
4.03
/5
rDev
+1.3%
look: 4.5 | smell: 4 | taste: 4 | feel: 4 | overall: 4
Poured a 22oz bottle into a tulip at about 50F. Nice thick offwhite head and delicate lacing that lingers. Pours a fairly dark brown. Aromas of spice, roasted malt, some sweet caramel or honey, and of course wheat. Just a bit of herbal hops in the nose as well.
Tastes great - definitely lots of roasty toasty malt and clove. Yeasty, yet nicely balanced with just a hint of bitterness. Even though I poured it at 50F, I thought it improved further as it warmed. Very smooth, moderately carbonated and easy to drink. Alchohol is very well hidden.
Another winner from Silver City IMHO - I am really gaining a lot of respect for this brewery.
643 characters
More User Reviews:

2.8
/5
rDev
-29.6%
look: 3 | smell: 3 | taste: 2.5 | feel: 3 | overall: 3
pours a hazy dark brown with a very small tan head, and a thin lacing.
smell is of malt, fruit, some caramel, and nuts.
taste is watery, tangy, malt, burnt toffee, spice, and a little fruit, ends a little tart.
overall not that great of a weizenbock.
253 characters

4.15
/5
rDev
+4.3%
look: 3.5 | smell: 3.5 | taste: 4.5 | feel: 4 | overall: 4.5
22-oz bottle poured into a tall Kapuziner Weisse glass, created about 1/3-inch head that dissapated within minutes.
Yeasty, clovey aroma.
Smooth palate. It was a bit lighter than Aventinus weizenbock, in that it didn't make my belly feel full.
Caramelly-roasty malts balanced with spicy hops. Yeasty, with a bubblegum-banana fruitiness and clove. Notes of sassafras.
Yum!! I would like to have this again. I wish it were more readily available, and not limited to just wintertime.
484 characters
4.09
/5
rDev
+2.8%
look: 3.5 | smell: 4.5 | taste: 4 | feel: 4 | overall: 4
22 oz bottle, poured in a big wine glass at 56 F/ 13 C.
Attractive red-brown color like rosewood, clear, with a beige head that fizzes away. A few specks of lace. The first glass is quite clear, but there's a good yeast down there for the next glass.
Big sweet aroma, loads of ripe banana and spice, along with healthy doses of honey and apple, and some underlying woodsy, herbal, earthy notes. Pure and good. Clove is especially prominent in the second, yeasty glass.
The flavor matches the aroma, with more sweet golden apple, and a bit of solvent. Plenty of spice, mainly clove. Overripe banana is certainly noticeable, but well integrated with the apple and solvent flavors. Nice mild honey flavor, especially in the finish, along with a touch of astringency that helps balance the sweetness.
A bit fizzy, but a swirl or two renders it cushy and smooth, nice and wheaty.
Good aggressively stylized beer, I enjoyed this.
928 characters
4.35
/5
rDev
+9.3%
look: 4.5 | smell: 4.5 | taste: 4.5 | feel: 4 | overall: 4
Serving type - 22 oz Bottle into pint glass
Appearance - Pours a deep, dark brown, with a nice, off white foam head, and a leaves a thick, creamy lacing.
Smell - Smells of spicy cloves, banana, dark fruit, and wheat. Just like the German weizenbocks.
Taste - Spot on! Wheat, clove, banana, raisins, and caramel. A nice spiciness, and probably a couple of other things in there. Very faithful to the style.
Mouthfeel - smooth, medium bodied, and creamy. Mildly carbonated.
Drinkability - The taste will leave you wanting plenty more :)
Overall - Another great beer from a great brewery. It's spot on faithful to the German weizenbocks I've had. It's a shame this is only a Winter seasonal, they should make this a year-round offering.
739 characters
4.42
/5
rDev
+11.1%
look: 4 | smell: 4.5 | taste: 4.5 | feel: 4 | overall: 4.5
It was a dark, stormy beer...
Nice to find a fine-drinking weizenbock. You don't see too many in the Northwest; certainly very few of this caliber. Beautimus starts with a big spicy nose making a huge play of clove and sarsaparilla. The taste follows along similar lines with notes of root beer and sassafras - very exotic and complex. It's got a backbeat like a jazz band and more spice than a Persian market.
This russet or rusty nail beer (a lager?) has formidable parameters all around. My only gripe was that my pint showed no suds and looked distractingly sullen for lack of lace and head. However, I noted other imbibers nearby were not burdened with this deficit, so I figure an imperfect serving of glassware stole the suds and I'm grading based on multiple observations. An excellent winter seasonal and another worthy notch on the Silver City belt.
866 characters
Beautimus from Silver City Brewing Co.
3.98
out of
5
based on
7
ratings.