Roxy Rolles
| Magic Hat Brewing Company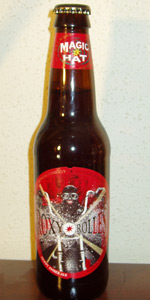 BEER INFO
Brewed by:
Magic Hat Brewing Company
Vermont
,
United States
|
website
Style:
American Amber / Red Ale
Alcohol by volume (ABV):
5.10%
Availability:
Rotating
Notes / Commercial Description:
As the leaves line the trees with colors bright, the Autumnal Amber Ramble comes into sight! Roxy Rolles pours in her wake foliage fallen and a perfect pairing of malt and hops.
40 IBU
Added by indiapaleale on 10-13-2006
This beer is retired; no longer brewed.
Reviews: 459 | Ratings: 610
4.55
/5
rDev
+19.7%
look: 4 | smell: 4 | taste: 5 | feel: 4.5 | overall: 4.5
Pour is medium amber without much head. Lacing though, nice lacing. Heavy citrus on the nose, more than I was expecting. Sweet.
The brew starts off nice and bitter, but then the malts take back over and a sweet malty tone jousts with a delightfully light citrus hop flavour.The hops are present, asserting themselves, but refuse to destroy the tongue. Wonderfully sweet without being sugary. Exceptionally balanced. A ground-breaking amber.
In terms of mouthfeel, this has some body, certainly more than I would expect for a beer of this ABV, and the hop bitters are solid as well. Drinkability: an easy beer to drink, smooth, and inexpensive given what you're getting in the bottle, a definite rebuy.
The bottom line: Magic Hat has put together one hell of a fine amber here. It has a great hop presence without overwhelming the malts, and a delightfully full body, all at a reasonable price. Probably my first pick when I'm in the mood for an amber from here on out.
★
971 characters

4.55
/5
rDev
+19.7%
look: 4.5 | smell: 4.5 | taste: 4.5 | feel: 4 | overall: 5
Gorgeously clear medium amber color with a dense finger high foam of cream colored lsuhness. Lots of lacing in tiny spotted sheetings and some threads.
Aroma is a wonderful display of dryish hoppyness thats grassy, smurfing in on some herbal qualities and floral notes. Perfect background of dry caramel malt and cereal grains.
Flavors are just as nice and quite lengthy with lots of balancing fun flavors! Super finely crafted with great aspects to dryish hoppyness that splits between floral grassyness and herbal bitterness with a touch of oily resin and toasted orangey fruityness. Great backbone of dry caramel malt, some sweet burnt butter and toasty edgings to its rounded finish as it has a complexing hoppy finish of dry grassy, herbal, bittering spice, and uniquely grained toasty parts. Nice!
Body is easily medium with a simple alluring carbonation that sits back enough to let in an easy softness within its drier tones and bittering hoppy elements.
So glad to see a well-balanced Amber like this dawn the shelves here in MN, and by Magic Hat no less? Hope it sticks around as this will be consumed quickly upon purchase.
★
1,138 characters
4.6
/5
rDev
+21.1%
look: 4.5 | smell: 4.5 | taste: 4.5 | feel: 4.5 | overall: 5
beautiful deep whiskey color with massive lacing and head...fresh hop pungency in the nose...tsste is up there (almost) with Nugget Nectar...the best of MH for sure...mouthfeel is perfect and can hardly be separated from the taste experience...thick and luscious...too too drinkable....:)
★
288 characters
4.6
/5
rDev
+21.1%
look: 4.5 | smell: 4.5 | taste: 4.5 | feel: 4.5 | overall: 5
Thanks to scootny for this one.
Small capped bottle, freshness date end of this month.
Poured into a pint, a reddish amber body, with some nice orange highlights under a fluffy light tan head with very good retention and lacing.
Aroma is hoppy and malty, well balanced, starting up with floral and citrusy hops, evolving into bready and caramelized malts, and then into hops again.
Medium bodied, yet quite refreshing, the taste is exactly as suggested, a very well balanced interplay between malty caramel and hoppy fruitiness.
IMHO, this is what an amber should be; well balanced, refreshing, a great session beer. Nothing to blow your socks off, but ambers are not supposed to do that!
Very well crafted.
★
711 characters

4.67
/5
rDev
+22.9%
look: 4 | smell: 4.5 | taste: 5 | feel: 4.5 | overall: 4.5
Served from a 12oz bottle into a pint glass
Appearance: Nice reddish copper color, pretty good clarity for how dark it is, generous size head with good retention and lacing.
Smell: Hop explosion, bready malts give way to sweet florals, caramel and malt are huge here. A tinge of fruit bleeds through the wood/roast smell.
Taste: What a different kind of amber, grapefruit, straw, & caramel are in the forefront, grapefruit lovers would really enjoy this. I love how alot of brewers are using this blend of fruit hops for their winter brews. Besides this, Sierra Nevada's Celebration Ale comes the closest to being almost alike, the use of strong maltiness with that grapefruit hop in the back is brilliant. Warming & relaxing.
Mouthfeel: Carbonation is pretty high, but the mouthfeel is decadent, creamy, yet sound due to the excellent balance of fruity hops to bready ones. Excellent body to this.
Drinkability: This one is very enjoyable, you'd expect a Magic Hat brew to be very uncanny yet this beer is a perfect blend of winter goodness. The use of fruit in this is done perfectly, Magic Hat should pat themselves on the back for making a seasonal brew thats enjoyable to drink, isn't boring, and easy to quaff.
★
1,221 characters
4.77
/5
rDev
+25.5%
look: 4 | smell: 4.5 | taste: 5 | feel: 4.5 | overall: 5
I got this one in a winter 2007 Magic Hat Mardi Gras Mix pack. I think Magic Hat is hugely under rated, anyone leary of Magic Hat will be sold on this one. Full of Hops and very drinkable, I could swill these any time. Hope I spelled leary correct! The rest of the mix pack is equally good or just score a sixer.
★
312 characters
4.87
/5
rDev
+28.2%
look: 4.5 | smell: 5 | taste: 5 | feel: 4 | overall: 5
Ever so hoppy, wonderfully so. Feels a bit lighter then most beers with a hop taste of this caliber but the tastes is bold of hops pine biscuits and citrus. Smell is of pine and hops. Simply is amazing. At 5.80ABV and a taste like this I'd say its the most drinkable beer I've had in quite some time.
★
300 characters
4.87
/5
rDev
+28.2%
look: 4.5 | smell: 5 | taste: 5 | feel: 4 | overall: 5
Hazy copper/amber color with a moderate beige head, nice active carbonation, and decent lace. Huge pine and spruce hop aromas !! Yummy ! Strong spruce and pine hop flavors but very fresh tasting and not really bitter in any way in flavor. Medium-light bodied with a crisp dry hoppy bitter finish.
A bit darker, hoppier, and bolder than SN celebration.. Top Notch ! A definite rebuy before it is gone.
Per Label: "Winter Amber Offering" & "Hoppy Amber Ale"
Per MH website:
OG: 1.064
Hops: Brewer's Gold, Simcoe
Malts: Pale, Crystal, Dark Crystal
Drink By (End of): Mar (notched) - '07'
Tasted: 01/04/07
($6.99 / 6-pack)
★
638 characters
4.89
/5
rDev
+28.7%
look: 4 | smell: 5 | taste: 5 | feel: 4.5 | overall: 5
Poured golden amber with a rocky one inch head that dissipates to a half inch head with nice ample lacing.
Smells of earthy spice, possible saaz hop and or pride of Ringwood. I detect some roasty undertones as well.
Taste is a nice spicy collaboration of hops, herbs and amber malts provide a nice smooth finish. Good session beer. This beer would also pair nicely with spicy food.
Light/medium in body and quaffable.
★
420 characters
Roxy Rolles from Magic Hat Brewing Company
86
out of
100
based on
459
ratings.