Odd Notion - Participation Lager (Autumn 2008)
| Magic Hat Brewing Company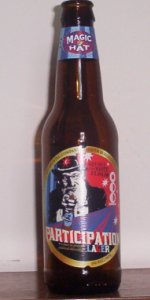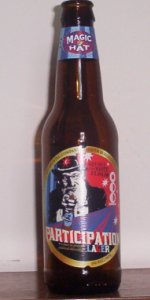 BEER INFO
Brewed by:
Magic Hat Brewing Company
Vermont
,
United States
magichat.net
Style:
American Adjunct Lager
Alcohol by volume (ABV):
5.00%
Availability:
Limited (brewed once)
Notes / Commercial Description:
A Pre-Prohibition Lager brewed with corn.
Added by Brad007 on 08-08-2008
This beer is retired; no longer brewed.
Ratings: 61 | Reviews: 50
4.15
/5
rDev
+18.2%
look: 3.5 | smell: 3.5 | taste: 4.5 | feel: 4 | overall: 4.5
Another Magic Hat mixed pack, another three #9s I don't really want. Glad my wife's okay with them. For the 100th time, Magic Hat: PLEASE ease off the #9 in the mixed packs. Please?? If this year's election buzzword is "change", maybe you could adhere to that too? Y'know, in the spirit of this beer?
Off the soapbox and into the glass goes MH's new Participation Lager. Produces a thick billowy head, creamy on top, slightly rocky (looks like the surface of the moon), typical lager gold with great clarity and big bubbles pushing slow toward the top.
Aroma is boiled veggies with a more musty/basement weirdness and heavier sweetness than most lagers. Some light hops too. Interesting smell, especially considering the style.
Flavor is big and juicy at first, then dries out leaving a peculiar spicy flash in the finish. Caramel, butterscotch, a smidgen of burnt sugar--or maybe brown sugar--and only the mildest hit of that metallic thing you get with many in this style, and even here it's not annoying or cloying. A certain spiciness prevails throughout, damned if I can properly nail it, but if pressed I'd fall back on cinnamon. Pretty assertive texture, not overly carbonated but just a really solid presence and relatively big feel for a lager. If we're supposed to review according to style, then I gotta give this macro lager high marks.
I'm pleasantly surprised. The flavor is completely satisfying, and it doesn't immediately make you think "Magic Hat". It's great when any brewery has its own niche flavor, but Magic Hat stuff sometimes blurs together because of the brewery's unique twist on things. This one stands on its own. I'd buy it again if I didn't have to adopt three more #9s to do it.
Under the cap: "Red Sky at Night, Sailor's Delight"
1,768 characters

2.05
/5
rDev
-41.6%
look: 2 | smell: 2 | taste: 2 | feel: 2.5 | overall: 2
From a bottle - Pours a light clear pale with a small almost non existent head. Smells of some spices and light malt. First sip is surprisingly bitter in Hillary sort of way. Very light bodied... has the backbone of a John Edwards. Not worthy of my vote.
254 characters
3.8
/5
rDev
+8.3%
look: 3.5 | smell: 3.5 | taste: 4 | feel: 3.5 | overall: 4
12 oz bottle into a shaker pint
A - Golden color with a splash of orange, a little darker than an average lager. Light head with good retention. Medium carbonation. Slightly cloudy.
S - Bright, clean aroma. Slightly sweet with a good hint of malt.
T - There's a lot of flavor in this beer. Roasted malt flavor comes through very strong, almost a bit much for me. Very clean though with an excellent finish. Certainly above average.
MF/D - This is a well made beer that is perfectly drinkable. I think with some tweaking and cleaning up Magic Hat could make this a year round. It's a bit too bitter to be a perfect lawnmower beer, but it's close.
650 characters
3.75
/5
rDev
+6.8%
look: 4 | smell: 4 | taste: 4 | feel: 3.5 | overall: 3
12oz brown bottle with a freshness date notched. Under the cap reads "Enjoy a Heart, it's A Work of Art." Not sure what that means but I did eat some chicken hearts at a Brazillian BBQ joint. As for the theme, politics and beer should never meet though being a neutral point of telling you to get off your ass and vote comes across well.
Pale yellowish golden color, decent frothing with some sticky lace on the glass. Sweet grainy malt meets a mildly pungent grassy hop in the nose. Just enough crispness to get by, moderate sized body. The malt kicks things off with a toasted husky flavor then quickly lets the light but rough edged corn flavor and finially the hops jump on with a grassy note that just does not want to leave. Finishes dry with lingering grain and hops.
I dig this beer a lot, not as clean as your typical retro lager and not as drinkable either ... it makes up for all of that with the amount of flavor that is throw at the taste buds.
959 characters
4.09
/5
rDev
+16.5%
look: 3 | smell: 4 | taste: 4 | feel: 4.5 | overall: 4.5
Had to buy this cool looking variety box just to try this beer. I'm not sure what happened with the first bottle I tried because I hated it... but on my second bottle (almost a week later) I'm really enjoying it. I'm usually pretty consistent with my judgement on beer so... maybe I got a bad bottle somehow the first time around? Nope, I think I figured it out- drink this one colder. I mostly drink ales so didn't think it was a big deal to quickly throw this one in the freezer to cool off a bit before drinking. Much better cold.
Appearance- pretty clear with a bright white head. standard american lager look.
Smell- Hoppy. Almost smells like an IPA; in fact, that's probably what I would have guessed it was based on the smell alone.
Taste- Hop bite is reminiscent of HI.P.A. (which by the way I would like to lobby for replacing circus boy as an all-year beer so I can justify buying more of these variety boxes). Smooth. A little taste of corn/maize- though I might be off on that one.
Mouthfeel- puckeringly bitter. nice carbonation. a little dry just from the bitterness alone.
Drinkability- quite a turnaround from my initial impression when I apparently either had a bad bottle or just a warm one. It went from a beer that I could barely finish to one that I could easily session.
1,297 characters

3.75
/5
rDev
+6.8%
look: 3.5 | smell: 3.5 | taste: 4 | feel: 3 | overall: 4
A great beer from Magic Hat. Picked it up in a variety pack wish you could find it in a sixer. Get some malt and lots of hops with the nose. very nice. Don't know if this is an adjective but smells very magic hatish. Taste is much like the smell. Malt at first then the hops hit you to balance it out, again has that signature magic hat taste to me. Enjoyed this lager and I am normally an ale man.
398 characters
2.41
/5
rDev
-31.3%
look: 4 | smell: 3 | taste: 2 | feel: 2.5 | overall: 2
A: Pours a light amber with roughly a one finger head. There are many strings of fine bubbles rising from the bottom of the glass.
S: Smells lightly of grain and malt with a slight floral hint to it.
T: There is a background of malt, but there is a dominating hops bitterness to the taste. The bitterness is very pronounced in the aftertaste as well.
M: Feels light and a bit airy from the carbonation.
D: I'm generally a lager fan, but the bitterness from the hops was a bit much for me. One and I was done. If you're a fan of hops, this would be a good beer for you.
572 characters

3.97
/5
rDev
+13.1%
look: 3.5 | smell: 4 | taste: 4 | feel: 4 | overall: 4
A nice promo-beer for the 2008 US Elections which I hope they continue.
A= golden yellow, foamy head when poured which dissipates into pooling and tracss of lacing.
S= nice hops and malts, slight scent of tangerine.
T= mild hops bitters, rich yet not too bold malts, mild carbonation, very nice standard Lager which is a head above US macro's. Tangerine taste present and in the finish, also seems to contribute some citrus-skin tartness to the bitters. Would make a great dinner beer or standard decent stock swill. Mildly noteable, most likely their goal for an affordable micro.
M= mild bitters present from start to finish and lingering, with slight sweetness and malts on the tongue.
D= very drinkable, any time, any quantity
735 characters
3.85
/5
rDev
+9.7%
look: 3.5 | smell: 3.5 | taste: 4 | feel: 4 | overall: 4
Fairly clear medium gold body with a thick finger of off-white head. Traces of lacing and little head duration deprive Participation Lager of a better score. Modest whiffs of malt and bitter hops confront the nose; decent but very straightforward aroma.
The taste represents an improvement over the first impression categories, nicely balancing smooth malt with the moderate hop bite. Hops emerge early and much more in the finish. I like the malt taste and texture, more complex than the pedestrian, sweet corn malt that characterizes so many macros. This has hints of caramel and a slight toffee taste. It should be bolder in malt content, aroma and taste, but it's on the whole fairly good.
This is not a knock-your-socks-off lager, far from it. Yet it is fairly solid if unspectacular, smooth and enjoyable. It lacks a Wow! factor, but won't offend either. Worthy.
871 characters
4.06
/5
rDev
+15.7%
look: 4.5 | smell: 3.5 | taste: 4 | feel: 4.5 | overall: 4.5
Call it a 'Get Out The vote' brew, newly released in celebration (?) of the 2008/9 election. Poured into my glass a bright, golden hue with a pure white head. Laced very well and displayed good retention too. Aromas of dry malt, yeast with hop hints underneath. Tart, crisp and clean on the tongue. Hops come forward first, then the yeast, both making it a little bitter initially. But there's a hint of sweetness in the malts that follow. Mouthfeel is very nice, semi-filling, smooth and refreshing. Delicately balanced with just the right amount of carbonation. A very good Lager overall and one of the best brews this brew produces. Respect to South Burlington.
664 characters

4.6
/5
rDev
+31.1%
look: 4.5 | smell: 4.5 | taste: 4.5 | feel: 4.5 | overall: 5
This is available in the new Participation 12 pack sampler from Magic Hat. I'm glad they decided to release a new Participation beer. I still remember Participation Ale from 2004 (and I still have the empty bomber!).
Color: Pours a mild golden amber color with a thin head and decent carbonation.
Aroma: Strong, sweet aroma of malt upfront with only a touch of hop bitterness in the nose. Basic.
Taste: Smooth with a decent amount of breadiness upfront. Not too sweet. Strong hint of hop bitterness in the middle and towards the back of the throat.
Mouthfeel: Breadiness and hop bitterness linger on the tongue. Very nice mouthfeel, like a pale ale or IPA.
Drinkability: From what I've mentioned, this is a decent lager from Magic Hat. It's better than Mother Lager as well. I think I sampled this at the brewery before they gave it a name. It tastes better in bottle form so could be a tweaked recipe. Definitely a worthy lager and I like the fact that they took the time to put emphasis on the hops.
1,017 characters
Odd Notion - Participation Lager (Autumn 2008) from Magic Hat Brewing Company
Beer rating:
34.4%
out of
100
with
61
ratings