Howl
| Magic Hat Brewing Company
BA SCORE
83
good
435
Reviews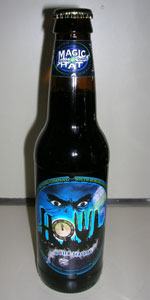 BEER INFO
Brewed by:
Magic Hat Brewing Company
Vermont
,
United States
magichat.net
Style:
Schwarzbier
Alcohol by volume (ABV):
4.60%
Availability:
Fall
Notes / Commercial Description:
Born of dark and cold and snow in the marrow of the northeast's longest night, Howl comes in on wailing winds with winter-weary eyes burning holes in sunless shadows. In its darkened depths our inner voids are warmed.
32 IBU
Added by BeerAdvocate on 09-18-2009
This beer is retired; no longer brewed.
Reviews: 435 | Ratings: 957
2.68
/5
rDev
-27.4%
look: 4 | smell: 3.5 | taste: 2 | feel: 3 | overall: 2.5
This beer is unique among the winter seasonals that I have tried. For me, it is not unique in a good way.
I found the tastes of tobacco and liquorish to dominate the other flavors. The same is true for the smell of the beer. Drinking the beer almost became a chore.
The texture is nice, it is velvety and smooth, and the appearance is nearly black and appealing.
365 characters
2.65
/5
rDev
-28.2%
look: 2.5 | smell: 2.5 | taste: 3 | feel: 2 | overall: 2.5
Appearance - A very opaque black. No head and it laces poorly to the glass.
Smell - Smells a bit like a black lager. Light coffee and espresso notes.
Taste - More stout-like than I expected. Carbonated coffee and espresso notes. Heavily carbonated. This beer seems very artificial-tasting to me, though it does match the category quite well.
Mouthfeel and Drinkability - A decent offering for a lighter winter option. A bit hard to swallow because of the carbonation despite its light body.
495 characters
2.65
/5
rDev
-28.2%
look: 4.5 | smell: 2 | taste: 2 | feel: 3 | overall: 4
A - This beer has a fantastic appearance, and has just about everything I look for in a brew. Some nice foamy, light tan head that retained itself quite well. The color is rather magnificent. Rather dark with a nice burgundy/red wine color where light penetrates. Lacing is moderate and certainly there. It's very visually appealing! The only thing that might make it better to me is some light carbonation floating up, which I always like to see.
S - I don't know, but I could pull out almost no smell. At first I was able to get some toffee-like or caramel hints out of it, but a couple minutes after pouring I didn't detect any of that. There seemed to be a little maybe malty-sweetness or maybe fortified wine aroma, but that was about it. This smell really doesn't impress me, since there's hardly anything there.
T - Again, I'm pretty let down by the taste. It seemed to match the nose rather well, with some light roasted toffee/caramel flavors. There's a little malty sweetness as well. Aftertaste was sort of non-existent. Only thing that stayed with me was a little bit of bitterness. There aren't any bad flavors, but there certainly isn't any flavor I'd right home about.
M - Not bad. Very mildly "syrupy", but otherwise sort of light and thin. Not really any carbonation present, just sort of an average mouthfeel.
D - Good drinkability in that it's refreshing, and doesn't feel so substation (carbonated, thick, etc.) that you feel like you're drinking a meal. If this beer is enjoyable to you there likely wouldn't be any problem throwing a few back.
Overall, this is probably my least favorite offering from Magic Hat that I've had. It's not BAD, I just don't think it has a whole lot behind it that's GOOD. I'll probably give it another try sometime just to see if I have a new perspective.
1,812 characters
2.56
/5
rDev
-30.6%
look: 4 | smell: 3 | taste: 2.5 | feel: 2 | overall: 2
I had this on tap at Bobbique in Patchogue, NY and was served this with a platter of ribs. I thought it looked fine with a small head and its aroma was okay with coffee tinged malts, but nothing fancy for a winter ale. When I got the first taste, I thought it must be the bbq ribs, so I had water and bread before trying again. It may have needed a little time to warm up after coming through a cold tap. It tasted like a black version of Euro- pale lagers with nothing in body or taste. Not bad, but no substance to it. I consumed half the pint and then moved on to something else.
582 characters
2.53
/5
rDev
-31.4%
look: 2 | smell: 1.5 | taste: 3 | feel: 3.5 | overall: 2.5
This is a style I really REALLY like, but I don't care for magic hat. It has been good to give their seasonal pack a try though, certainly they make an effort.
Blackish yes, and for them low carbonation...I can't complain but it isn't going to get high marks.
Roasted and toasted notes with some sour ale like notes, hops are coming into play but not as well as they could.
Toast comes out front but a good amount of subtle hops follow. This is a touch off putting at this late stage of the night but I also started the night here so I can safely say this works well. It however lacks the malt back to really finish. I love this style because it blends ales and stouts without ever getting too big, but a touch more malt would really add to the finish and push this beer to something special.
Once again Magic Hat makes a beer that gets close but fails before the finish.
878 characters
2.34
/5
rDev
-36.6%
look: 4 | smell: 2.5 | taste: 1.5 | feel: 5 | overall: 2
Bottle poured into mug. Didn't know what I was getting into, I don't like black beers. Just saw winter seasonal and snagged it. Poured black with 1/2in light brown head. Smells alright, but the coffee taste just doesn't sit well with me. Exceptionally smooth mouthfeel. For folks who enjoy this kind of beer I would recommend it, but I don't think I will be having another.
373 characters

1.78
/5
rDev
-51.8%
look: 4 | smell: 2.75 | taste: 1 | feel: 1.75 | overall: 1.5
I want to like this beer, its a real tough style to get and this one is plentiful, but I cant enjoy it, too bitter for me with a very awful metal taste, not a fan
163 characters
1.75
/5
rDev
-52.6%
look: 4 | smell: 1.5 | taste: 1.5 | feel: 2.5 | overall: 1.5
(Bottle into mug) It looks nice! Poured a deep black with a half finger light brown head that hung on for quite a while. After that, well... nothing redeeming about it at all. The nose was reminiscent of an ashtray. All I could smell was smoke, and not the nice campfire kind.. the week old Marlboro kind -- it almost seems as the roasting went a little too far. I battled through and took a taste, but again, the burnt smoky flavor was too much. Let this one sit for a few minutes to let the air hit this and hopefully mellow some flavors and draw out others, but to no avail. Took another drink and that was it, I had to pour the rest. Bottle was dated 1/2010 and perhaps this was part of it, or I got a bad batch. I might have to try again next year to see if that was the case.
781 characters
1.65
/5
rDev
-55.3%
look: 1.5 | smell: 1.5 | taste: 1.5 | feel: 2 | overall: 2
pours pretty dark, but not black, more a very deep brown. Head retention has been amazing. Smells heavily of charcoal, leather and bitter coffee. Not the most appetizing of scents. Medium to light in body with some toffee caramel and chocolate tastes present but coffee flavor dominates the beer once it finishes. I don't know what to pin point about the beer exactly that I don't like, but im not liking. It might be the flavors, possibly if they were a bit subdued it'd be alright but the flavors present in this beer aren't the flavors I wanna be punched in the face with.
575 characters
1.56
/5
rDev
-57.7%
look: 3 | smell: 2 | taste: 1 | feel: 2 | overall: 1.5
I loved their organic brand Orlio Black Lager, after it was "retired" me and a beer club buddy hoarded a case of it to enjoy over the past year. When one of Magic Hat's local reps told us this past summer it was being resurrected under the Magic Hat name, we were thrilled! Owing to its heritage, I actually bought a case of this, taste untested, for our beer club and personal consumption because I had that much confidence in its potential. I even bought the first beers being stocked by my local Beverage Mart. D'oh! Was I ever mistaken! My bottle had the distinct aroma and taste of dog poop. Not that I know what dog poop tastes like, mind you, but that frigging dog poop smell permeated this beer. I still can't get the stink out of my nostrils when thinking of this beer.
IMO, this is a completely failed beer. I gave away the entire case. I was that disgusted by its dog poopyness. I will bet that Magic Hat spent more time designing the label for this (alleged) beer then was spent in tending to its brewing. P-U - this beer stinks!
1,042 characters
Howl from Magic Hat Brewing Company
3.69
out of
5
based on
957
ratings.