Humdinger Series: Over The Pils
| Magic Hat Brewing Company
BA SCORE
83
good
32
Reviews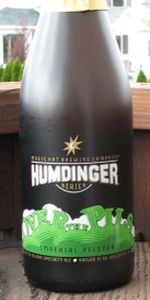 BEER INFO
Brewed by:
Magic Hat Brewing Company
Vermont
,
United States
magichat.net
Style:
American Double / Imperial Pilsner
Alcohol by volume (ABV):
8.10%
Availability:
Limited (brewed once)
Notes / Commercial Description:
Over the Pils features a smooth malt body that is paired with fruit and floral notes from generous additions of Brewer's Gold and Crystal hops. Beneath the bold hop aroma hides a subtle warmth sure to take your taste buds Over the Pils and far away.
75 IBU
Added by SawDog505 on 04-10-2012
This beer is retired; no longer brewed.
Reviews: 32 | Ratings: 120
3.85
/5
rDev
+6.1%
look: 4 | smell: 4 | taste: 4 | feel: 3.5 | overall: 3.5
My local shop has this on tap and I was able to get a 32oz growler fill for 6.50.
A - Fairly good carbonation at leas a 1/2 inch of sticky white goodness and a nice clear bright yellow hue of beer.
S - Smells mostly of mild hops, a dash of lemongrass, and maybe some pills malt in there. Smells good.
T - A fairly hoppy Pills with some mild yeasts and pills malt in the flavor but overall it taste much lighter than 8%. Hoppy finish gives it a nice crisp finish.
M - Medium bodied and a bit bitter but somewhat enjoyable.
Overall worth the price I paid for it on tap and it seems easy enough to get down despite the hoppy finish (or grainy even). Not worth the bomber prices which in PA are 11-15 dollars. If I paid that much I guess I would bash the review too...
770 characters

3.34
/5
rDev
-8%
look: 4 | smell: 2.5 | taste: 3.5 | feel: 4 | overall: 3.5
Pretty cool looking bottle. Let's see what's inside.
The beer was a golden color with a big, fluffy, white head. The head lasted for quite a while and there were plenty of active bubbles crawling up the side of the glass.
Very faint aromas of...nothing. Maybe a little bit of lemongrass? Maybe? There was the tinniest bit of a boozy sting as I drank it, but again, there wasn't too much there.
Grainy and, well, pilsner-y up front. Nice amount grassy hops. Finishes with a little bit of alcohol. There is a lingering bitterness, but it lingers a little bit too long for my liking and it's a bit messy.
Nice bubbly carbonation tries to scrub the palate clean. Pretty drinkable. I'd say this is the redeeming quality of this beer.
While the brew is very drinkable, there just isn't enough going on with it. The nose was lacking and the taste was too messy. I pretty much picked it up because the bottle looked cool. Hopefully the other beers in the series will be more complex.
982 characters

3.29
/5
rDev
-9.4%
look: 4.5 | smell: 3 | taste: 3.5 | feel: 3 | overall: 3
Enjoyed in a pilsner glass
A: pours a clear honey golden color with a small amount of carbonation bubbles, pours with a very aggressive head which is creamy white and quite frothy like the head on a latte, lingers nicely and leaves a very nice amount of lacing
S: and interesting yet subdued scent of floral hops as well as a sort of sweet grass like note which i pick up at the very tail end
T: its an overall interesting taste, more of the Czech style than the German style IMO due to the grassy character and slight bitterness, pretty fresh but has a slight alcohol tinge at the end, there is also another element ive noted up front which i cant quite place but it is definitely familiar
M: drinks rather thickly and with a slight alcohol burn at the end, overall smooth enough though
O: its decent enough but definitely not the best imperial or even regular pilsner for that matter that ive ever had, most of the notes are subdued, pretty much what ive come to expect from magic hat, an ok beer but nothing that really pops out at you
1,039 characters
4.11
/5
rDev
+13.2%
look: 4.5 | smell: 3.5 | taste: 4.5 | feel: 4 | overall: 4
A - Pours a bright golden color with lots of vibrant carbonation and a stick, cotton candy -like foamy white head that looks glued to the glass.
S - Lemon grass, earthy, slightly grainy, lightly floral, biscuity, and some crisp spice aroma.
T - Taste follows the nose. Starts with a nip of sweet biscuity malt followed by a healthy dose of floral and grassy hops, a kiss of lemon, and a piney bite. There's also an alcohol warming in the back of the throat that reminds you this is a big beer.
M - Thick, heavy body compared to many beers, and for a pils, this one tips the scales.
O - Words that come to mind for this beer is "big" and "bold". For a traditional lover of pils, you might not like this one but for the adventerous, it's worth a look. This one strays from every Magic Hat beer I've ever tried in the past, really enjoyed this one.
851 characters
4.33
/5
rDev
+19.3%
look: 5 | smell: 4.5 | taste: 4 | feel: 4.5 | overall: 4.5
Comes in a champagne style bottle with a cork and looks very appealing on the shelf. Pours out a nice golden straw color with a tight light head. The lacing on this beer is amazingly dense and left marks down the whole glass. It has nice light citrus notes with a touch of acidity balanced well with a light grain body. It had a nice refreshing quality that I really like for a summer time beer. I'll be buying this one again for sure
434 characters

3.53
/5
rDev
-2.8%
look: 3.5 | smell: 3 | taste: 4 | feel: 3 | overall: 3.5
Pours a nice gold color with a one-finger head into my glass. Nothing out of the ordinary here.
Very light as far as aroma goes. I couldn't detect much and I do not have a cold at this point.
Ditto on the taste...at first. Eventually, a strong, grainy, chewy bitterness engulfs the mouth. Not overly spectacular but well-hidden.
Lingering bitterness that fills the mouth, followed by grain and an unexpected alcohol kick.
While it's not the best effort for the style, it is more of an effort than Magic Hat has made lately. Bringing back the Humdinger series in bottles for retail makes more sense than some of the beers I've seen on tap lately.
Dear Magic Hat: It's about the beer and nothing more.
708 characters

4.38
/5
rDev
+20.7%
look: 4.5 | smell: 4 | taste: 4.5 | feel: 4.5 | overall: 4.5
Poured the 750 ml corked and caged bottle into a 13 oz tulip glass. Pours a clear and bright orange, with a sticky white one inch head, that leaves lacing everywhere. Smell is grass, floral hops,pine, clove, and passion fruit. Taste is stronger than the nose, but balanced. Floral hops and clove start the party, with grass and some bitter citrus in the end. Body is large for the style, plenty of life, a little on the dry side, and easy going down. This is a very solid beer, a nice surprise, and very pleased to review this first.
533 characters
Humdinger Series: Over The Pils from Magic Hat Brewing Company
3.63
out of
5
based on
120
ratings.