Humdinger Series: Over The Pils
| Magic Hat Brewing Company
BA SCORE
83
good
120
Ratings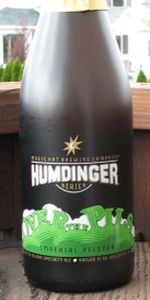 BEER INFO
Brewed by:
Magic Hat Brewing Company
Vermont
,
United States
magichat.net
Style:
American Double / Imperial Pilsner
Alcohol by volume (ABV):
8.10%
Availability:
Limited (brewed once)
Notes / Commercial Description:
Over the Pils features a smooth malt body that is paired with fruit and floral notes from generous additions of Brewer's Gold and Crystal hops. Beneath the bold hop aroma hides a subtle warmth sure to take your taste buds Over the Pils and far away.
75 IBU
Added by SawDog505 on 04-10-2012
This beer is retired; no longer brewed.
Reviews: 32 | Ratings: 120

3.29
/5
rDev
-9.4%
look: 4.5 | smell: 3 | taste: 3.5 | feel: 3 | overall: 3
Enjoyed in a pilsner glass
A: pours a clear honey golden color with a small amount of carbonation bubbles, pours with a very aggressive head which is creamy white and quite frothy like the head on a latte, lingers nicely and leaves a very nice amount of lacing
S: and interesting yet subdued scent of floral hops as well as a sort of sweet grass like note which i pick up at the very tail end
T: its an overall interesting taste, more of the Czech style than the German style IMO due to the grassy character and slight bitterness, pretty fresh but has a slight alcohol tinge at the end, there is also another element ive noted up front which i cant quite place but it is definitely familiar
M: drinks rather thickly and with a slight alcohol burn at the end, overall smooth enough though
O: its decent enough but definitely not the best imperial or even regular pilsner for that matter that ive ever had, most of the notes are subdued, pretty much what ive come to expect from magic hat, an ok beer but nothing that really pops out at you
1,039 characters
3.16
/5
rDev
-12.9%
look: 4 | smell: 3 | taste: 3 | feel: 4 | overall: 3
Lightly clouded orange colored brew with a nice sized cap of white foam. Decent retention, good lacing. Aroma of pilsner malt, some booziness, sweet honey note, grassy hops.
Taste has all the same components of the nose but doesn't hang together all that well for me. Maybe I'm biased but pilsners are an odd style for imperialization and this treatment detracts rather than adds to the style. There's a bit too much booze noticeable and overly assertive honey sweetness on top of a somewhat undistinguished pilsner malt flavor and some moderately grassy hop notes. Grainy and bitter, with the latter lingering in the aftertaste.
Medium bodied with lively, crisp carbonation. Feel is decent enough, finish is clean and fairly dry. I just can't say I found this one to be all that tasty, just more odd than anything else. Give me a traditional, well-crafted German or Czech pils any day of the week.
908 characters
3.07
/5
rDev
-15.4%
look: 4.5 | smell: 2.5 | taste: 3 | feel: 4 | overall: 3
On tap at Sawmill Taproom in Raleigh
A - gold with a big, soft, white, foamy head that has great retention
S - funky with a sour milky character and an underlying grassy hop character
T - very bitter, a bit of toasty malts, grassy, herbal
M - medium bodied, smooth, well carbonated
This is overly bitter and unbalanced. The nose was sour and definitely unpleasant. None of the off aromas carried into the flavor, but the flavor itself was disappointing. I'll pass in the future.
483 characters
3.06
/5
rDev
-15.7%
look: 4 | smell: 3 | taste: 3 | feel: 3 | overall: 3
Humdinger Series: Over The Pils brewed by Magic Hat Brewing Company, with an ABV of 8.10% This brew pours out a deep golden amber color with a nice off white head.
Unfortunately this brew was expired and undrinkable.
I giving Humdinger Series: Over The Pils a 3.5 out of 5 on the look of the brew.
300 characters

3.01
/5
rDev
-17.1%
look: 4 | smell: 3 | taste: 3 | feel: 2.5 | overall: 3
A-Pours a semi-clear deep golden color. Lightly hazed. Forceful pour produces a large, doughy off-white head. Head is stiff and it retains for the beer's entirety. Good looker.
S-Smells like a big, super sweet Pils. Big honey notes. Hops are lacking in the nose. Sweet more than anything else. A bit dusty. The overall intensity of the nose is not very formidable. Not too sure about this beer's aroma; seems to be lacking in a few areas.
T-Bitter, medicinal hops and syrupy sugar. The alcohol is very noticeable. Tastes like a 13% brew instead of an 8%er. Honey and a lot of grains. The bitterness lasts forever but for once, I am not overly impressed by the potency of the bitterness. Rough around the edges..
M-Big and dry. Soft carbonation. Alcohol sucks the moisture out of my tongue. Syrupy and almost chewy.
O/D-Not happy with this $11 purchase. This beer Is too pricey and too harsh. Too coarse and boozy. Some sips I find it to be a bit enjoyable but other sips make me really want my money back. Overall, it's somewhere in between.
1,045 characters
2.96
/5
rDev
-18.5%
look: 4 | smell: 3 | taste: 3 | feel: 2 | overall: 3
About 8 oz. poured into a Kostritzer pilsner glass.
A: Pours a golden amber color with medium clarity - less than I expect from a typical pils, but more than I expect from an IPA. The head is a one finger offwhite color with decent texturing and okay retention. This leaves a nice film of lacing on the glass.
S: Smells kind of sweet, with a combination of brown sugar and carapils malts. The hops try to manifest as hints of pine and grapefruit, but this is otherwise malty.
T: The front end has a nice bit of caramel and toffee sweetness, but the finish is too bitter - not in a hoppy way, but rather in an imbalanced "hey, IPA = bitterness amirite?" way. Not balanced at all, but it cuts through the spicy food I'm having along side this in a solid manner.
M: Heavy, syrupy, and hard to drink, which is a death knell for any kind of pilsner. There is a touch of dryness on the finish, but a LOT more would be appreciated. At least the carbonation is pleasant.
O: Meh. Imperial pilsners make absolutely no sense, unless they're little more than IPAs with lager yeast. This is not that kind of brew, as its just too hard to drink. It's acceptable enough, but I don't care if I ever have this again.
1,204 characters
2.74
/5
rDev
-24.5%
look: 4.5 | smell: 3 | taste: 2.5 | feel: 2.5 | overall: 2.5
A: yellow, straw-colored, slight haze, tiny compact bubbles, nice lacing
S: mild, grassy with some spicy hops, EtOH
T: wow, not at all what I was expecting, strong astringent taste up front, metallic, very malty and not well attenuated
M: astringent with metallic bitter taste
276 characters
Humdinger Series: Over The Pils from Magic Hat Brewing Company
3.63
out of
5
based on
120
ratings.